1. Duck Legs with Christmas Ale Glaze
"The sweetness of the honey and the hops and the mildness of the duck mixes well. You've really got to watch the flavor profiles of any beer you're cooking with. The hops can turn bitter and taste too 'hoppy' if they're boiled too much. The added ginger hides the hops a bit."— Shorty Coleman, executive chef at Great Lakes Brewing Co.


Preheat oven to 350 degrees. Season 6-8 duck legs with salt and pepper to taste. Heat a pan with olive oil to around 300 degrees and sear the duck legs to light brown, about 3 minutes on each side. Remove legs from pan to an oven-safe dish and bake for 25 minutes. While legs are baking, use the same braising pan to saute 2 tablespoons minced onions, 1 teaspoon minced garlic and 1 teaspoon minced ginger until translucent. Add 1/4 cup brown sugar and stir. Add 12 ounces Christmas Ale and reduce by half. Add 2 teaspoons honey and stir. When legs are finished baking, pour the glaze over them. Return legs to the oven for 10 minutes or until glaze caramelizes.





2. Christmas Ale French Toast with Ohio Maple Syrup
"There's a drink in New Orleans called brandy milk punch that uses the same spice as French toast batter, and that gave me this idea. Christmas Ale has mostly similar flavors of cinnamon and nutmeg as the French toast batter, and the ale itself adds flavor just like the brandy does to the milk punch."— Johnny Schulze, executive chef at Bourbon Street Barrel Room

Cut 1 loaf of French bread at a 45-degree angle, 1 1/2 inches thick, to create 12-16 slices. Let bread sit overnight or until stale. Whisk together 1 1/2 cups half-and-half,1/4 cup Christmas Ale, 1/3 cup powdered sugar, 1/2 teaspoon ground nutmeg,1 teaspoon cinnamon and 4 large eggs to dissolve the sugar and incorporate all ingredients. Heat a skillet and using unsalted butter, lightly butter the skillet when hot. Dredge the stale French toast in the batter and cook evenly on both sides until golden brown. Adjust the heat in order to cook slowly and add more butter as necessary to keep the toast from sticking to the skillet. In a pan on the stovetop, combine 1/4 cup Christmas Ale with 1 cup Ohio maple syrup over heat, reduce by half and serve over the cooked French toast. Sprinkle with powdered sugar and fresh berries.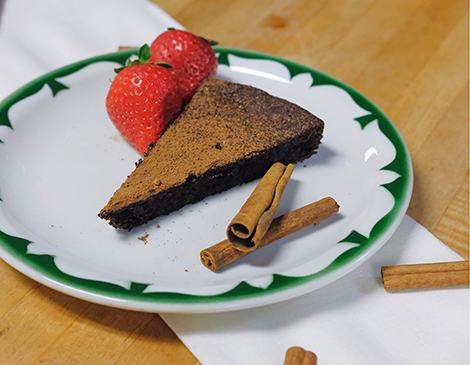 3. Decadent Christmas Ale Truffle Torte
"The Christmas Ale increases the chocolate taste and gives it an extra layer of richness and flavor. The smooth honey counteracts some of the sweetness, which sounds counterintuitive but it really does add balance rather than a honey taste. The added cinnamon gives a touch of spice and heat, but not too much." — Ann LoParo, executive chef and owner of Annie's Signature Sweets

Preheat oven to 375 degrees. Lightly grease a 9-inch tart pan or springform pan. Cut a circle of parchment and place circle in the bottom of the pan. Place 1 cup semisweet or bitter- sweet chocolate chips and 1 stick unsalted butter in a microwave safe bowl and melt just until the chips are soft. Stir the butter and chocolate and set aside. In a medium bowl, whisk together 3 large eggs and 3/4 cup brown sugar, then add 1/4 teaspoon salt, 2 teaspoons cinnamon, 1/2 cup Christmas Ale and 1 tablespoon honey. Add the melted butter and chocolate and then 1/2 cup unsweetened cocoa powder. Mix just until combined. Pour batter into prepared pan and bake for 20-25 minutes. The torte will form a thin crust and is done when the center reaches 200 degrees. While it's baking, combine 1/2 cup Christmas Ale and 1/2 cup brown sugar in a saucepan and stir to a boil. Reduce heat to low and let cook for 10-12 minutes until it reaches a syrup consistency. Remove the torte from the oven and drizzle about 2 tablespoons of the Christmas Ale reduction over the top of the torte while it's hot. Dust with cocoa powder or powdered sugar before serving. Cool completely and serve with your favorite ice cream, crushed pretzels or nuts.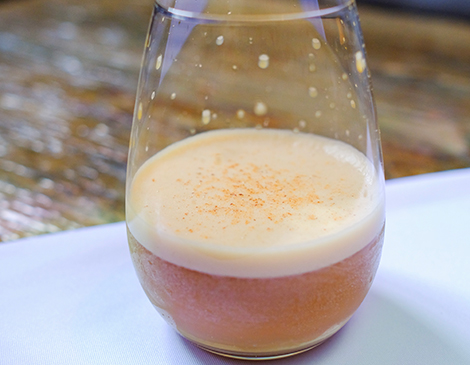 4. Christmas Ale Flip
"Amaro Lucano is a bittersweet liqueur from Pisticci, Italy, that's full of warm cooking spice and citrus notes. The angostura bitters act as a zipper between the two flavor profiles, and the effervescence from the ale serves to lighten the drink as a whole. Incorporating a whole egg provides amazing body and flavor and makes this a great alternative to eggnog." — Jacob Bender, beverage director for the Spotted Owl
Crack 1 large egg into a shaker, then add 2 ounces Amaro Lucano, 1 ounce Christmas Ale and 2 dashes angostura bitters. Add ice and shake hard. Strain the drink into a wine or cocktail glass and garnish with freshly grated nutmeg.