The journey changes you. The road winds. The scenery evolves. Sometimes there's a light at the end of the tunnel. Sometimes a freight train.
For restaurateur Douglas Katz, it was the latter. For 20 years, he earned acclaim for his flagship restaurant Fire Food & Drink in Shaker Square as well as Chutney B., a gluten-free stall in Van Aken Market Hall, and Fire Spice Co., a chef-driven home cooking concept that produced recipe and spice boxes. By 2021, the pandemic had forced Katz to close them all. Chimi, a South American ghost-kitchen; the forthcoming Amba, the Hingetown Indian spot set to open any day; and Zhug, a Mediterranean and Middle Eastern small plates eatery in Cleveland Heights which opened and closed throughout the pandemic, remained.
"Fire was my baby," Katz says of the fine-dining spot that treated the kitchen like a stage with an audience of hungry onlookers. "But it was also 20 years of research and development for what I'm doing now."
The experience at Fire Food & Drink centered around a tandoor oven, that circular heat source often seen with pita or naan bread slapped against the side. The format of the restaurant allowed Katz to experiment with the Indian food that has us so excited for Amba and the Middle Eastern cuisine that inspired greatness in Zhug.
His other projects informed Zhug, too. While he says it "was a dumb idea because people don't want to cook at home," Fire Spice Co. was an adventure through the intricate world of global spices, including those that are now essential to Amba and Zhug such as sumac and curry. Meanwhile, the Thai- and Indian-leaning Chutney B. is where he honed his
recipe for zhug — the spicy, chutney-style hot sauce, not the restaurant. He knew the blend of fresh cilantro, lemon and
serrano chilies was powerful enough to be a centerpiece.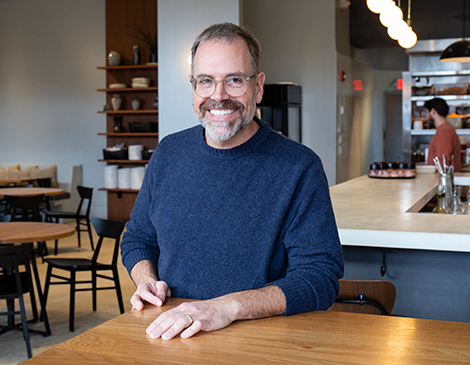 "If you love spice, if you love aromatics, this is the element that goes on your hummus, your bread, your rice, your shrimp," he says. "It's a condiment that just brings us over the top."
Still, he wanted to dive deeper. So, in November 2018, Katz and business partner Todd Thompson took a food-focused trip to the Holy Land as research for Zhug.
The markets of Israel are disorienting, colorful and inspiring. Vendors scream over honking taxi cabs, blaring Mizrahi music and murmuring crowds to draw you into veggie stands or let you know your shawarma is ready. As you stroll the modern metropolis of Tel Aviv or the ancient cobblestone streets of Jerusalem, colorful market halls with dozens of tiny eateries appear seemingly out of nowhere like you've stepped through the magic brick walls of Harry Potter. Vivid and vibrant dishes are held by thin sheets of serving paper.
For Thompson and Katz, it was a brainstorm of typhonic proportions.
"We had 10 to 12 experiences a day that were mind-blowing," says Katz. "There was so much excitement about food."
They returned with an iPhone full of inspiration. Hummus. Eggplant spreads. Mejadra, an onion and lentil dish.
Olives, feta and spices. Colorful plates and décor. An open kitchen with a stylish cocktail bar. World music and natural light that bounce off tall ceilings above a dining room framed by a two-wall banquette with earth tone throw pillows that feel like home.
And did we mention hummus? Likely, that's where you'll start when you dig into the menu at Zhug. Katz knew this would be his focal point, and he was meticulous about achieving the perfect velvety texture and umami-rich flavor. After exploring 12 worldwide purveyors of tahini, the essential creamy ingredient from toasted sesame seeds that's reminiscent of peanut butter, he found one under his nose from Ohio-owned Seeds of Collaboration, which sources from Israel.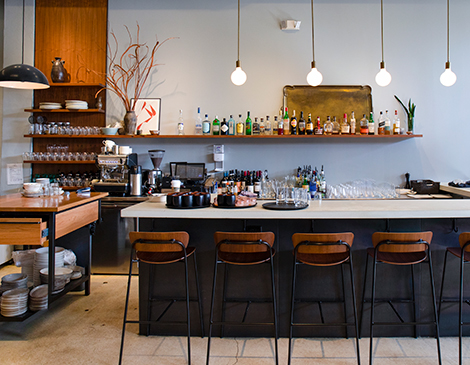 "Co-founder Dana Harary came in and gave me a sample, and it was the best thing I'd ever tasted," says Katz. "It's what makes our hummus so amazing."
If you've been stalking Zhug on Instagram, you'll likely go for the picturesque nigella seed and burnt onion hummus ($13), which offers an explosion of flavor from the charred-but-sweet onions, bitter nigella seeds and tangy, citrusy sumac. But we were wowed by the curried lamb and apricot hummus ($16). The Clevelander in me was expecting a tender hunk of well-seasoned, pull-apart lamb or maybe a pink, pan-seared lollipop. Instead, an island of finely ground meat plays a gamey and smokey role that's meant to be spread out and treated with no more importance than the speckles of sumac or the moat of spicy chili oil.
If being a decent human isn't enough incentive, be nice to the waitstaff, which on any given night could include Katz, who is known for bouncing around the room greeting and informing guests. Selfishly, you're going to need a friend in high places when you inevitably run out the complimentary naan bread. This spongy vessel is a vital conduit for the concoctions that make eating through Zhug's menu so much fun.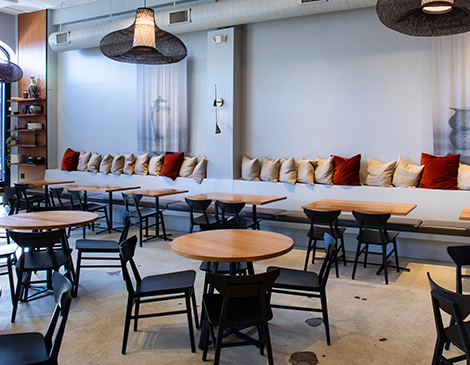 Roll one up with smoked pastrami short rib ($19), duck fat potato tostones ($9), and leeks and feta ($12). Mix lutenitsa ($7), a spicy eggplant spread, with a dollop of zhug and pour it atop the house-made falafel ($11), served with
tahini and sesame seed. Indulge that childlike desire to play with your food and build the perfect bite. There are a million of them to be had.
One can't-miss is the smoked octopus ($18), another dish that is as easy on the eyes as it is on the taste buds. Cut like sausages, the buttery mollusk sits equal with dark purple potatoes, olives and bubbles of saffron aioli.
"Most people serve octopus as a tentacle on a plate," says Katz, "but it's such a rich thing that if we cut it into little discs, you have so much more to experience."
While many seafood restaurants wear "never frozen" like a badge of honor, Katz, an ambassador for Monterey Bay Aquarium Seafood Watch program, a group of chefs dedicated to supporting sustainable fishing practices, is proud that his is frozen on the boat the second it's caught by a purveyor in West Australia. This affords maximum freshness as well as minimizing the environmental impact. Other stellar dishes, such as the horseradish-spicy Pacific lingcod cakes ($16) or the chili-hot butter-roasted shrimp ($15), which comes in a fiery butter broth we could bathe in, take a similar approach. Once the octopus hits Zhug's kitchen, it's slowly braised, cooled and then smoked for several hours. The ingredients, including the tender, charred octopus, are arranged delicately in a pool of olive oil for one of the restaurant's most impressive platings.
"The presentation is so important," says Katz. "You experience food's beauty with your eyes first."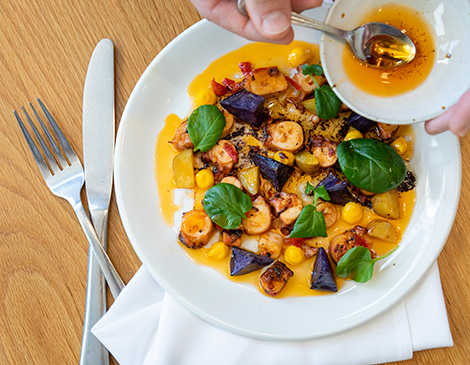 Another unique find, one that's maybe a bit underappreciated, is the eggplant moussaka ($16). This vegan dish is like a Mediterranean casserole with light and airy yet substantial layers of tomato, feta, lentils and oregano.
Drinkers and non-drinkers alike would miss out by skipping the cocktail menu. Sips that are refreshing and fruity but not overly sweet use crossover ingredients to perfectly complement your spread, driving home the ethos of fun and fusion. The tiki lover in me enjoyed the Zhug No. 1 ($12), which uses white rum, carrot juice, mango juice, turmeric and ginger to present an earthy take on the style. My sober-curious wife enjoyed the non-alcoholic Gazoz No. 2 ($9), which tasted like Christmas in California with blueberries, strawberries and cardamom syrup.
"I'm not necessarily using a traditional method or recipe, but I am using the same flavors," says bar manager Noah Biddle.
It all culminates in an excellent experience that feels effortless. Despite opening in November 2019 and going through two prolonged COVID-related shutdowns, Zhug has earned acclaim in Esquire's best restaurants issue and chef Michael Symon called it "one of the best and most thoughtful restaurants in the country right now." Spoiler alert: You'll likely see it in the pages of our Best Restaurant issue next month.
Zhug feels effortless. But that doesn't mean it was. Long before the heartbreaking closure of three businesses, the trip to Israel, the search for the perfect hummus, four iterations of the menu and shutdown after shutdown, Katz was on the path to some of his best work — even if he didn't know it yet. Now with Amba growing, Chimi thriving and a desire to expand all three concepts to more communities, this is far from the end of the road.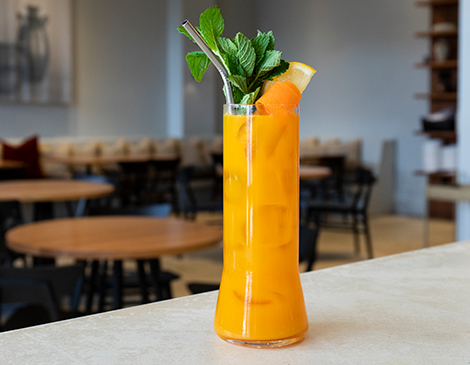 Hopefully, the journey doesn't just change you but makes you better. It certainly did in Katz's case.
"I thought Fire was going to be my whole life," says Katz. "When it closed, it gave me so many new opportunities in my life to experience a new phase where I can learn so much more and grow a company in a way where there is passion in each place. It's just one step at a time."