What to Know About Food Intolerances
Imagine walking through the grocery store, and all of a sudden your body has a poor reaction to something you'd eaten hours earlier. Whether it's cramps, gas or something more serious, it's miserable.
Although it's a situation everyone has likely experienced, what if it was a regular occurrence you didn't know the cause of or how to keep it from happening again? This is a familiar scenario for those suffering from food intolerances, which affect up to 20% of the population, according to the National Institutes of Health.
"It's important for people to understand their body's reaction to foods and their environment," says Julia Zumpano, a registered dietitian with Cleveland Clinic's Center for Human Nutrition. "If you don't feel well every time you eat or drink (fill in the blank), don't ignore that feeling."
More on how food intolerances affect the body. >>
What is Nutrigenomics? Cleveland Clinic Dietitian Alexis Supan Explains

Could your morning cup — or three — of joe increase your risk of high blood pressure or a heart attack? Will you lose weight on a high-protein diet, or do you need carbs to shed pounds?
Every person's body is different, and the science of nutrigenomics uses genetic testing to determine how the foods we eat impact our genes.
"Nutrigenomics looks at the relationship between genomics, nutrition and our health, and how — based on our genes — nutrients affect us and influence our body," says Alexis Supan, a registered dietitian at Cleveland Clinic Center for Integrative & Lifestyle Medicine. "It's easier to follow a certain diet if you have the science saying that it will be good for you."
How nutrigenomics work and what it can teach us about our bodies. >>
How to Ensure Child Athletes Get The Right Nutrition
It's not uncommon for young people to be unaware of the amount and type of nutrition their bodies need for development — especially if they're athletes who require more fuel for optimal performance. In 2020, Akron Children's Hospital began formally offering nutritional counseling services to guide children and teenagers toward healthier ways of approaching their diets.
"We cover nutrition for sports, including meals, snacks, recovery snacks and hydration strategies in a personalized approach," says Lindsay Bailey, a registered dietitian at Akron Children's Hospital, adding that services are not limited to athletes. "Anyone who's interested in learning more about nutrition can participate. There's a nutritional counseling outpatient program at Akron Children's that sees children and teens for general nutrition as well as sports-specific counseling."
More from dietitian Lindsay Bailey on the best snacks for young athletes. >>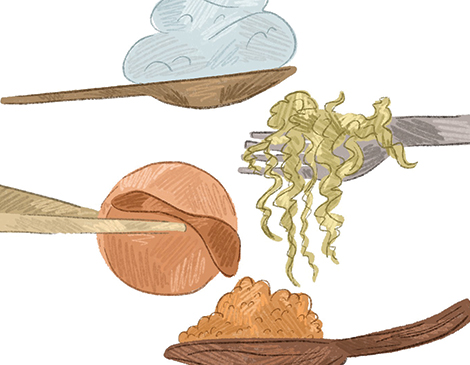 What's The Difference Between Prebiotics and Probiotics?
Think of your gut as an ecosystem — a home that's technically called a microbiome, where bacteria "good guys" live and help you break down and digest food, build immunity and stop inflammation that can cause disease.
We're talking about probiotics aka beneficial bacteria. Then there are prebiotics, food that nourishes probiotics in the gut, passing through like transient guests that leave behind nutrients to fuel the good bacteria. (The good guys need to eat, too.)
Do we need probiotic/prebiotic supplements, or are the foods we eat enough? And what benefits do these bacteria give our bodies, anyway?
More on what you need to know from Lizzy Traxler, a clinical outpatient dietitian at University Hospitals Digestive Health Institute. >>
Ohioans Describe Nutrition Struggles and Successes
When Kristi Little was a performance artist in Manhattan, staying in shape was no sweat. But in 2008, when she returned to her native Ohio and settled in Cleveland Heights, weight gain followed.
"I danced and did yoga in New York, and I walked everywhere, sometimes 10 miles a day, " Little, 45, says. "But adjusting to a new environment was very stressful. Reading Harry Potter and eating pints of ice cream became a ritual."
That pattern became a habit, and Little realized that the 50 pounds she'd added to her 5-foot-4-inch frame affected her flexibility.
"I was exhausted and could no longer do yoga," she says. "That caused more stress and led me to eat even more."
Throughout the decade that followed, Little struggled to keep her weight down, constantly worrying about being diagnosed with the diabetes and high blood pressure that run in her family.
In 2018, she learned about Cleveland Clinic's Culinary Medicine program. Developed by a team of physicians, dietitians and chefs, it combines the evidence-based science of food, nutrition and medicine with the joy of cooking. Little signed up for the six-week course she describes as "life-changing."
More about how Ohioans are navigating their daily nutrition routines. >>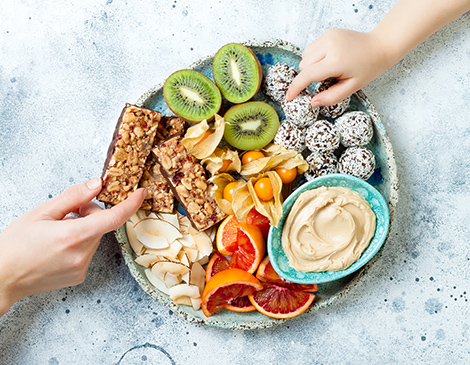 Go Green Smoothie Bowl: Blend bananas, grapes, mango, spinach, apples and more together until smooth, adjusting for sweetness and thickness. Serve immediately in a bowl with toppings, such as hemp seeds and goji berries.
Orange Baked Salmon: Lay aluminum foil in a 9-inch-by-12-inch cake pan, with enough extra space on either end to bring together on the top. Lay salmon fillet on the foil inside the pan and sprinkle with black pepper to your taste. Cover surface of fillet with orange slices first, then parsley. Seal foil tightly. Bake at 400 degrees Fahrenheit for 30 to 40 minutes until salmon is cooked thoroughly. Cut into four even pieces, removing the skin as you do. Divide orange slices between each serving.
Quinoa, Black Bean, Arugula and Spinach Ragout: In large non-stick skillet on medium heat, add 2 tablespoons of the extra virgin olive oil, onions, salt and pepper, and saute until light golden brown. Add broccoli florets and saute five minutes. Add black beans and make a well in the middle of the beans. Add remaining olive oil and garlic to the well, and cook the garlic until aromatic, about one minute. Add tomato sauce, hot sauce and cooked quinoa. Mix and bring to a simmer. Add spinach and arugula, and stir until thoroughly mixed and heated and greens begin to wilt. Serve.
Ways To Easily Add More Vitamins and Minerals to Your Daily Diet
When it comes to mental and physical health, most people's diets are deficient in the vitamins and minerals their bodies need to succeed. We've all heard the term "superfoods," which refers to foods rich in vital nutrients. But just as important as incorporating these choices into our daily diets is discovering how we go about doing it.
"Across the board, as dietitians, we like to categorize foods," says Julia Zumpano, a registered dietitian at Cleveland Clinic's Center for Human Nutrition. "It's the methodology around not limiting yourself to one food but enhancing your choices within a category of food."
She recommends focusing on whole foods, plant-based foods, berries, legumes, nuts, seeds, fish — specifically tuna and salmon — and healthy fats, such as extra virgin olive oil.
"The key is a variety of foods, and eating a good basis of nutrition each day," Zumpano says.
More tips and tricks from Cleveland Clinic dietitian Julia Zumpano. >>
How We Did It: Cleveland's Best Doctors
The doctors in this feature were selected by Professional Research Services (PRS), which conducted an online peer-review survey of area physicians in Northeast Ohio.
Physicians were asked to nominate fellow physicians they deemed the best in their field of practice.
More about our process of reporting for Cleveland's Best Doctors. >>
Want to dig in to more great stories about Northeast Ohio? Sign up to receive our weekly newsletter.