The Kirtland Melon Heads
Wisner Road sharply winds through a densely wooded portion of Kirtland. During the day, the beautiful farmland and forest are hiking and horseback riding destinations. But under moonlight, Wisner Road becomes Melon Head country.

Here, it's alledged that the mysterious Dr. Crow conducted experiments on a group of orphaned children suffering from hydrocephalus, a condition that caused the kids' heads to swell to three times the normal size. The tests were either malicious or an ill-fated attempt to save them.

Some claim the children were a result of a secret, conspiratorial government-run science experiment. As one story goes, when a fire killed Dr. Crow and his wife and destroyed their home, the Melon Heads began haunting the surrounding woods, only emerging at night.

Since then, driving down Wisner Road has been an East Side high school rite of passage.

"We'd roll the windows down and see if we could hear them," says the Lake County Genealogical Society's Bonnie Snyder. "If you got out of the car, you were pretty brave."

Snyder explored the myth for the Genealogical Society's Lakelines newsletter, mostly focusing on trying to prove the existence of Dr. Crow. Searching census data and newspaper clippings from the 1930s and '40s and Morley Library's obituary index, name indexes, subject collection and cemetery books, Snyder found no evidence of a Dr. Crowe, Crow, Krowe, Kroh or Krow.

"While I'm 90% sure this man didn't exist," says Snyder, "there's always that percent that he slipped between the census or the city directory."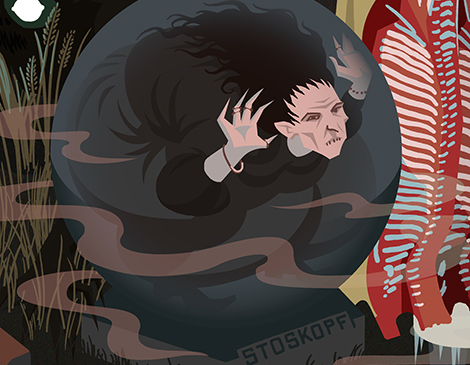 Myrtle Hill Cemetery
A round granite memorial, known as the Witches Ball in Liverpool Township's Myrtle Hill Cemetery, is steeped in all sorts of legends, including one suggesting a witch by the name of Stoskopf was buried upside down underneath it after killing her entire family.

Local legend says that if you touch the stone at night and it's warm, it means the witch has escaped and she's on the hunt for her next victim. There's no evidence to support such claims, but the truth behind some of the cemetery's inhabitants that may have inspired it is just as terrifying.

According to Plain Dealer stories from the time, in 1925, Martha Wise, "the Poison Widow of Hardscrabble," was charged with killing her own mother, Sophie Hasel, and her uncle and aunt, Fred and Lillian Gienke, by spiking their water with arsenic and poisoning an additional 13 others.

Early on, Wise claimed the devil made her do it. On May 7, 1925, The Plain Dealer reported more than 125 witnesses were called to testify to Wise's insanity, stating that sometimes she barked like a dog and frothed at the mouth, that she wandered the woods at night and caught several barns on fire.

Wise served most of the rest of her life in the Marysville Reformatory, where she died at 89 in 1971. Although she's buried in Marysville, her victims are all buried within a couple hundred feet of the Stoskopf spherical monument — which wasn't installed, according to local residents, until at least the early 1940s.

"However this craziness got started, especially with the burgeoning of the internet, it will never die," says Rod Knight, a historian at Liverpool Township's Historical Society.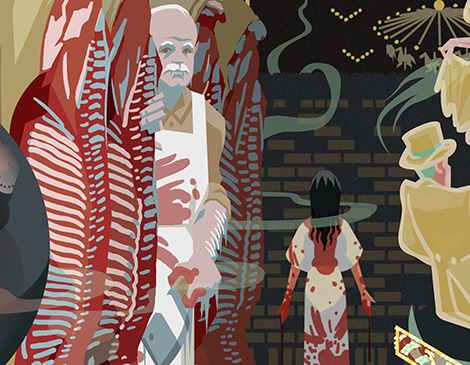 The West Side Market
The haunting of cooler No. 9 sounds like the beginning of a Goosebumps tale, but for many vendors and overnight engineers at the West Side Market, it's a legend that's chilled blood for more than 50 years, along with other spooky tales of the market, such as a bloody girl who haunts a back alleyway.

Don Whitaker, owner of D.W. Whitaker Meats, and his friend and co-worker Tim Jeziorski have had a few eerie run-ins with mysterious sounds, and others have made claims of a man wearing an old-style butcher's frock in a vacant section near the entrance of the long, narrow cooler.

"I've never seen anything, but you hear some weird things," says Jeziorski, recalling the two times he heard what he thought was the sound of a handsaw slicing through bone even though he was alone.

There is a hair-raising detail that makes the dimly lit hallway outside of cooler No. 9 a bit unsettling. In a Nov. 3, 1913 Plain Dealer article, Joseph N. McCurdy was described as the jovial head of the market's refrigerating system, who earned the nickname of the "Housewife's Friend" after allowing community members to store fruit and pies inside the coolers.

But just three years after the market officially opened in 1912, McCurdy was experiencing financial difficulty and his wife discovered details of an alleged affair with another woman.

On Feb. 11, 1915, The Plain Dealer reported laborers found his body huddled on top of a cold air duct near cooler No. 9. The double-barreled shotgun he used to shoot himself in the heart lay at his feet. Police say he used his toe to pull the trigger.

"I don't know if I believe in this stuff, but I'm always looking for an explanation," says Jeziorski.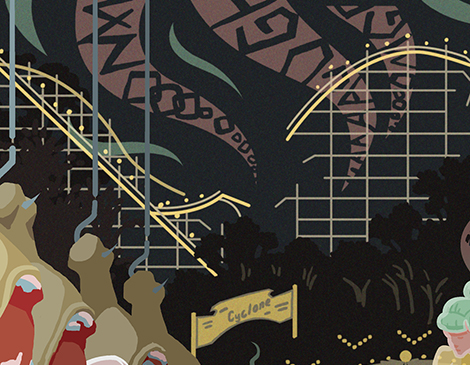 Puritas Springs Park
Puritas Springs Park's Cyclone has a fearsome reputation.

Opening inside the West Park theme park in 1928, the notorious wooden roller coaster careened riders through several sharp drops into the Rocky River Valley, reached speeds of nearly 55 miles an hour, and, the story goes, experienced a cataclysmic derailing that sent a train of passengers plummeting to their deaths in the ravine below.

Residents in the apartments built in the area have allegedly heard those final screams cutting through the night.

"Negative publicity seemed to center around the Cyclone, probably because it was built on the edge of the valley," says Ralph A. Pfingsten, who co-wrote One Minute to Puritas Springs Park with Gary Swilik, "whereas the ones at Euclid Beach [Park] were just on wide, open, flat ground."

But the truth's (slightly) less gruesome. There was only one fatality reported in connection with the Cyclone: 21-year-old William Calfee. According to a June 1, 1953, Plain Dealer story, he was thrown in front of the train and run over during a late-night ride May 30, 1953.

No legal action was filed against the park, though it did face a civil suit in 1944, two years after Daniel Schroeder was thrown from a car, suffering internal injuries and fracturing his leg and wrist, according to an Aug. 17 Plain Dealer article. The ride was shuttered in 1956.

"But to this day," says Pfingsten, "the Cyclone is rated by coaster enthusiasts as one of the very best of all time of the wooden coaster era."



The Variety Theatre
The once-majestic Variety Theatre on Lorain Avenue and West 118th Street may have shut down operations in 1984, but the building still boasts as active a roster of patrons as it did when it was a bustling movie house and performance space, built in 1927.It's just that the current patrons are distinctly more dead.

"I know of 21 spirits who roam the theater," says Patrick Colvin, a board member for the Friends of the Historic Variety Theatre and a keeper of the keys to the building for the past decade.

Over the years, Colvin has had countless supernatural encounters in the space, describing the spirits as mischievous but not malevolent.

"They move things around, barricade doors, and generally make themselves known," says Colvin.

Among the 21 spirits that Colvin has encountered are "The Man in the Top Hat," a 6-foot-3-inch gentleman clad in a 1920s-era suit, and "The Lady in White," who Colvin says once performed in the theatre, a curtsying woman in a high-necked dress who is often seen by the water fountain near the ladies lounge.

"I'm pretty sure her name is Claire," says Colvin. The Variety has become a frequent paranormal pit stop, with some visitors making donations to the 21,000-square-foot Spanish Gothic theater to help keep the famous marquee lit for passersby.

Well-meaning people have offered to cleanse the Variety of the spirits that reside there, but Colvin won't hear of it.

"This is the spirits' home, and they are here to stay," he says.


Read More: Click here to read the full list of 30 Myths That Define Cleveland