Mayfield High School art teacher Louis Penfield and his 11-year-old son, Paul, met Frank Lloyd Wright while touring the architect's 800-acre Wisconsin studio, school and home. After seeing a topographical map of the family's Willoughby Hills plot, Wright agreed to design an 1,800-square-foot structure for $2,600. Today, the Louis Penfield House, built in 1955 for $25,000, is one of nine Usonian homes — Wright's stylish, open-plan dwellings for middle-income families — built in Ohio.

"Wright wanted to create elegant housing for the common man," says Paul Penfield, who renovated the structure in 2000 and has cared for it since.

If that's the case, the architect might not be thrilled to hear the three-bedroom, 1 1/2-bath home is currently on the market for $1.3 million — $400,000 less than the 2014 asking price. In addition to a home on the National Register of Historic Places, two guesthouses and a 30-acre property that abuts the Chagrin River, the buyer receives the architectural plans for Riverrock, the final residential design Wright completed before his death in 1959. If you can't afford a million dollar home right now (the economy, right?), the house is available to rent for a minimum two-night getaway ... or you can follow us on a quick tour.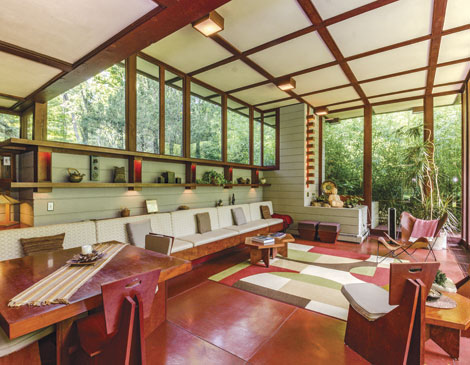 Living Room
With an abundance of 12-foot floor-to-ceiling and ribbon windows for natural lighting, the Usonian open-plan design features built-in bench seating, heated concrete floors and lush forest views. "It's famous for being a very social house," Penfield says. "We've had some wondrous parties."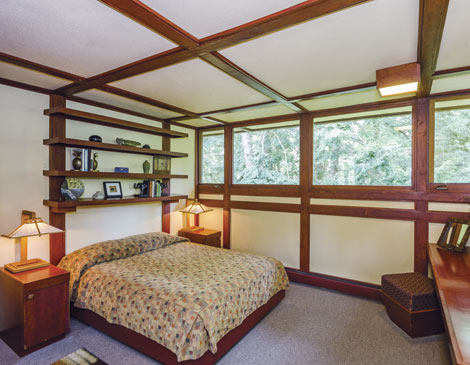 Bedrooms
The bedrooms have Wright-designed beds, nightstands and desks. "The plans for the furniture arrived separately," Penfield says. "I built all the beds and furniture according to his prints in 2003." Good thing. About the size of a short, modern-day full, even the master bed would have been a tight fit for the 6-foot-8 Louis Penfield.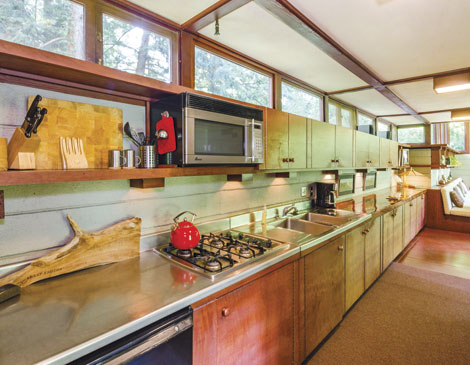 Kitchen
Wright's Usonian philosophy also called for building with readily available materials. During renovation, Penfield harvested black cherry wood from the property for cabinets and shelving and exposed the existing cinderblock walls for the backsplash. A series of down lights adds drama. "When I turned on those motifs, it was like, 'That's Frank Lloyd Wright,' " Penfield says.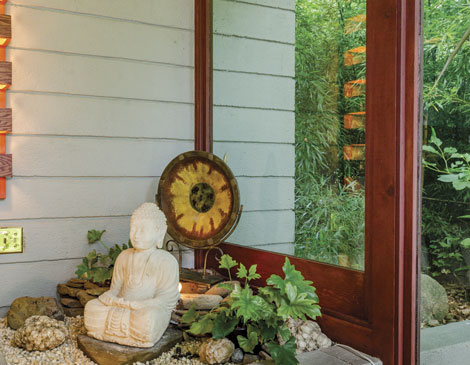 Perks
The house's charm lies in its nooks, crannies and details. Wright's affinity for Asian culture is exhibited in the indoor Buddha shrine and the outdoor bamboo garden, which hides the gas well that heats the house. "This place would be entirely free from the grid if we could figure out how to manufacture electricity."

Price Is Wright
Here's how the Penfield House's price stacks up to Usonian homes in other markets.

Stuart Richardson Residence
Glen Ridge, New Jersey
Built in 1951, 3 beds, 2 baths, 1,800 square feet
Sold December 2016: $999,999

The Eppstein House
Galesburg, Michigan
Built in 1953, 3 beds, 2 baths, 2,250 square feet
Sold July 2016: $386,000

The Paul Olfelt House
St. Louis Park, Minnesota
Built in 1959, 3 beds, 2 baths, 2,647 square feet
Asking price: $1.3 million