This article was published as part of an exclusive content partnership agreement with NEO-Trans.blog.
Several major downtown Cleveland tenants are in the market for new homes and where they land could shake up the office market in the central business district. The moves come at a time when many companies are shrinking their office footprints and Downtown office building owners are fighting to keep what tenants they have. Interestingly, several major tenants that are on the move are looking for larger space than what they have now.
According to two sources who spoke to NEOtrans on the condition of anonymity, the largest Downtown office tenant that's on the move is Rocket Mortgage, owned by billionaire Dan Gilbert. Its lease for nearly 300,000 square feet on the upper floors of the Higbee Building, 100 Public Square, is set to expire Dec. 31, 2026. Rocket Mortgage has been paying rent to Vici Cos. since Vici acquired the property from a Gilbert-owned affiliate in 2020. Gilbert prefers to have his companies pay rent to other companies he owns and, one of those, Bedrock Real Estate, is seeking to develop the Cuyahoga River waterfront.
One of the structures in the first phase of Bedrock's riverfront development is a roughly 20-story, 300,000-square-foot office building. Rocket Mortgage won a $975,000 Job Creation Incentive Program grant from the City of Cleveland in 2021 to double its employment in Cleveland from 700 to 1,400 jobs, and is obligated to keep that employment level or return the grant. NEOtrans broke the story in June that identified the other proposed uses in Bedrock's riverfront first phase, including a relocation of the Cleveland Cavaliers practice facility from Independence. Gilbert owns the NBA franchise.
There are rumors from multiple sources that Bedrock may seek a Transformational Mixed Use Development (TMUD) tax credit from the state to help finance the first phase of riverfront development. The deadline for submitting a TMUD application for the current round was Sept. 8. However, Bedrock's spokespersons aren't talking and an Ohio Department of Development spokesperson said a roster of applicants and their projects is still being assembled. The second phase of the riverfront development reportedly is a candidate for Cuyahoga County's Consolidated Courthouse.
RELATED: Millenia, Bedrock Emerge as Potential Bidders for Cuyahoga County Courthouse Consolidation Project
Also in June, NEOtrans revealed that a rocket-themed Astro Restaurant is planned to fill Tower City Center's former Hard Rock Cafe space. It's an interesting restaurant theme in a interesting location — across Huron Road from the approximate location of the proposed Rocket Mortgage office tower. Restaurateur Andre Scott, who joined with Jeremiah Burks, Ryan Gullatt and Christopher Thomas, have experience in other themed restaurants, including the Haunted House Restaurant in Cleveland Heights. Scott says they were approached by Bedrock to put the themed restaurant in the Hard Rock Cafe space.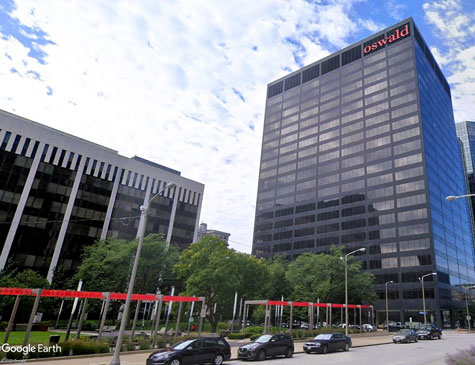 Oswald Centre, 1100 Superior Ave., in Downtown Cleveland, is at risk of losing its naming-rights tenant, the headquarters of insurance firm Oswald Companies. It's not the only big tenant that's on the move downtown. Real estate broker CBRE and Gray Television, owner of WOIO-19, are also on the move (Google).
Oswald Growing, Possibly Moving
NEOtrans has heard rumors that insurer Oswald Cos.'s headquarters may be on the move and is seeking up to 90,000 square feet of office space for approximately 300 employees. As one of the nation's largest independent, employee-owned insurance companies, it leased in 2013 about 72,000 square feet on the 13th, 14th and 15th floors and first-floor conference space at the 51-year-old, 21-story tower that bears its name, Oswald Centre. Oswald also has offices in Akron, Cincinnati, Columbus, Detroit, Medina, Pittsburgh and Toledo.
"Oswald's lease at 1100 Superior Ave. expires in a few years," says Robert Klonk, chairman and CEO of Oswald Cos. in an email to NEOtrans. "Like many organizations, we consistently explore our options to do what's best for our employee-owners and for the company."
Real estate insiders say Oswald, founded in 1893, would like to remain in Downtown Cleveland but that all options are on the table. Because its lease won't expire until 2026, Oswald is in a position to consider relocating to a proposed new building or to a structure that could be significantly renovated — including its current home. But the Oswald Centre has been in financial and legal trouble lately.
In facing a foreclosure lawsuit, ownership of the 625,000-square-foot Oswald Centre was taken over last January by its lender LNR Corp. of Miami Beach, Florida, as a distressed property, Cuyahoga County property and court records show. While the foreclosure lawsuit was dismissed in August thanks to LNR's acquisition, the building is about 40 percent vacant, with 250,725 square feet empty in the 625,239-square-foot structure, according to LoopNet.

Across East 12th Street from the Oswald Centre, downtown tenant Gray Television (WOIO/WUAB/WTCL) may be leaving soon for the suburbs. However, the City of Cleveland is reportedly making a full-court press to try to keep Gray and its 100-plus employees downtown (Google).
Gray TV May Be Tuning Out Downtown
While county property records show Gray Media Group bought a 3.2-acre parcel last year in suburban Independence for $2.8 million, Cleveland city officials privately say they haven't given up on keeping the television studios, offices and their 100-plus employees downtown. Those employees generate up to $280,000 in annual income tax revenue for the city.
Gray, parent of local TV stations WOIO (CBS affiliate), WUAB (CW) and WTCL-LD (Telemundo), plans to open a 40,000-square-foot, $12 million building at 5810 Rockside Woods Blvd., between Embassy Suites and Topgolf Cleveland. It's current location is at the northeast corner of East 12th Street and Chester Avenue, on the ground floor of the high-rise Reserve Square apartment complex.
Gray bought the land in Independence for $2.8 million from Saucy Brew Works, according to county records. Saucy bought it only two years earlier for just over $2 million for a brewpub that never materialized. Instead, Saucy decided to stay and expand its existing brewpub and production facilities in Cleveland's Ohio City neighborhood. And the city of Cleveland hopes that Gray will come to a similar change of heart by expanding or relocating in the city. Last year, iHeartMedia went through a different change of heart when it decided to move its Northeast Ohio headquarters from Oak Tree Boulevard in Independence to 668 Euclid Ave. in Downtown Cleveland.
NEOtrans sent emails seeking comment and more information from Gray TV vice president and general manager David Hughes as well as to Kristin Pohlig of Falls & Co., which has the media relations account for Downtown Cleveland Inc. Neither responded prior to publication of this article. In June, Hughes replaced Matt Moran who became senior managing vice president at Gray at its headquarters in Atlanta. Hughes served as general manager of Gray's WSAZ (NBC) and WQCW (CW) TV stations in Charleston-Huntington, WV since December 2021.


The Cleveland office of global real estate brokerage CBRE is seeking a larger space and may move out of the Ernst & Young Tower at Cleveland's Flats East Bank. The firm has two office locations it is considering and hopes to have a signed lease by the end of October (LoopNet).
CBRE Near to Deciding New Office Location
Another Downtown Cleveland office tenant that's in expansion mode and possibly relocation mode is the Cleveland office of global real estate brokerage CBRE. It's because of that growth that CBRE is considering moving to a new Cleveland address, said Andrew Coleman, managing director and market leader for CBRE's Cleveland and Akron offices, in an email to NEOtrans. However, he would not comment on rumors of where CBRE might land.
"We still have two properties that are being evaluated and no decision or lease signed yet," Coleman wrote. "In both scenarios, we plan to expand our footprint as the firm continues to grow and develop other verticals in our business. We should have a decision by (the) end of (the) month, then hopefully a lease signed (at the) end of October."
CBRE has been at the trophy-class Ernst & Young Tower, 950 Main Ave. at Downtown's Flats East Bank, ever since the 23-story, 330-foot-tall building opened in 2013. Then, it leased 15,000 square feet in the 480,000-square-foot tower, which recently lost its naming rights tenant that was reported in a story broken by NEOtrans. EY is moving to the North Point office complex, 1001 Lakeside Ave., which was a lease-signing coup by CBRE rival Jones Lang LaSalle (JLL).
However, one rumor by a well-placed insider is that CBRE is moving to downtown's only other trophy-class office property -- Key Tower. Ohio's tallest skyscraper also is leased by JLL. But the source said CBRE is seeking to replace them and would take more office space at Key Tower to represent that property while gaining owner Millennia Companies as a client. "It wouldn't be appropriate for me to comment on another firm's office / workplace plans," said JLL's Cleveland office Managing Director Jon Vanderplough. "We have no comment at this time."
CBRE has been in the news a lot lately. Not only does it have Cuyahoga County as a client to help it find a new, renovated and/or expanded building for its Consolidated Courthouse project, it also has listed for sale the county's existing Justice Center property. And, while CBRE is not involved with Bedrock Real Estate in Cleveland, it is handling the leasing for Bedrock in Detroit's Riverfront and Hudson's Site developments.
Start your day the best way by signing up for our free daily newsletter, arriving in your inbox every morning to keep you in the loop on the latest news, weather, sports scores, best restaurant guides, home and style tips and all things Cleveland. Click here to subscribe.