Play Ball Park is like a pop-up version of baseball Disneyland. Catch the magic of the national pastime July 5-9 with more than 40 attractions celebrating baseball, from batting and pitching cages to exhibits covering the sport's history.

While meeting Mickey or Minnie is replaced by seeing Major League Baseball stars past and present, the indoor-outdoor event at the Huntington Convention Center of Cleveland and Malls B and C is still a baseball fan's dream come true.

"People will be blown away with the assortment of things to do and the interactive nature of [it]," says Gabriella Kreuz, in-game host for the Cleveland Indians. "You just want to be a part of it."

Here, Jackie Secaira-Cotto, the director of special events at MLB, highlights five can't-miss aspects of Play Ball Park.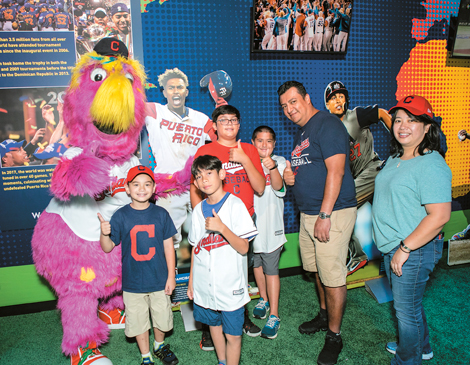 Sign Here
Inside the convention center, three autograph stages feature a nonstop rotation of Hall of Famers, Tribe legends, former Olympians and more. Plan to cross off names such as Jim Thome, Kenny Lofton and Carlos Baerga from your autograph wish list. A mobile app lets people reserve a time to get those all-important sigs, cutting out any groan-worthy lines. "Who wants to wait in line for three hours?" asks Secaira-Cotto. "In the meantime, you can hit some balls, shop or eat."

Virtually a Goner
Live out your Home Run Derby dreams — virtually, at least. Throw on a VR headset, pick up the special baseball bat-controller and channel your inner Albert Belle while swinging for the fences. "Fans put on their VR goggles and step into a batting cage where they participate in a Home Run Derby contest similar to what the players do on Monday night at Progressive Field," says Secaira-Cotto. "Fans get to compete and there's actually a tournament that takes place."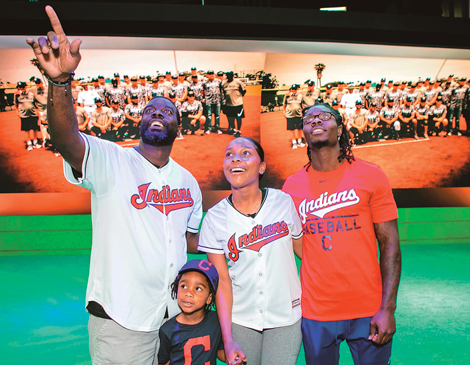 History Lessons
The National Baseball Hall of Fame in Cooperstown, New York, might be on every fan's bucket list, but Play Ball Park brings a piece of that experience here with exhibits and artifacts spanning the whole history of the game, such as Neal Ball's 1909 glove from the first unassisted triple play in baseball history. "The museum at Cooperstown is spectacular," Secaira-Cotto says. "But not everyone gets the chance to make that trip. This is really a nice representation of what you would find at the Hall of Fame."

Analyze This
In baseball, analytics are king. Whether you're old school or new, take a few cuts in the cage with a baseball bat equipped with Blast Motion, small knob-sized tech that attaches to the bottom of a bat, to see how your velocity, attack angle and more stack up. "This is the super in thing right now," says Secaira-Cotto. "It's an opportunity for fans to experience the technology and innovation in our game." Sign up for the free All-Star Experience Pass, and you can scan a QR code to build a personal trading card, showing your stats from each activity — you know, for bragging rights.

The Great Outdoors: Head outside to Malls B and C, which are packed with batting and pitching cages, drills led by former All-Stars and coaches, Insta-worthy backdrops, food trucks and live musical performances, all of which are free to the public. "There's something for everyone," Secaira-Cotto says, "music, local acts, contests and games. We'll also have a mini-diamond with local youth teams playing and participating in clinics."