Refresh your Twitter and Instagram timelines on Sunday afternoons by checking out these must-follow accounts.

Twitter

Mary Kay Cabot
@marykaycabot
The Plain Dealer's Browns beat writer tweets in-game updates while the team is on the field, as well as post-game recaps and more.

Our fave post: "Odell Beckham Jr. has warmed up to this whole #Browns thing: he's sitting courtside at the #NBAFinals tonight in a Jim Brown throwback jersey"

— tweeted June 7, 2019, while Beckham was in Oakland, California, for an NBA Game

Zach Frydenlund
@Pchopz_
The deputy editor of Complex Sports has no shame in his fandom for the Browns, especially Baker Mayfield, who the former Clevelander defends at every opportunity.

Our fave post: "Your football team's QB isn't Baker Mayfield? That's a shame."

— tweeted Oct. 7, 2018, after Mayfield threw for 342 yards in a 12-9 win over the Baltimore Ravens Instagram

Instagram

Odell Beckham Jr.
@obj
The new Browns wide receiver instantly brings an it factor Cleveland sports has been missing since LeBron James left, and it's fun to follow along as he posts about fashion and his excitement over being a Brown.

Our fave post: "I always beena dawwggg…."

— posted April 1 at Beckham's introductory press conference in Berea

Adam Schefter
@adamschefter
As an NFL reporter for ESPN, Schefty, as fans know him, uses his Instagram account to break news through engaging photos of players, and posts video to share snippets from his TV appearances.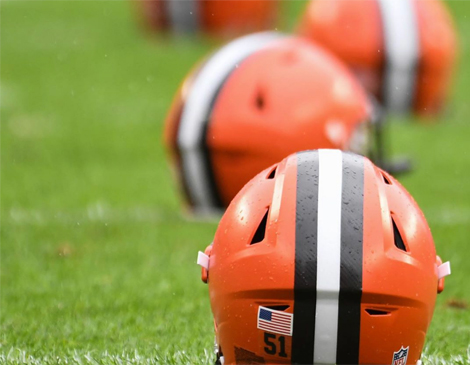 Our fave post: "Browns will be changing their uniforms before the 2020 season. Asked if the helmets also would change along with the uniforms, Browns' owner Dee Haslam said: 'No. No. Never (laughter). Absolutely never.' "

— posted July 29, four days after training camp started