The voice of the Cleveland Browns boomed across Public Square Thursday. "With the No. 1 pick for the 2021 NFL Draft, the National Football League selects… Cleveland, Ohio!" declared Jim Donovan — with hopes that this would be the city's last No. 1 pick for a while. Featuring jumbo beer pong, football toss games and free Bud Light, hot dogs and ice cream, Rock the Clock, a tailgate-style event celebrating the 86th NFL Draft's 2021 visit to Cleveland, was for the fans. Cornerback and hometown pride Denzel Ward and former kick returner and current special teams coach Josh Cribbs pumped up the crowd, while general manager John Dorsey was greeted by fans like a savior. But as the Destination Cleveland staff posed on stage for a picture, the event felt just as much like a celebration of its CEO David Gilbert, the tourist bureau, the Greater Cleveland Sports Commission and the City of Cleveland, all of which have gone to great lengths to land premier national events like this starting with the Republican National Convention's visit in 2016. Here are some sights and sounds from the event.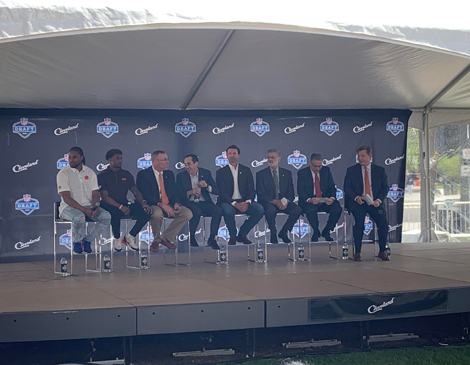 Developing Details
Actual details of the event are scant, and Thursday's event didn't add much. Announced May 22 at the annual Spring League Meeting in Key Biscayne, Florida, the draft will take place in late April 2021, as usual. Though rumored to be outdoors, which makes us speculate about The Mall as a possibility, the location of the draft has not been disclosed. It will be held downtown and highlight prime locations across the city, including the Rock and Roll Hall of Fame. A three-day football festival, The Draft Experience — featuring interactive exhibits, games and photo ops with the Vince Lombardi Trophy — will also surround the event.

Host City
Cleveland has made a point of following up the 2016 Republican National Convention with a series of big events, including the 2019 All-Star Week, the 2022 NBA All-Star Weekend, the men's and women's NCAA basketball tournaments and more. The result, according to Gilbert, can be seen in the 18.5 million tourists visiting the city last year. The NFL Draft is expected to bring more than 250,000 people alone, based on reported attendance from previous cities. Nashville saw 600,000 attendees — 54 percent from out of town — and 4.7 million viewers when it hosted in 2019. "If you saw the draft on TV this year it was one big constant for the NFL and for Nashville, and that's what we can look forward to in Cleveland," said Gilbert, who thanked civic involvement and community effort for pulling this off. "Now we have 23 months to perform and show this city knows how to party." Estimated economic impact from these events is $280 million, with $100 million coming from the NFL Draft. These estimations are always flawed but are certainly worth the excitement.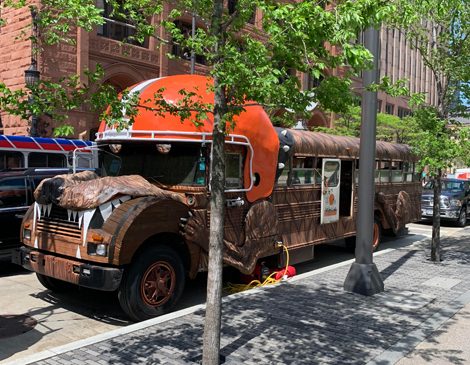 King Dorsey
Mayor Frank Jackson's speech, a pretty typical Jackson speech, was interrupted by chants for the people's mayor, John Dorsey. But the general manager, who reminded fans that Ohio is the birthplace of professional football with five of the original 13 professional teams being from the state, shared a message that took overzealous fans by surprise. Don't believe the hype, said Dorsey, who reminded fans of the long season ahead. "Those guys got to come together in training camp and form their identity there, and have those veterans will set like-minded singular goals," he said. "Because as we all know, somewhere in the fall we'll meet a moment of adversity and if you're strong and you have one single goal, you'll be able to fight through those moments, and this group will do that."

The Family
In a cool moment, cornerback Denzel Ward reflected on his hometown journey up the football ranks, from Nordonia High School to The Ohio State University to the Cleveland Browns. "I'm from here, I'm from Cleveland, I went to Ohio State," he said. "To get drafted by my hometown team and play in front of the Cleveland fans, I feel like I'm playing in front of family." "You are!" Donovan responded.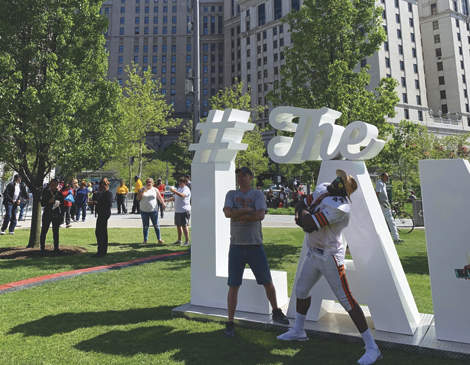 Pumped Up Cribbs
After the event, we caught up with Josh Cribbs, who is currently a special teams coaching intern for the Browns. While he was offered coaching gigs for other teams, the Kent State University alum is too proud to be a Clevelander to go somewhere else. "I was homesick when I played for other teams," said Cribbs, who is excited to share his Cleveland pride with the world when the draft comes in 2021. "We know we have the best city and the best fans in the land. Now it's time for the nation to see. The nation will say 'Oh my gosh, look at Cleveland. Cleveland rocks.'" While fan favorites such as him and Joe Thomas didn't experience a lot of success, the former kick return specialist and wide receiver said they can feel proud about laying the groundwork for today's team. "It's not bittersweet because I did my part. We let our city see what winning is," he said. "We had one winning season with 10-6, and the city was electrified. We beat the Steelers one year without a winning season and the city was electrified. We gave them hope, and look what hope does to our city. If we actually win and do bigger things, our city is going to erupt and it'll turn the championship that we had with the Cavs into a warm-up. That will be a practice run for what's to come for our city."

For more, check out some of our videos from the event:

Mayor Jackson says landing this event is the result of civic collaboration. One Browns fan thinks differently: "JOHN DORSEY!" pic.twitter.com/D64pJhCdSZ

— Dillon Stewart (@DillStew) May 23, 2019
God, Dorsey is such a football guy. His take on the 2019 Browns: "DON'T BELIEVE THE HYPE." pic.twitter.com/5nvT1jr8QQ

— Dillon Stewart (@DillStew) May 23, 2019
.@denzelward: "Playing in Cleveland is like playing for family." pic.twitter.com/0gsfK9FIqp

— Dillon Stewart (@DillStew) May 23, 2019