A bike sat in Noelle Simpson's garage for five or six years. A gift from a friend, it was a symbol of her hope that one day her 24-year-old son, Micah, who was something of a child triathlon prodigy, would one day return to the sport.

This weekend, Micah will put that bike to good use when he and his mother compete in the USA Triathlon, a two-day national championship event being held in Cleveland Aug. 9-11. He'll compete in the spring competition, swimming 750 meters in Lake Erie, biking 20 kilometers and running 5 kilometers through Edgewater Park. Meanwhile, Noelle will race for a spot on Team USA at the 2020 World Championships by swimming 1.5 kilometers, biking 40 kilometers and running 10 kilometers.

Micah returns to the sport after nearly a dozen years off. He started competing in the three-in-one sport at age 7 — before some of his peers could probably even read — thanks to a not-so-slight nudge from his mother. Noelle, who is 44 years old, has been racing competitively for 18 years, and knew the sport would be a boon to her son's health and confidence.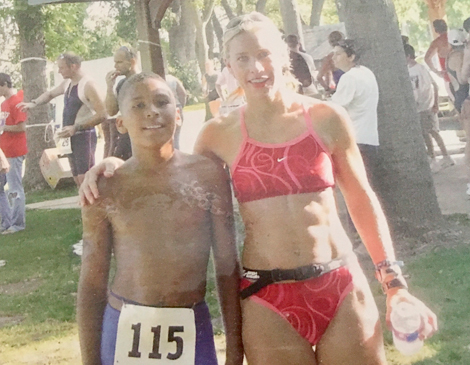 "I honestly hated my mom for it," he says. "I felt like it was more her thing, and she was trying to drag me into something she likes. But then I completed my first race, and I kind of fell in love with it."

The athletic youngster, who trained on a children's mountain bike, began competing in the adult category in 2004. After first completing a smaller race held at Lorain's Lakeview Park, the 9-year-old finished the Cleveland Triathlon — the youngest to ever do it at the time.

"He had some tears but he did complete it," says Noelle. "He thought it was a lot, but he kept doing it until he was 11 or 12."

After competing in nearly a dozen races and courting local media coverage, including in Cleveland Magazine, Micah was ready for a new endeavor. He was already a nationally ranked competitive swimmer and had fallen in love with golf. Excelling at these two sports through high school took up too much time to focus on racing, but earned him impressive accolades, such as a second place finish in the Ohio State Swimming Championship, high school All-American status, the News-Herald's All-Decade Swim Team and a spot on Ohio State's swim team.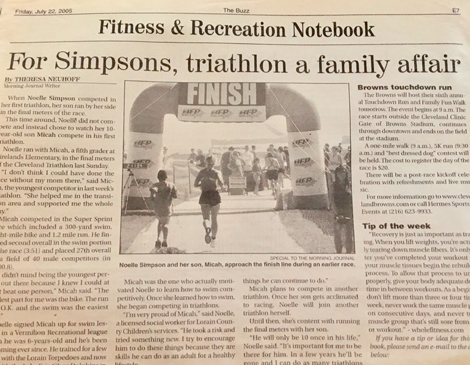 But after college graduation seemingly ended his sports career, Micah found himself craving competition again. So, he decided to return to racing.

"I missed it," he says. "I was left with nothing to compete in, nothing to train for. I was just working out to keep myself healthy and in shape, which kind of bored me. Seeing my mom still doing all these motivated me to involve myself in it again."

This time around, as busy work lives naturally push families apart, competing and training brought them together. Instead of Noelle pushing a sometimes-unwilling Micah, he coached her on swimming technique and took her advice to improve his lacking bike game. Noelle's mother, who suffers from Alzheimer's Disease, moved in around the same time and joined the family trips to competitions or the bike shop. Micah believes he even inspired his mother to battle back this season from a hamstring injury that had her in a wheelchair as recently as winter. The tag-team approach helped each competitor qualify for this weekend's national championship event. After being cleared to train again in March, Noelle drove all the way to Wilmington, Ohio, to compete in a nationals-qualifier, taking second in the Red, White & Zoom Triathlon. Meanwhile, Micah didn't even know he qualified when he took second at an event in Fairport Harbor until his mom told him.

This weekend, the duo will join nearly 5,000 other competitors in the waters and trails of Cleveland's Edgewater Park. Micah, who is attempting to eventually compete in U.S. Masters Swimming, might not even have competed if the event wasn't in town and just hopes to have fun. Yet, Noelle has her eyes set on qualifying for Worlds. A classic hot and humid day or choppy Lake Erie waves could make things difficult, but luckily, this home-team duo already knows the course pretty well.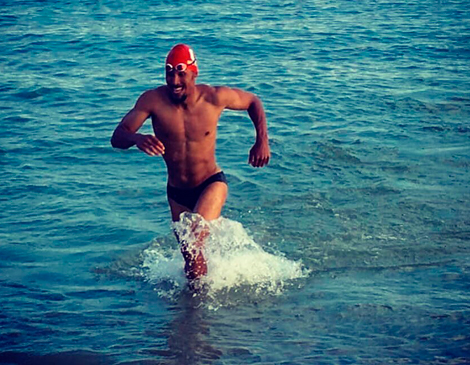 But no matter the outcome this weekend, this summer has already been a success.

"This has been the best that me and my mom have communicated, the peak of our relationship at any point in my life," says Micah. "It's something that we both love that we can bond over. It's been amazingly therapeutic and something that has been missing from our lives recently and is very much welcome back in."

"Going to the bike shop together, swimming together, going to competitions has really brought us together," says Noelle. "It's been a fun summer."