When planning this year's Sunday spread, Fahrenheit chef and owner Rocco Whalen recommends going outside your spice comfort zone. "Try curries or different powders," he says. "Elevate your spice game." The chef gives us tips on a couple dishes and a cocktail to make game day a winning feast.

Chicken Wings
Dry rubs aren't just for brisket or ribs, says Whalen. He suggests coating wings — perfect for hand-held snacking — in a spicy rub that includes Aleppo or Espelette crushed red pepper, cinnamon, brown sugar, salt and pepper. "I love them because you prepare them 24 or 48 hours in advance," he says. "Then roast them, fry them or bake them."

Roasted Veggies
For a side, Whalen prefers roasted vegetables such as peppers and onions — ideally cooked with the chicken — as a lighter alternative. "I like mixing those with almonds and vinegar to make a sauce," he says. "Then, you have a nice dry rub wing with almost a Romesco sauce."

Game Day Cocktails
Whalen says fall is bourbon time, especially as you get into comforting drinks such as spiked milkshakes. But he suggests experimenting with another sporting bour-bon drink: the mint julep. Try mixing bourbon, Amaro liqueur, soda water, fresh mint and simple syrup, or try your own combo. "The worst thing that can happen is you don't love your first drink and you try something different," he says.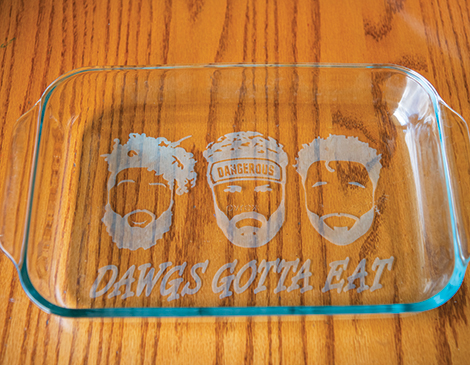 Plus...
A Browns Item We Love: "Dawgs Gotta Eat" Casserole Dish
Game day at home calls for the right gear. And this "Dawgs Gotta Eat" glass casserole dish ($30) from Columbia Station-based FreeRangeCrafting can help your cooking skills go pro in style. Etched with the likenesses of Odell Beckham Jr., Baker Mayfield and Jarvis Landry, the details such as Landry's earring will make devouring your next meal a fun treat. etsy.com/shop/freerangecrafting