From making fun of Francisco Lindor's hair to water balloon attacks, Cleveland Indians manager Terry Francona loves a good prank.

So when Indians pitcher Shane Bieber was added to the American League All-Star team less than a week before the first pitch, his manager couldn't help but take the opportunity for some hijinks.

"Tito kinda messed with me a little bit," says the 24-year-old first-time All-Star. "He had a very serious tone in his voice and called me into his room on an off-day. He grabbed me, and told me to sit down, and I was like Oh man, I have no idea what was going on, but it doesn't seem good. And then he kind of cracked a smile."

After letting him sweat for a second, Francona finally gave him the good news.

"He said, 'This is so important I wanted to tell you in person. You made the All-Star Team,'" Bieber recalls. "So yeah, my heart just jumped right out of my chest. It went all the way to the ground and then all the way to the sky. It was a special moment for sure."

The right-hander, who joins first baseman Carlos Santana, relief pitcher Brad Hand and shortstop Lindor on the American League team, is the youngest Indians pitcher since C.C. Sabathia to make the All-Star Game. With eight wins and three losses, Bieber's 3.45 ERA — which is even lower in recent starts — and 141 strikeouts propelled him to the final All-Star cut.

While clubhouse antics are a regular thing for the Indians, Bieber's teammates need to find some better jokes, he says. The smack-talker knows he's won — or at least touched a nerve — when he hears, "O.K., Justin," a reference to pop star Justin Bieber.

"Usually people aren't too creative," he says. "I wish they were more creative. When they say that, I know I've got them beat."


Here are a few other highlights from yesterday's All-Star Game Media Day.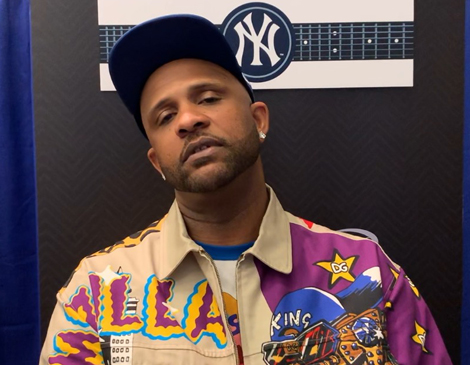 Sabathia Misses His Subs
Speaking of Sabathia, after a decade away from Cleveland, what's the first thing the Cy Young Award-winning pitcher does when visiting the city? He gets himself a sandwich. "I go to my favorite sub place Dave's Cosmic Subs," says the New York Yankees pitcher, who is set to retire at the end of this season after a 19-year career. "I always go there when I'm here." On a more serious note, he said the thing he misses the most is Clevelanders. "Just the people, the fans, the people around town, just seeing people around the grocery store. They were always so nice and so willing." When the Indians, who worried they wouldn't be able to resign the powerhouse lefty, traded him to the Milwaukee Brewers in 2008, Sabathia says that he "cried like a baby." He hopes Lindor doesn't face the same fate. "It's one of those organizations. Top to bottom, from the training staff to the front office to the people that work at the stadium that you see every day, it's just a great group of people and something you want to stay connected to and stay around."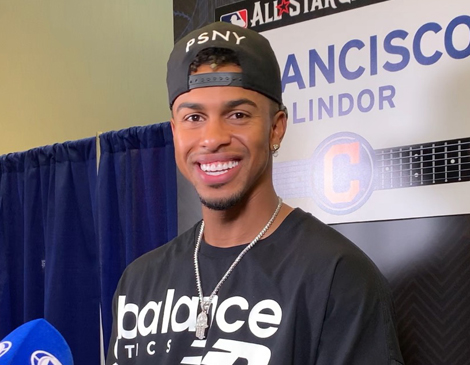 Lindor Is The Ultimate Clevelander
Four-time All-Star Lindor has been living his best Cleveland life since returning from an 11-1 blowout win over cross-state interleague rivals the Cincinnati Reds on Sunday. He caught the ceremonial first pitch from Tribe legend Jim Thome before the Home Run Derby, emphasized his desire to stay in Cleveland and hung out with musician Daddy Yankee before last night's festivities. When other players ask, "Why Cleveland?" he tells them: "Just look around. There's very genuine, beautiful people here. The Rock and Roll Hall of Fame is amazing. It's not only rock. There's great restaurants here. It's just a great atmosphere. I love Cleveland. I can't wait for the fans to show off and show every team that Cleveland's a good spot." (Someone pay this man please.)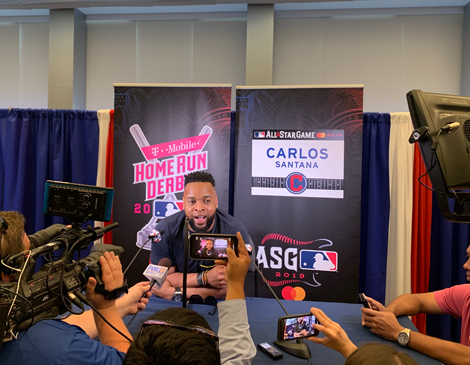 Slamtana's Icey Bling
Santana is enjoying his first-ever All-Star Weekend. He strolled into Monday's Media Day blinged out in a chain he refused to take off for last night's Home Run Derby. "Nino, what's cooking?!" the Indians slugger shouted across the room to teammate Lindor after similarly greeting Bieber. Slamtana promised the ice around his neck wouldn't affect his swing, but unfortunately, his 13 first round home runs in a losing effort last night might say otherwise. Here's to Santana redeeming himself, as he hits cleanup as the starting first baseman for the American League in tonight's All-Star Game.