You know in high school when a spirit day would pit all the grades against each other in some event that always boiled down to all the cool kids (of varying levels of athleticism) taking over?

That's what the Celebrity All-Star Game is like.
For two hours on Friday, 21 celebrities gathered at Cleveland State's Wolstein Center for this year's Celebrity All-Star Game, an annual feat of athleticism where your athleticism, or lack thereof, isn't a barrier to entry. I'm not kidding. I'm pretty sure I've seen (and played in) better basketball at Kent State University's rec center in college.
But I am not here to poo-bah the rich and famous from the cheap seats.

No.

The Celebrity All-Star Game is so eccentric and built around an outlandish showmanship that it works. There's no halfway with it, and I love it.
Interested in seeing Myles Garrett and Anderson Varejao go toe-to-toe in a shootout from the Ruffles four-point line? You're in luck. How about watching Kane Brown knock down a jumper in Machine Gun Kelly's face? Dear reader, I've got good news.
The Celebrity All-Star Game essentially boils down to the 1% cosplaying as NBA players. And I love it. I knew the game didn't matter for anyone — if you placed a bet on this game, please seek help — but I still found myself enthralled.

And for most of the night, that game was bad. The passes were errant, the shots were off and the court awareness was lacking. But that's not why the Wolstein Center was almost filled on Friday night. No, they were here to cheer and be entertained — and the game delivered.

That being said, there were glimmers of good basketball.
For example, I know country singer Jimmie Allen can HOOP and that Peloton instructor Alex Toussaint (pretty loose definition of celebrity this year) has a nasty layup package but can't drive with his left hand. He won this year's MVP.

My brain is already filled with too much useless sports and entertainment information, what's a little more?
Also, Myles Garrett is really, really large and really, really athletic. Check the video below if you don't believe me.

Or this one.

Here's a third one if you still need more convincing.

That dunk attempt (somehow) wasn't the most athletic play of the night. Gianmarco Tamberi, — an Olympic gold medalist in the high jump — threw down a tip-slam. He was awful any time he put the ball on the floor, but golly can he jump.

Team Walton — named after their coach Bill Walton — wore tie-dye jerseys (Ranveer Singh added knee-high socks and a No. 69 jersey to his look) while team Nique — in homage to their coach Dominique Wilkins — wore more muted grey jerseys. It looked like if the different sides of a Sherwin-Williams display were fighting each other.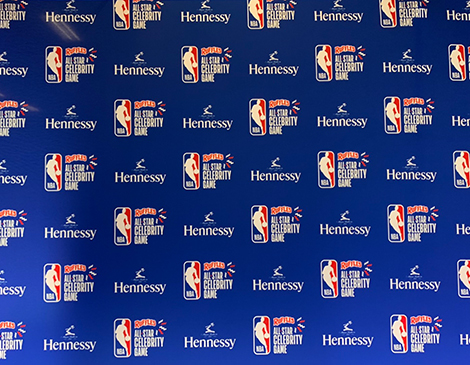 And still, I'm only two seconds away from buying a Jack Harlow jersey.
Despite the promise of competitive basketball at the Rising Stars game happening at the Rocket Mortgage FieldHouse just a couple hours later, a decent number of stars showed up to watch their well-known brethren carry the ball every time they dribbled up the court.

By my eyes, Megan Fox, Ronnie2K, Erik Spolestra, David Robinson and Darius Garland all took time out of their busy All-Star Friday night to cheer on the mighty Waltons and Niques.
On Sunday, the NBA's best will play in an All-Star Game broadcast around the world that will feature jaw-dropping feats of athleticism. On Friday, I watched a Cavs legend swat our mayor's layup attempt.
Long live the Celebrity All-Star Game.