Yesterday, I had my celebratory Browns column ready to go.
It was going to start at 1 minute and 23 seconds in the fourth quarter of Sunday's game, that vital 2-point conversion attempt by the Pittsburgh Steelers. It was a very Cleveland Browns moment, one that typically goes sour.
But this one didn't. The pass from quarterback Mason Rudolph sailed over wide receiver Chase Claypool's head to keep the score at 24-22. The Browns then collected a contested onside kick. Nick Chubb and Baker Mayfield, on two separate carries, converted a first down to run out the clock, and the Browns solidified their first playoff spot in 18 years.
The win wasn't pretty. It wasn't the blowout they should have had against a Steelers team at half-mast. But the drought was over. Mayfield fist-pumped his way to the next level of franchise quarterback stardom. A nearly tearful Jim Donovan finally got to taste the playoffs again, a treat the loyal play-by-play announcer, one of the NFL's best, hadn't gotten since 2002.
"The Cleveland Browns have made it into the NFL playoffs for the first time in 18 long years. Wow, what a struggle, the way it should be I guess," said Donovan, fighting back tears. "The only thing that's missing, all of you."
That victory Monday it felt like the "same old Browns" were no more — and then Tuesday came.
After a day of positive COVID tests sidelined head coach Kevin Stefanski, offensive lineman Joel Bitonio and a handful of others (which the NFL refuses to call an "outbreak") followed by a night of "drag racing" for offensive lineman Jedrick Wills and wide receiver Rashad Higgins, I can't definitely say that we're not the "same old Browns," just like after one week of January, I can't definitely say that 2021 is going to be better than 2020. It might be. I think it will be. But I just don't know yet.

But don't forget that we've come a long way. Just three seasons ago, Browns fans busted open Bud Light fridges after an 0-16 season and a 1-32-1 run. Just a year ago, in what was supposed to be the Browns breakout season, the head coach office was occupied by a guy named Freddie Kitchens, a safety named Jermaine Whitehead was threatening local media figures on Twitter, Beckham had more "gates" than anyone could keep track of and, oh yeah, Garrett clubbed Rudolph over the head with his own helmet.
In 2018, I spent two weeks following Chris McNeil, better known as @reflog_18 on Twitter, and his friends as they organized the 0-16 Perfect Season Parade. That January Saturday, I stood in below-zero temperatures with Browns fans begging the ownership to give its loyal customers a better product and celebrating the team we loved to hate. Brown-and-orange party buses and floats circled FirstEnergy Stadium. Fans held signs reading "We deserve better!" and "Sell the team." One even manufactured a toilet paper launcher and sat on a toilet throne.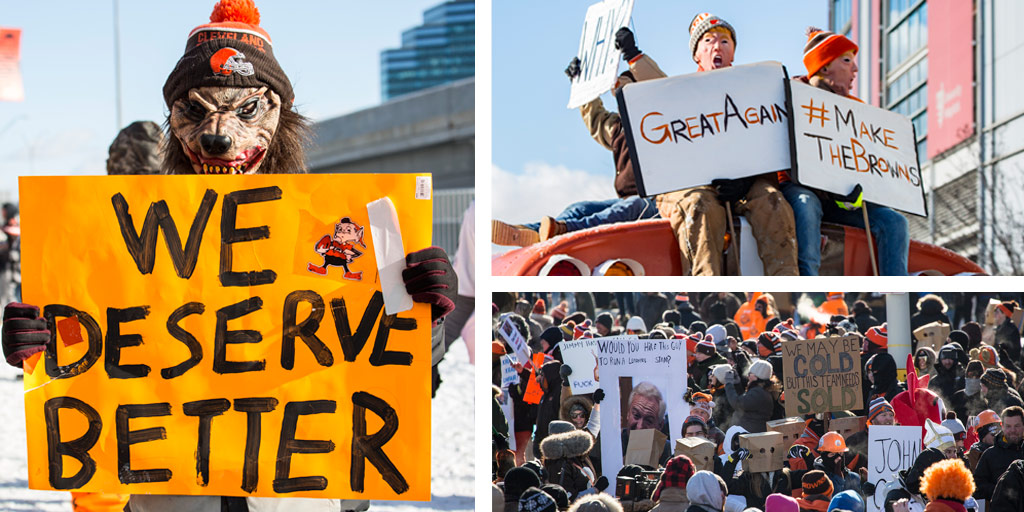 My piece, which I went back and read this morning (a painful thing for a writer to do), ended up as more of an airing of grievances than a journalistic endeavor. I pleaded, simply, for football worth watching.
And this year we got that. We got it in spades. We got Baker Mayfield bootlegs, Jarvis Landry bombs and Odell Beckham Jr. theatrics. We got Kevin Stefanski trick plays, and Myles Garrett strip sacks. We got prime-time moments on Sunday and Monday Night Football, and we got a whole lot of Nick Chubb running like the big tough man he is.
And did I mention we got that Donovan moment?
Maybe the same old Browns aren't dead. Maybe all those Cody Parkey misses were a reminder that the Browns will always be the Browns — even when they're winning. So what? We loved them before, and we'll love them forever. And at least I'm not praying for a Tom Brady-led New England Patriots game in the other 1 p.m. slot.
For the third time in my life, even if I don't recognize half of the players, the Brown and Orange will take the field in Week 17. And that's something special.
Now, let's go get Pittsburgh.