Four and a half minutes and 85 yards is about to determine the next week of Chris McNeil's life.

Dressed in jeans, a No. 2 jersey (Tim Couch, not Johnny Manziel) and a Browns hat with salt and pepper hair peeking out, McNeil is watching the final game of the 2017 Browns season in a Buffalo Wild Wings on Dressler Road in Canton with other members of the Perfect Season Parade committee.

Generic sports memorabilia hangs on the walls, which are painted with an ominous black and yellow color scheme. Chicken wing carcasses and spent beers litter the table. The waitress has brought the checks, but no one at the table paid her any mind.

The Browns trail the Steelers 28-24 in the fourth quarter when quarterback DeShone Kizer takes the snap from his own 15-yard line. The rookie hands off to running back Isaiah Crowell, who is deposited in the backfield by Pittsburgh defensive tackle Stephon Tuitt for a loss of three yards. McNeil cringes.

He looks more like the guy you'd see in the grocery store on a Sunday night — chin up, proudly sporting brown and orange after another loss — than a Twitter celebrity. In fact, he's both. His popular @Reflog_18 Twitter account, where he mostly tells dad jokes and brings sarcastic commentary to Cleveland sporting events, has an ever-growing base of more than 60,000 followers.

"During a game like this, I'll have 100 notifications a minute," he tells me. "I can't even scroll to the top."

Throughout the game, McNeil has been poking at Steelers fans sitting nearby. Pittsburgh has benched most of its starting line up to prevent an injury in a meaningless game before the playoffs.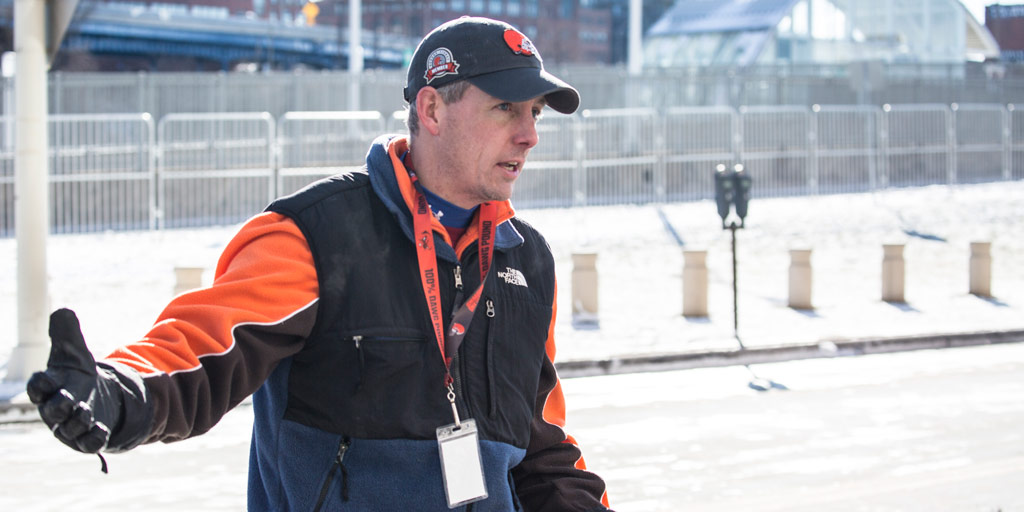 But the game is anything but meaningless for the Browns and McNeil. A loss means Cleveland will join the 2008 Detroit Lions as the only teams in NFL history to finish a season winless at 0-16. And if that happens, McNeil has to make good on a promise that started with a simple, 140-character joke sent into the ether of the Internet a year and a half ago: "Why don't we have a parade if the Browns go 0-16?"
"I never thought it would actually happen," he says. "God, I hope we win so bad."
After a second quarter score, he sarcastically yells, "We're turning this season around!" with fists held high. Just as quickly, his head turns to his phone to share the joke before Twitter's wave of conversation washed ashore.
When an interception by Kizer midway through the fourth quarter teeters the Browns comeback, McNeil sulks quietly in his chair. "Why you gotta Browns?" he finally says, turning back to Twitter. For someone whose loyalties and motivations have come under intense scrutiny over the past few weeks, he sure looks like the textbook fanatic.
But right now, he's silent and unblinking as he stares at one of what feels like 700 televisions. Kizer completes a short pass across the middle to Josh Gordon who breaks free and scampers up to Pittsburgh's 45-yard line before being pulled down by former Brown Joe Haden.
McNeil shoots out of his seat and passes out stinging high-fives to members of the parade committee Cam Carmen and Matt Allaire, producer and co-host, respectively, of The McNeil Show podcast, Kevin Beard, Josh Ogden, Mike Shaw and comedian Mike Polk Jr. "Polk doesn't like to do the hard, behind-the-scenes work," McNeil jokes.
Three 2-yard gains and the two-minute warning leave the Browns at fourth-and-2 with 1:46 left in the game. As the Browns shift into a different formation, every moment feels like an hour.
As Kizer takes a shotgun snap, the pocket quickly collapses. He appears to be sacked, but somehow squeaks out the side of the scrum, rolls to his left. He delivers a perfect strike to wide receiver Corey Coleman who stands wide open near the sideline on the 10-yard line. The ball hits Coleman in his hands but goes right through. The pass is incomplete. The Steelers take over on downs.
I expect McNeil to be happy. After all, talk of a Perfect Season Parade — one in which fans will march in a 0-shaped pattern around FirstEnergy Stadium as a "shot to the bow" of Browns owner Jimmy Haslam — has consumed his popular Twitter feed for a year and a half. He's done dozens of interviews with media outlets — from fan blogs to ESPN. He's already put in hours of work.
Instead, as Coleman puts hands to his head in despair, McNeil does the same. He covers his wide-open mouth. The others try to make jokes, but he remains frozen and silent. As the Steelers line up to run out the clock, his leg shakes uncontrollably. He returns to his iPad to tweet.
"Who's ready to stand out in the cold?" he says. "It looks like we're having a parade."