It's a cloudy day in March, but the Cleveland Museum of Art is filled with light.
Aimon Ali stands in the middle of the atrium, looking up and around while gesturing with her hands how the space will transform into a full-blown fashion show in just three short months.
She's wearing a pink floral dress and dark green hijab along with a baby pink Christian Dior bag that matches her gold-buckled loafers. A cozy brown mohair Gucci cardigan is draped over her shoulders as she discusses plans for decor.
"It does seem big," Ali, 28, says of the atrium to her head set stylist, Miranda Starcher. "But once it fills up, we'll run out of room fast." You can see in her eyes that she's already calculating the seating area, backstage for hair and makeup, catering tables and, of course, imagining every single scenario that could go wrong.
But, if it's anything like Ali's first fashion show in Cleveland last summer, not much will. In a town not accustomed to fashion on this scale, Ali pulled off a 300-person event featuring six designers by transforming an old warehouse in MidTown into a sold-out, pastel-colored fantasy of pink tulle and ballet.
"I don't have words; it was so much more than I ever expected," Ali reflects.
It's now a year later, and she's getting ready to do it all over again, this time at the Cleveland Museum of Art on June 19 with The Runway 2022. That is why she's spending her days scouting out the space, running to meetings and casting models, all while preparing for Ramadan.
When you first meet Ali, she's soft-spoken but in a way that makes you want to lean in and listen — almost like she's giving you the scoop on the next big thing you didn't even know existed. Whether she's directing a runway show or in the midst of networking, her demeanor remains solid and unbothered, even while she's making about a thousand
decisions all at once.
"Apparently, I'm very intimidating. And I've accepted that," she laughs.
It might be that she doesn't speak about things in an air-quotes kind of manner. If she's talking about something, it's probably already in the works. And she doesn't go into anything unprepared. After moving here from Toronto four years ago, she has built a team of connections, created a business or two, established herself as a style influencer and is on track to create an annual fashion show right here in Cleveland.
Sometimes even she is impressed.
"When you see it on the day of and you see those seats being filled? And the designers and the models walking the runway, it was just like, Wow, we made this."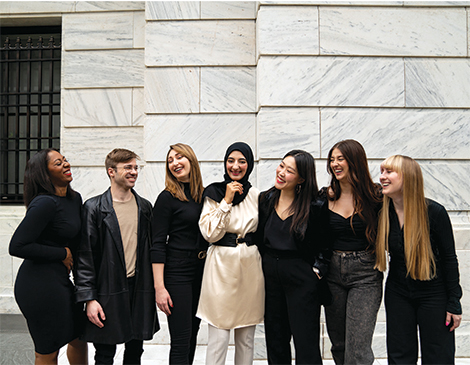 When Ali moved to Cleveland, producing fashion shows was a side hustle. After being introduced to her husband, a native Clevelander, through family, she moved across Lake Erie to start a brand-new life. With a degree in developmental psychology, she got a job at the Cleveland Clinic, thinking that would be her career. At the same time, she immediately began looking for a fashion community in town.
"When I moved to Cleveland, it was a hit to my personality," Ali says. "I'm a very confident person, I know what I don't like, and I know exactly what I want. And when I moved to Cleveland, all of a sudden I had no social life. And I stood out. I never stood out in Canada. I was never the representation for people who wore a hijab. Now all of a sudden, in the groups I was trying to network, I'm the only person that looked like me."
Pretty quickly, the tide shifted. Ali began making connections all over town, whether it was collaborating with local boutiques or networking with people who saw the same potential in Cleveland. She realized she wanted to do this full time — and left her job in health care.
"There's lot of aspects of fashion that really match my personality," says Ali. "I feel like I'm such an extrovert. Fashion is all about social connections and meeting different kinds of people."
She also wanted to be her own boss.
"I want flexibility and control," she says. "And that's only going to come if I have my own business. I want to do what I can. I want to have my religious holidays off, stuff like that."
The big challenge for Ali and her team is to convince Cleveland of the value of an organization like hers. Before moving here in 2019, Ali accumulated over seven years of experience producing shows for various events in Toronto, including Men's Fashion Week and Startup Fashion Week.
At the same time, she's not naïve.
"People do things differently here," says Ali. "And this is not in a bad way, but the standards are different. Sometimes I get pushback from people who don't understand. And I'm like, 'Listen, if this wasn't Cleveland, you wouldn't be asking these questions.'"
Ali's goal is to raise our standards. That means making sure everyone, from the models to the designers, have as many
opportunities as possible to get something out of the event — whether it be selling their pieces after the show, connecting with boutiques and buyers or gaining experience in the highly competitive world of fashion.
"To hear someone say, 'I sold stuff,' someone that's been in Cleveland for, like, a couple years. And now all of a sudden, they're telling me that my event brought them the most sales," Ali says. "That's what I want to hear."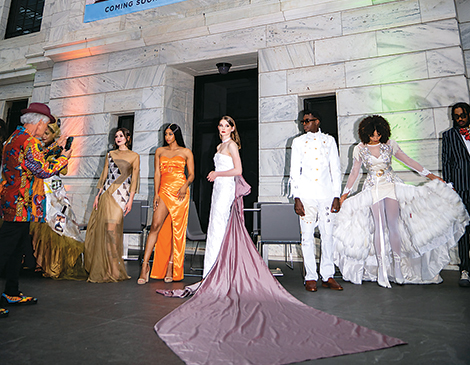 A model wearing a cropped jacket and miniskirt struts down a glossy white L-shaped runway at Los Angeles Fashion Week. The blue and white two-piece set looks as if a puffer coat was cut apart and pieced back together, leaning into the comfort-meets-luxury trend popular throughout 2021. This is the work of Chicago native Matthew Williams, a sophomore at Kent State University.
"This was my very first collection, so I wanted to show what I'm capable of or what I can get into," says Williams, who at only 20 years old has his own clothing brand, The Freezer. He is one of 15 designers who will be showing their original pieces at Ali's show in June.
All of the designers showcased this year are new to Ali's runway. Her goal is to get a mix of backgrounds — all with a certain "wow" factor.
Miranda Marti, a 30-year-old designer whose brand embraces French aute couture design, jumped at the chance to be part of Ali's show.
"I really am hoping to share my work on a broader level and hopefully gain some potential clients who appreciate this kind of garment making," says Marti, whose grandmother, Virginia Marti, founded a fashion school in Cleveland back in 1966. "The fashion industry is something that I've always envisioned getting revived in Cleveland. So I really love that I can continue to pursue this in my hometown."
Runway shows may seem all glitz and glamour, with picture-perfect models strutting under shining lights. But it's real work, grit and sweat that goes into these pieces. And there's no better way to showcase that work — and the value of it — than on a runway.
"In person, you can see all the little details that's put into it," says Williams. "Online, you may be able to Zoom into it, but you're not able to feel its presence and how it flows."
For many designers, a show like this is a big step forward — whether their future is in full-scale production or creating pieces for special events, clients or exhibitions. In an industry that relies on knowing the right people to move forward, Ali has become the great connecting thread.
"The Fashion Talks runway show and the foundation offer me, as a designer, priceless networking opportunities to help me take my business to the next level," says Kristina Rauscher, the 32-year-old designer and founder of Altered Star, a brand with an edgy-meets-casual aesthetic. "What Aimon is building is changing lives, and I'm honored and excited to be a part of it."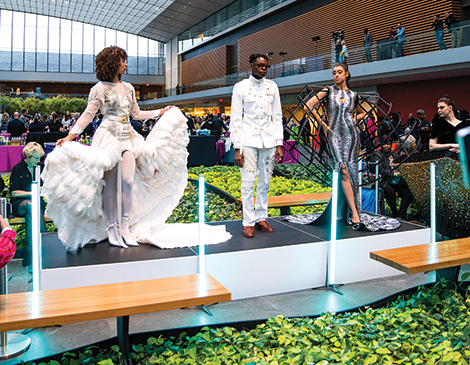 Ali's ultimate goal is to provide an epicenter for networking, funding and education for those wanting to move up in the fashion world. Her hope is to obtain nonprofit status and become the Fashion Talks Foundation.
"Our goal is to create programming around the fashion industry and entrepreneurs, and we'll be able to give back, especially with a focus on minorities and women," Ali says, adding that a portion of the proceeds is going to be donated to the foundation and used to give grants.
Ali believes the building blocks are here in Cleveland. Namely, the talent. And there's no doubt she has become the spark to stimulate the local fashion scene. But when comparing her experience in Toronto's fashion world, she knows a lot of the scaffolding is not yet built, and all she can do is dig in her heels and create her own blueprint for success.
"I'm trying to prove myself right," Ali says. "And if I can help people, why not? And that's kind of what my business is turning into. And I love it anyways."