It seems like just yesterday that Gordon Square's beloved arts complex, 78th Street Studios, was welcoming Antonym Collective, its new design workshop and studio space, to its basement-level roster.
Now, a month after Antonym Collective's grand opening, the studio has launched its partnership with a third party, a chic, vintage clothing hub with a penchant for minimalist modernity named "Clash."
"When people approach me saying, 'Oh, you sell vintage? What does that mean?' I think they're already expecting a crazy combination of every era: 50s, 60s, 70s, 80s and 90s, and honestly, we are really just centered around 80s and 90s vintage," says owner Leann Benich with a laugh. "It meshes so well with my assortment of pre-loved, quality clothing already that it becomes very modern once you mix it all together. It's a shop for everyone who is living in the modern world and wanting to look current with vintage and pre-loved pieces."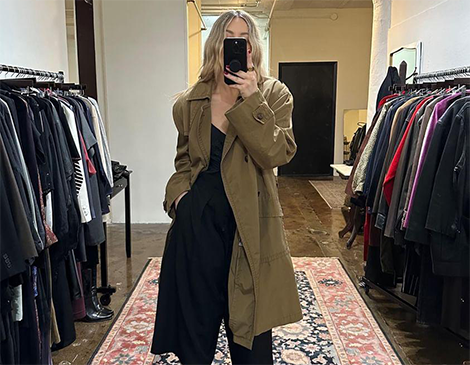 (Photo by Clash via Leann Benich)
Benich, who had previously operated as a digital storefront and pop-up shop since launching the company in 2022, officially met Antonym Collective co-owners Whitney Anderson Rooney and Courtney Phillips during their 78th Street Studios grand opening back in September (Unofficially, Rooney and Benich had crossed paths via a Clash pop-up appearance when the two had briefly chatted and followed each other on Instagram.).

"I came to their opening here just a short month ago and [Rooney] said that they were renting a portion of their studio out," says Benich. "I was like, 'Sign me up.' I wanted to be with them. I felt like we all clicked right away. When moments like that happen, you can't let the opportunity pass you by."
Soon after, Benich was wheeling her collection in, a couple of loads at a time. She says that's the beauty of her partnership with the studio.
"This whole situation is perfect because taking the leap and opening a brick-and-mortar is a real risk. You don't really know what's going to happen, or how well it'll go and it takes a lot of effort and energy to decorate and keep up the physical space. I feel like being here — at least for a solid three months — allows me to not have to do all of that. Literally, everything is perfect. It's all set up. Everything's clean and pressed. I don't have to worry about anything and that's been really, really nice. I can do all of my content in here now instead of my bedroom, which is great. It's just made moving easy. Perfect," says Benich.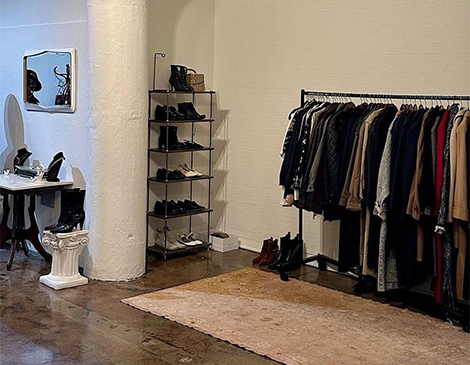 (Photo by Clash via Leann Benich)
This is just what Rooney and Phillips sought to do with the extra space in Antonym Collective; rent out the partially sectioned-off room in their studio to help up-and-coming small-business owners who want to take a step forward in their growth, but are not quite ready to own and operate a traditional storefront. The space could be rented month-to-month — in this case, three months — and would combine visitor attraction and appeal through each other's individual brand offerings.
READ MORE: Whitney Anderson Rooney and Courtney Phillips Welcome Antonym Collective To Gordon Square
"Before coming to [Antonym Collective], I had thought about opening your typical brick-and-mortar in the Chagrin Falls-Orange County area, but when I got into the research of it, I realized that it was going to take me a long time to get on my feet just in order to afford the rent," shares Benich. "Because of this studio, I've been able to shift my mindset and be like, OK, if I can't be in Chagrin Falls right now, in a real store with a storefront, windows, mannequins and all of that, I can start here. It may look like small beginnings, but they all lead somewhere. Starting here has really just been a turn of mindset for me, but I could not be more excited and grateful."
Start your day the best way by signing up for our free daily newsletter. Arriving in your inbox every morning to keep you in the loop on the best guides, home and style tips, and news briefs for all things Cleveland. Click here to subscribe.