Put some respect on the donut game.
For those that know, iLTHY, the Cleveland creative brand with a love for The Land that matches that of rockstar Machine Gun Kelly, has carried on quite the love affair with the image of the classic donut. Pink icing, rainbow sprinkles…I want to say it has a glazed base? The point is, it's bold, it's beautiful, and iLTHY's founder and artist extraordinaire Glen Infante can't help incorporating it into new projects. It's a recurring callback to the streetwear company's roots, but also an amusing way to honor its original brick-and-mortar.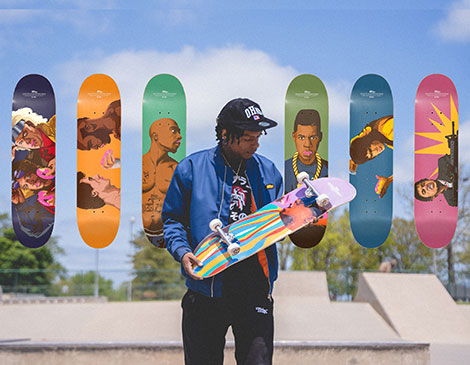 (Photo courtesy of iLTHY)
"[The storefront] was at 5304 Detroit Avenue, which is now actually a bar called Old 86. It was the iconic art that was in our very first store when we were just starting out, so this is a way to pay homage to our beginnings," explains the brand's Chief Executive Officer Kumar Arora. "Even our very first T-shirt had a donut on it back in 2010."
With a team mindset built on gratitude, Infante and Arora knew it was high time to resurrect the donut theme for 2023. Combined with their desire to launch a colorful new skateboard line, reimagining the artwork from their 2012 donut collection seemed like a natural fit. The project, officially released last week, presents skateboard decks featuring an all-star cast of icons in all-new sugary scenarios: Scareface's Tony Montana (Al Pacino) packing sprinkles heat on a bubblegum pink background, Game of Death's Billy Lo (Bruce Lee) in his legendary kung fu stance set to decorate his icing-coated confection, and five more equally cool and comical additions.

(Photo courtesy of iLTHY)
Even if you don't skate, Infante's graphics prime the boards to be Cleveland's top collector's item, however there's much more to this line than meets the eye.
Arora notes that each skateboard purchase is matched with the planting of a tree in areas that are guaranteed to be preserved and protected through the Arbor Day Foundation. In sum, this means that through the acquisition of an iLTHY board, we have the power to not only support the brand's genesis story, but gain iconic Cleveland-based art, unlock a new mode of transport, and love on some trees. No need to say more. Take my money.
Outside of its skateboard ventures, iLTHY has established quite the reputation for its timely collaborative projects and themed releases. For example, take its recent renewed partnership with Cleveland-based mental health organization and self-care brand, Self Love Club. Launching earlier this May i.e. Mental Health Awareness Month, the two brands sought to shine a light on the importance of prioritizing mental care in one's own life.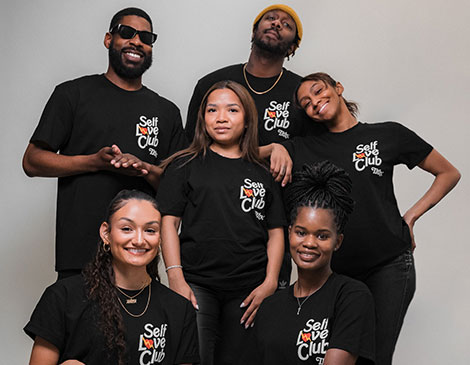 (Photo courtesy of iLTHY)
"It's a time to be positive, right? We're entering summer, and we wanted to make a full t-shirt. Last year we created a hoodie together that said, 'love yourself first.' This year, it was more about mental health as a whole and really just taking care of yourself," shares Arora while describing the message of this year's take on the mental wellness project. "We really thought about the positive kind of environment that we have in Cleveland and we wanted to share that story with different people. If you saw the campaign, we had people from all walks of life: therapists, musicians, creatives coming together in a photoshoot that highlighted the idea of taking care of yourself in many different ways."
The initial idea for the campaign came from Self Love Club founder Sunda Tan who directed and designed the photoshoot in iLTHY's studio. When discussing the details, Arora doesn't hold back placing credit on the operation to its Cleveland compatriot. To him, and iLTHY as a whole, the partnership means more than just staying on theme for a movement.

(Photo courtesy of iLTHY)
"That's part of what Ilthy does," says Arora in regards to supporting fellow business owners and creatives in the city. "We recently came up with a new acronym for iLTHY. It was known for 'I love the hype,' which is kind of the founding statement, but now it also stands for 'I'd love to help you.' We put that phrase on some of our bags and other products lately. Taking that idea, and carrying it into products, much like what we do with Sunda was really fun, because it has a meaning to us too."
So, what's next for the creative brand?
"Well, let's see what I can reveal. We have a Guardians collab coming out at the end of June. June 23 is the exact date, and it highlights the work that the Guardians are doing, and how they continue to champion small businesses," says Arora. "What else can I reveal?...National Donut Day is coming up for us, so something will be coming out later in June as well."
If you have not yet gotten the memo, the bond with the donut is unbreakable with iLTHY.
"You know, for the summer, we're really thinking about beachwear and shorts. We're thinking about people traveling, so you can expect to see leather bags and new headwear coming out—a lot of fun products for the upcoming season."
Get ahead of the weekend by signing up for our free weekly "In the CLE" newsletter — your guide to fun throughout The Land. Arriving in your inbox every Wednesday, this weekend to-do list fills you in on everything from concerts to museum exhibits — and more. Click here to subscribe.