Pinterest is loaded with wedding ideas — but Alexis and Pete Grapentien took a different path. Instead, they pulled inspiration from their community with a swift, thoughtful and entirely locally planned wedding this past April.
A pre-pandemic Parisian trip with time spent meandering Montmartre and its cobbled streets set the tone for the couple, who first met in a coffee shop while attending Kent State University and had been living together in West Park. Then, Alexis, a photographer, and Pete, a software engineer, learned they were expecting after the first of the year.
"We thought about whether to elope and plan something bigger later because we were still in a mask mandate and there were lots of unknowns, but we chose to do something intimate, small and cozy and us," Alexis says.
Pete adds that COVID-19 gave them a permission slip to shuck the usual wedding pressures related to obligatory guest lists. "We were able to express ourselves and be genuine rather than trying to make everyone happy," he relates.
As a photographer, Alexis had a vision for how the morning wedding and brunch would look and feel, going back to the characteristic Paris district that charmed the couple during their travels. She imagined something soft, textural, bohemian and pastoral in the sense of incorporating flowers budding in early spring. She thought of a painting.
Once the couple got to work, they found the tight timeframe was actually a gift. "It forced us to make decisions and, for people like Lex and me, you can get into that 'analysis paralysis' mode, so it was better for both of us to go on our instincts," Pete says.
Their gut said go with who and what you know. That meant sourcing vendors locally and working with people that understood them. The first three decisions anchored the planning process: photography, officiant and location. Alexis already knew she wanted Milkshop Photo's Naida Kovach to capture the experience, and the couple had been attending King's Church in Lakewood since its inception and asked pastor Noah Nickel to marry them. Next, they talked to photographer friends Sharon and Tony Hughes of Breakforth Studio in Cleveland to use their gallery-like space as a venue for about 20 guests.
As a creative, Alexis says selecting vendors was highly personal. "We know their work and it was a surrender of trust to say, 'I love your eye and I can't wait to see how you embrace the vision,' and the whole day I felt like I was in this whole haze of it becoming a reality," she says.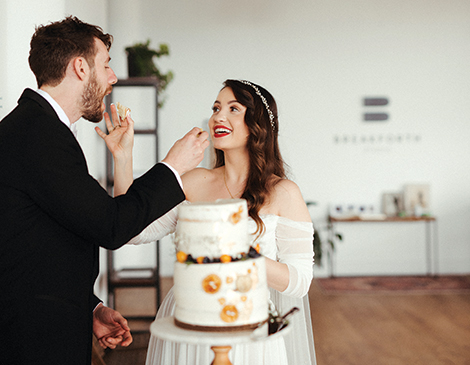 Building the experience included the finest touches. "Whenever I'm shooting, I'm always drawn to the details, so that was part of my approach — to think of these vignettes within the space," Alexis describes.
Florist Kate Rutter designed a tablescape of flowers, candles and fresh fruits for a single, long family-style marble setting with French bistro chairs.
"It had this incredible Renaissance feel to it," Alexis says.
The couple enlisted Borrow Curated for furnishings, including two church pews for the service that are now incorperated in the Grapentien's home, along with the carpet they stood on while saying their vows. "It's special to have those details be part of our home after the wedding," Alexis says.
Refresh Collective Print Shop created banners for the reception, including a sign reading "To Have and To Hold" hung above the coffee and dessert table — beans are a big deal for the couple, and they gifted Phoenix Coffee to guests. The cake was by Unge Lupica of Wolff Maiden.
As for the menu, they went with Cleveland Field Kitchen, a boutique caterer that focuses on rustic and creative menus. Why brunch? "It's our favorite meal and we have a history of going out to brunch together," Pete says. Alexis adds, "I know it's traditional to do more of a dinner situation, but it didn't make sense for us. We were thinking about breakfast for dinner but…"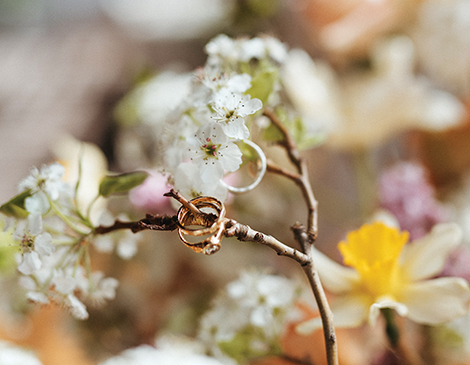 With any wedding planning, there are unexpected twists — and for Alexis, a "surprise" change of mind with a dress was a lovely shift. She figured she would go with an airy boho-style gown from Anthropologie's bridal company, BHLDN. So, the couple traveled to Pittsburgh to try on the dress she figured was "the one" to assure proper sizing.
"The experience was so amazing. We drove there for a day trip and I tried on a bunch of different dresses thinking I just want to be sure I ordered the right one," Alexis shares. "Then, I was like, 'Whoah, I did not expect this to be the one I loved!'" It was decidedly more elegant in taste.
Every detail tied together like an intricate yet simple bouquet — every aspect a meaningful piece of the day and life to come. The couple designed wedding bands together at The Circle Craft, which is owned by friends. Alexis wore wedding earrings by Oceanne Jewelry. "I've worked with the owner on weekends at markets and pop-ups — and seeing how you can set up for one day of transformation of a space helped with going into how we were going to set up our space at Breakforth," she says.
Leather-covered vow books were created as keepsakes by Courtney McCrone, the head designer of Fount. And the invites were artfully illustrated by Anna Foti with design by Jenika May Gonazales — also friends.
The wedding day was just the beginning. Their son Stanley was born in September — and reflecting back on the day, it's one that is beyond a dream."I was never someone who grew up dreaming about my wedding. I knew one day I'd get married, but I more so dreamt about being a mom,"Alexis says. In turn, their intimate union was perfect send-off to their future ahead.
"Weddings are an industry and it's easy to get lost in that, but Pete and I went off of our gut feelings and made a day that was really for us. And it was important to have the people we love be a part of every element of it."