From a horse-drawn carriage to a classic BMW or even your good old dad's Buick complete with a tail of tin cans, there's always an opportunity to sign off your wedding day with a signature move. For Sara Luehring and Tim Kelly, opting for less horsepower and more good old-fashioned intimacy was key.

During their reception at Meadow Ridge Farm in Windsor, Ohio, the couple borrowed a friend's red canoe and took a short ride around the property's lake.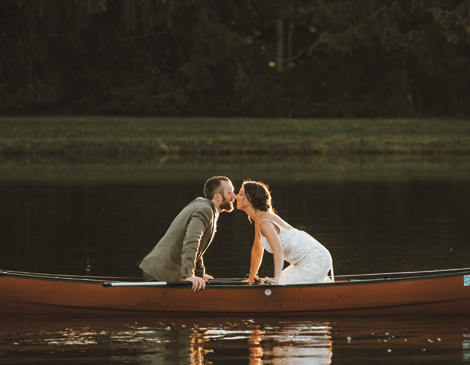 The story of the canoe is as old as the story of Luehring and Kelly.

Around the time they met in high school, Luehring's family was trying to get rid of a canoe. It didn't fit in the garage so it sat on a picnic table in the front yard. She recalls telling some friends, Kelly included, about her family's desire to find someone to take it off their hands.

"Tim took that literally and picked it up overhead and started to walk it down the street," says Luehring, who lived a quarter-mile from Kelly at the time. Her dad wouldn't let him get very far without officially signing it off to him, and for a long time it was a cherished memory. "There was kind of always a joke about a canoe," she says.

The canoe was just one of many personal touches the couple incorporated into their July 7 wedding. From the Abraham Lincoln socks Kelly wore as a nod to Luehring's favorite president to the signature drinks they named after their four-legged friends Lincoln and West, every part of their wedding day was an ode to their storied relationship. They even used from an old family sailboat to tie a knot during their ceremony.

Even the date was a significant detail. The couple met July 7, 2007, when they were still in high school. Although they called it quits after dating for a short period, they reconnected in Cleveland July 7, 2013. After getting engaged in April 2017 while on a hike at the Rocky River Reservation with their dogs, they realized July 7, 2018, fell on a Saturday, and it felt like a natural fit. The ease of finding the perfect date was a good reminder of how to approach their wedding planning.

"We both just didn't want it to turn into this hyper-stressful situation that everybody tells you it has to be," she says. "There were moments where I got hung up on stupid details like stamps being crooked, but I tried to keep it real and catch myself and be like, OK, what really matters?"

For Luehring and Kelly, that meant bringing together the people they loved and finding ways to honor them throughout the big day. Two people in their wedding party pulled double-duty: One of Kelly's groomsmen performed at the wedding ceremony while one of Luehring's bridesmaids baked the tart and pies for the reception. Her bouquet included two small lockets with her grandparents' wedding pictures.

"They were a gift from my mom at my bridal shower to honor my grandparents and their beautiful, long marriage," she says.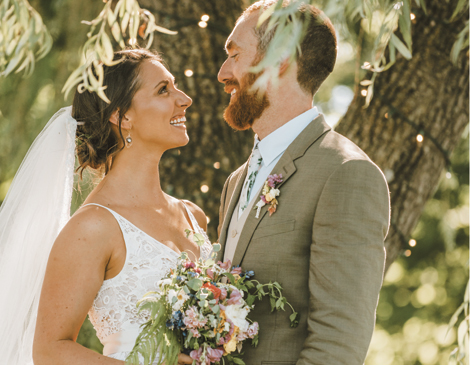 With its rustic pavilions, sprawling green fields and abundant patches of wildflowers, Meadow Ridge Farm became the perfect setting for the lovebirds who wanted to incorporate nature into their wedding.

"We just fell in love with it," Luehring says. "We didn't have to do a whole ton to the space, because it's so pretty on its own."

In the end, their wedding was a unique representation of their love.

"I really stand by knowing the few things that are going to be important to both of you and infusing some elements of yourself," says Luehring. "We didn't try to make it that overt, but people kept saying, 'This is just so you two.' "