When you get the mail this wedding season, expect to see clean, refined stationary styles. Wedding invitation trends ebb and flow, says Liz Scott, owner and creative director of Lovely Somethings, a Bath, Ohio-based stationary shop. She notes they're moving back toward classic styles rather than the flashy, floral watercolor look that has been popular the past few years. "Floral will forever be there because flowers will always be a part of weddings, but it just won't be as predominant," she says. "Rather than being on the invitation itself, we'll see maybe a hint of floral on the liner." Here are three styles we love.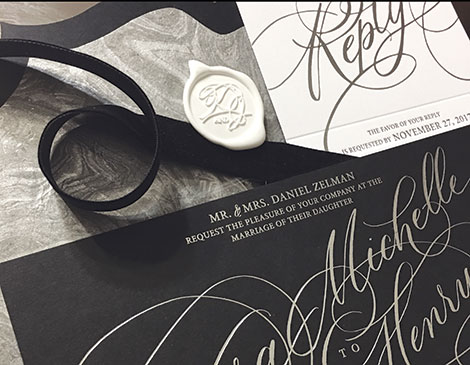 Courtesy Lovely Somethings Boutique
Material Girls
Incorporating texture through handmade paper, vellum or fabrics such as linen and velvet is in, Scott says. The perfect places to feature these details are in the envelope liners or the ribbon used to tie cards together. "This is where we bring in a lot of fun," she says. "It sets the tone for the wedding."



Sabrina Hall Photography

Color Cues
Organic, natural hues such as dusty rose, mustard yellow and eucalyptus green will remain popular, but look for "white white" and silver to make a comeback over cream and gold. "I've been on the lookout for people to move away from yellow-gold metallic and back to silver, and it's finally happening," Scott says.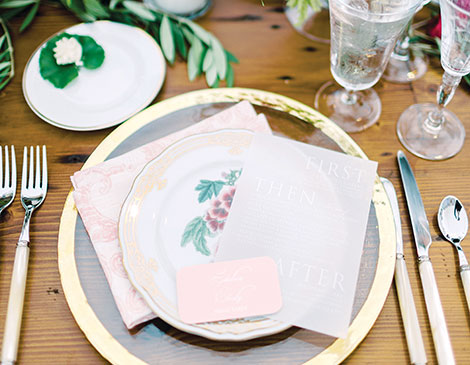 Lauren Gabrielle Photography

Day-of Details
Couples are branding their big days with custom crests or monograms, and they're carrying those icons through all of the wedding day paper, including signs, programs, place cards, seating charts, menus and more. In particular, brides are requesting round menus to be used on top of chargers. Scott explains, "They go underneath your glass plates, so guests can see them as each course is served."