There are only a few things needed for a store to become a staple in the community: dependable products, a good location and an intimate shopping experience.

That's how Amy's Shoes & Apparel became a go-to store for Clevelanders. When the shop opened its Rocky River location in late 2007, it started out just carrying different styles of footwear, but as owner Amy Bradford soon saw, change happens quickly in the world of retail.
"As a business owner, I think that regardless of what business you're in, a lot of it has to do with adapting to change, pivoting and problem solving," says Bradford. "When I first opened, I was just a shoe boutique, so I just concentrated on footwear. And I saw the opportunity to dress the women from head to toe."

This expansion led to not only introducing trendy apparel, everyday accessories and other clothing items into the store, but also introduced a new location at the Eton shopping center in Woodmere in 2009. But then, just this June, the original Rocky River location closed up shop. Now, after almost 15 years of business, the Chagrin Falls store will be closing in February of 2022.
"The hope was that the pandemic and the situation would improve," says Bradford. "And the unfortunate thing is, every time we've seen something kind of start to improve, we get hit with something else. And right now, that is Omicron."
Even without the pressure of the pandemic, mask mandates and lockdowns and other hardships in the past two years, Bradford's store was also struggling with another common threat for many local boutiques: The high-speed move towards online shopping.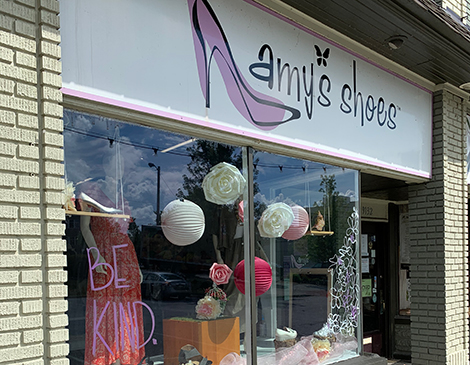 "I've tried different things over the last almost two years and just have decided that, you know, things have changed too much for me and sometimes you have to make hard decisions," says Bradford. "Society has changed as well. People are shopping online and, really, that was kind of a trend that was happening regardless of this panoramic, but it accelerated even more in my industry."
With an estimated close date of February 12, the store will still be open and will be slashing 50% off all merchandise. While many local places have been able to hang on, reduce hours and even close shop temporarily, many boutiques, stores and vendors are still feeling the effects of the pandemic since it hit in March of 2020. Regardless, the longevity of Amy's Shoes and Apparel, still proves that a local brick-and-mortar shop can connect with a community for over a decade.
"I would like to thank my loyal customers and the community for their support of small businesses because I'm a big advocate, regardless of if it's my business or somebody else's," says Bradford. "So, shop local!"