Thomas Clayton is nervous. He's late for his wedding tux fitting. But as he walks into Balani Custom Clothiers and is greeted by master clothier David Tinter, his jitters begin to die down.
With a timid but charming smile, Tinter leads Clayton into a room filled with a cluster of neckties and a stack of books. The two flip through photos of tuxedos Clayton has found online that fit his South Carolina wedding and match fiancee Marissa's ivory dress. Tinter moves like an expert librarian, pulling book after book of fabric samples until they land on the perfect jacket material — an off-white, lightweight blend by Holland & Sherry that should be breezy enough in the heat while holding its structure throughout the day.
"My job is to make sure men are comfortable and look good," says Tinter, one of three clothiers at Balani, which opened in downtown's Fifth Third Building in April. "At every fitting from wedding tuxes to work suits, I always try to go for something that they will want to put on in the morning."
Tinter makes sure every detail is right as Clayton chooses the tux's lining, thread color and pocket style, and a pair of black velvet Magnanni dress shoes.
But what matters most is the fit. Clayton stands with his feet shoulders-length apart while Tinter speeds around him like a tornado collecting 28 measurements to make sure the suit fits seamlessly. The slope of his shoulders, size of his wrists and break of his trousers are all accounted for.
Each customer gets his name sewn into the jacket and initials on the cuff of the shirt — one of Balani's many options for personalization.
"Men's fashion is important," Tinter says. "If you look good, you feel good and if you feel good, you are confident and that translates into everything you do."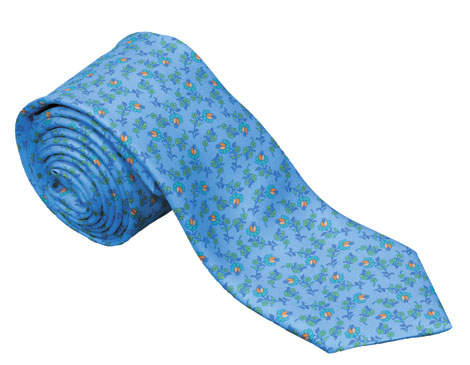 Tie Game
Tinter suggests choosing a color that goes with your skin tone (cool-toned skin can handle pinks and purples, but warm-toned skin looks good in olives and oranges). If you want something more classic, go with blue. "Blue looks good on everyone, and it never goes out of style," he says.

Clean Up
Even if you wear suits daily, you're probably cleaning them too often and damaging the material. "Treat your suits like you do your carpet," Tinter says. "Clean them no more than twice per year, unless you've stained it or something."
When You Go: Balani Custom Clothiers, 600 Superior Ave. E Suite 102, Cleveland, 216-303-9090, balanicustom.com
Nearby Find: Splurge on elegant and timeless pieces like necklaces, watches and rings at
Rickey C. Tanno Jewelers. 925 Euclid Ave., Suite 26, Cleveland, 216-621-2630, tannojewelers.com