The light streams in on Kristen Hadari Worcester's boutique in Gordon Square. At the second location of Reverie gift shop, the sun dances around the crisp white walls, catching on the steel and wooden shelves lining the 850-square-foot space.
If you're looking for a gift for a friend, family — really anyone — this is the place to go. Tables, shelves and walls are lined with quirky, laugh-out-loud items that you could spend hours wading through and even more money on.
The shop's name, which means "the state of being lost in one's thoughts," comes to life here. Walk around and pick up items that reflect how you're feeling — from cocktail glass embossed with sayings like "Everything Is Fine" to a "Never liked him anyway" card.
Worcester opened her first boutique in Cuyahoga Falls in 2019, after working in the corporate world for 12 years. She spent her weekends creating an infinity scarf business, followed by a gender-fluid baby clothing line. Eventually, she was ready for a space to sell her goods.
"I wanted to find a home base and also incorporate different artisans and some of my favorite brands and other makers into it," she says. "I imagined it would be a place that artisans could really shine and people could shop handmade at a gift store."
When a storefront became available in the Gordon Square neighborhood last year, she jumped at the chance to open a second location.
Her tongue-in-cheek philosophy shines through the shop — everything from home items, clothing, kitchenware and stationery all made or dreamed up by small makers. The shop also celebrates pop culture with gifts nodding to The Golden Girls, Schitt's Creek and more. It's all in an effort to brighten someone's day.
"We have people laughing throughout the shop," she says. "You have people coming in when they're having a bad day, it's like a cheerful experience."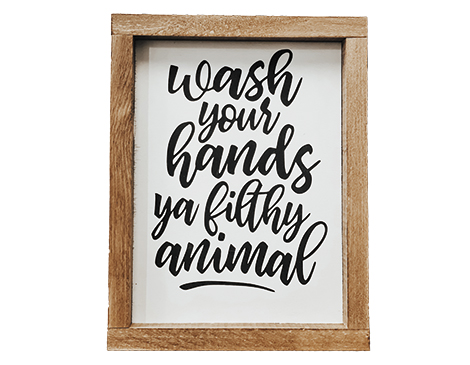 Item We Love:
Fitting in a bathroom or above a kitchen sink, Doggos and Decor's decorative wooden signs ($25-$35) have a playful reminder for everyone: "Wash your hands ya filthy animal."

When You Go: Reverie, 6602 Detroit Ave., Cleveland, 330-212-3303, reveriegifts.com
Nearby Find: Stock up on plants, pottery and nature-inspired knickknacks at Land of Plenty.
6511 Detroit Ave., Cleveland, 216-350-6488, instagram.com/landofplentyshoppe