A good pair of jeans. Is that too much to ask for?

Ladder, which opens May 29 in the Van Aken District, understands how hard it can be to find the simplest puzzle pieces in your wardrobe. The sustainable and intimately curated boutique is helping us solve this dilemma through its collection of elevated basics for women, men and children, all made from natural fibers.

"We want these to be heirloom pieces that people can have and potentially pass down," says Andrea Wien, who co-owns the shop with April Fleming. The duo are both Northeast Ohio natives but have worked in various fashion scenes from San Francisco to New York.

After months of planning, the boutique's doors are ready to open with big plans for community events with neighboring businesses, local creative collaborations and a constant rotation of dependable clothing from independent designers. Here's three things to know about this new Shaker Heights boutique set to open its doors this weekend.


Independent Designers
You might not recognize every designer on the racks, but that thoughtful exclusivity makes the items on display special. Look to the right and you'll see Germany-based designer Neu Nomads, which specializes in silky, neutral-colored, plant-based fabrics. Look to the left and eye a rainbow colorblock dress from New York-based designer Rachel Antonoff. "Everything is exclusive to Northeast Ohio, we even have some national exclusives, which are exciting," says Wien. "[It's about] finding designers who aren't in big box stores, searching out people who align with our values and giving them a platform here in Cleveland."

Wearable Pieces
With a focus on simple silhouettes and elegant patterns, each piece is meant to live in the closet, not just make an appearance. Whether it's a silky slip dress by Germany-based brand Neu Nomads or sturdy denim and soft tees from Nashville-based designer Imogene & Willie, the shop is full of hand-picked pieces by on-the-rise clothing makers that fit Cleveland's casual-yet-chic style. "T-shirt and jeans, what could be more Midwest in Cleveland?" says Wien. "But it's also about elevating it so that you can wear it, feel good and feel better about the process that it went through to get to you."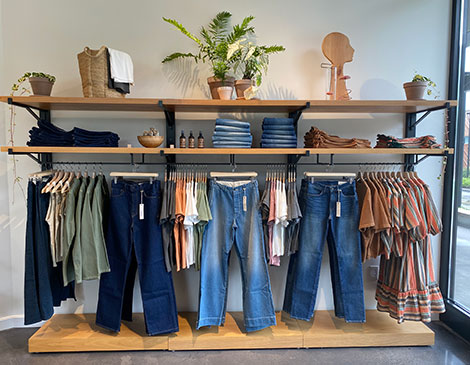 Long-lasting Fabrics
Universal pieces such as T-shirts or maxi dresses can be found anywhere, but a good fabric can set those pieces apart. With a strong focus on dependability and longevity, Ladder's curation process is designed to pick pieces that stick around. "Everything in the shop is a natural fiber and comes from an independent designer," Wien says. "All the fibers are cotton, linens, those types of things and no synthetics, no polyester. So everything is really sustainable which is an important piece for us."

When You Go: 20150 Walker Road, Van Aken District, Shaker Heights, laddercle.com, instagram.com/laddercle