It's 4 o'clock on a weekday. Katie Ford has returned to her Cleveland home after pouring out her creative knowledge and passion to the art students at North Royalton High School. Though the workday is over, her work is not done.
She is sitting at her laptop, combing through Google, studying landmarks and hidden gems of cities across the country. She isn't planning a trip for her and her husband. No, she's gearing up to create the next piece of map art to add to her collection.
Whereabouts is Ford's side hustle where she sells stickers, magnets, greeting cards and apparel, but perhaps her most notable works are the map prints she creates of cities, states and islands around the country.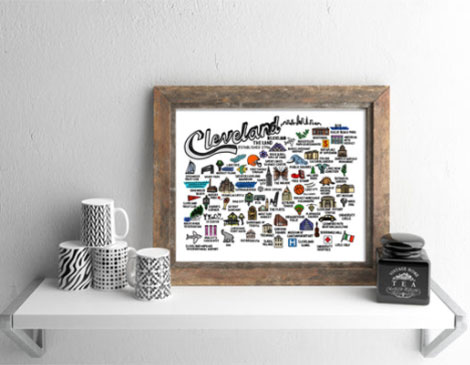 The inspiration for this gig stemmed from where all the best ideas develop: the internet.
"I had seen somewhere on social media this very fancy calligraphy style map of a small town somewhere in the south and immediately wondered 'what can I do with this idea of making a map but more my style for Cleveland,'" Ford recalls.
She got to work, first drawing the maps by hand with paper and pencil, tracing with a Sharpie and then scanning her work into Photoshop to add color. After completing the first batch, she took them to Cleveland Flea and sold every single one in what felt like minutes.
When she got home, she jumped at the chance to grow the concept, making lists and categories of places she could map out next, and to grow her existing Etsy shop that she started as a means of paying off student loans from her degree at Kent State University.

"I'd come home from school and get to work, just turn on Netflix, get in the zone and start making maps," Ford said.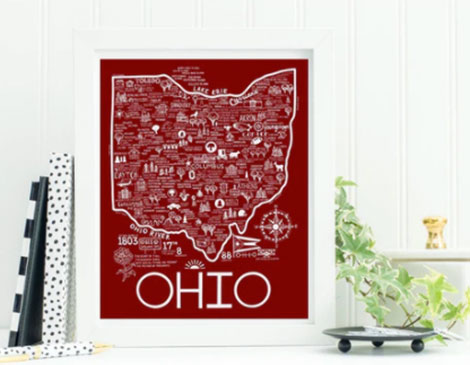 Art has been a calling for Ford since she was a child. Now, she shares her passion with students during the day and creates her own art after hours.
"I was always one of those people that you ask a kid what they want to be when they grow up and my answer was always art teacher," Ford says. "I have this love of art and I know how art makes me feel and I want to be able to share that with other people."
She has found the balance, making art for her own enjoyment while also creating with a purpose to make others feel the joy of her work.
"My favorite thing is when I've had people tell me 'we went to a new place, so we have to have a new map' and they have every location that they've ever lived in or been to on one wall."