Jay Yoo has all he needs right on his hip. His iPhone, AirPods, credit cards, sunglasses and a small notebook. All of this rests effortlessly on his side inside his medium-sized bag, the Aux Pocket, the newest model in his collection of menswear bags from his brand, Bolstr.
"I've always been about simplicity," says Yoo, who also works with the men's retail brand Xhibition based in Solon. "I think that the world is getting more complex, and people are trying to solve a complex problem with more complexity, which I don't understand."
Bolstr's first product, the Small Carry, launched in 2015. Since then, Yoo has been evolving his version of a stylish menswear bag by making smaller and sleeker versions and offering variations on straps. By marrying the idea of a backpack and a holster, Yoo's goal is to not just make a bag that breaks the stigma of a man purse and puts an end to overflowing pockets, but to also create a less stressful life for its wearer.
"For me, it's not just the product," he says. "It's a philosophy."

Thinking Ahead
The trend of men's bags is not a new one — at least not on the streets of Europe or Asia. However, the style is still warming up in the United States, so that's where the idea came from for finding a perfect middle that connects with a range of customers. "What I found is that men have a range between a backpack and the front pockets but, in America, they don't want to carry anything," Yoo says. "And I think of the stigma of that it's a man purse. So how do you make something that doesn't have the stigma? And how do you make it so that it has some range?"
Rule of Seven
The pocket was an amazing invention, but Yoo knows when and how to utilize it. In all his bags, pockets can be found throughout the design — the back, front, hidden inside crevices or tucked between folds to fit everything from cards to sunglasses. But he does have a prescription he follows, inspired by a fact about human memory. "There is a long-standing rule that humans cannot remember in chunks of more than seven," he says. "It's called the magical number seven. There's a ton of research on it, so I never designed anything that had more than seven pockets."
Material Boy
While leather has long reigned supreme in the luxury market, materials like nylon are now also being used for more high-end products — due to their durability and lightweight feeling. Yoo, who before Bolstr had his own travel jacket line, knew the perks of using a breathable but strong material that can withstand a variety of environments. "Performance, utility and style are all important in what I design," says Yoo.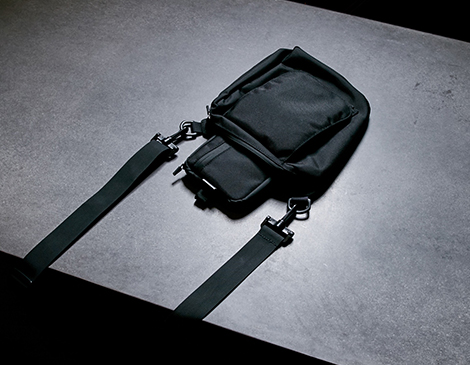 An Item We Love: The Bolstr 3.0 Small Carry ($135) comes in black, gray and other colors. Along with everyday items, this bag can also fit a small notebook and iPad mini, making it the ideal size for travel and daily life. bolstr.xyz