Jewelry making is Alicia Zeigler Costello's love language. Whether it was crafting friendship bracelets for her friends in elementary school, or making more advanced jewelry during college, her love for turning simple materials into wearable accessories has always been an easy go-to gift. After studying ceramics at Ohio State University and completing her master's in art therapy at Ursuline College, Zeigler Costello couldn't shake the urge to make her own designs, which feature bright colors and quirky, abstract shapes.

She finally dove into business and started Noble Fawn Jewelry after a small project making polymer clay earrings for Christmas gifts last year turned into something much larger. Her friends and relatives couldn't get enough, and neither could she. "I thought, Well, we'll see where this goes. I just wanted to try it out," she says. "I needed gifts for three people, and I think I ended up making maybe 50 pairs of earrings."

Clay Game
To make earrings, Zeigler Costello starts by kneading out a slab of wet polymer clay, and then uses mini metal cutters to cut out her desired design. After baking the pieces in her conventional oven at home, she drills holes through the shapes, connects them with brass rings and then sands everything to create a smooth finish. "I'm able to work easily without a lot of equipment," she says.

Layered On
The earrings Zeigler Costello crafts for her Etsy shop include intricate textures, patterns and designs. For example, many earrings have a marbled look, which Zeigler Costello achieves by twisting together different colors of clay until they begin to form striations. "The key is to know when to stop so you can still see the marble and it's not muddy," she says.

Color Theory
Zeigler Costello uses color palettes which evoke natural environments, such as a bright desert sunset or a rainforest. "I find that lot of people have a lot of black or gray things in their wardrobe," she says, "but I like to be able to have some form of color, and this was such a good way to make something really colorful without being head-to-toe."

Everyday Statement
Despite some of the earrings' large size, the weight of the clay is light enough that a pair can be worn for any occasion. The artist's goal was to find a balance between a bold statement and an everyday accessory. "I always think, How is this wearable?" she says. "It's a gigantic earring, but can you wear it with a T-shirt?"

Clip Art
Noble Fawn's whimsical pieces can also be found on hair clips. "I started using some bigger shapes and making sure that the clay was as fun as possible," she says.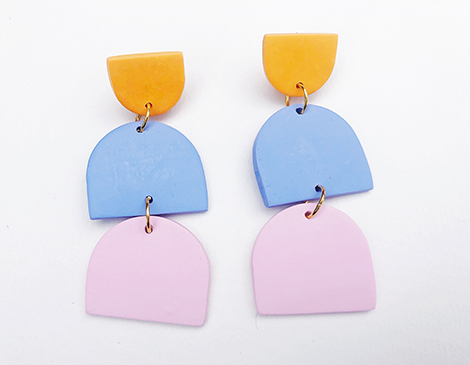 Item We Love: The Triple Half Moon ($24) earrings recall different phases of the moon and come in three different color schemes, such as these ones featuring orange, blue and pink.