Madonna Prowell's earrings are a party for your ears. A hairstylist by trade, Prowell started out by making different personalized earrings for her clients. After the pandemic hit, the Cleveland resident had more time to build her Etsy shop, which she aptly named Picasszos as an ode to the parade of colors featured in her pieces. When first starting out, Prowell experimented with different mediums. As she tried painting on canvas, her works inspired her to turn them into clay and resin earrings which feature everything from floral designs to hypnotizing shapes and lines. "A person has to see it and they have to be an art lover or appreciate it to really see them for what they are," she says.

Found Medium: Prowler found her favorite medium for jewelry-making by accident. She had leftover resin after working on her larger paintings, and Prowell realized that the material was flexible enough to use for something else. She started mixing it with alcohol inks, which are highly pigmented and quick-drying. "I learned that using alcohol inks, they come up with the most beautiful designs that you'll never see anywhere else," she says. "And it was just very durable and lightweight."
Color Story: You'll find no shortage of colors — mostly primary — in Prowell's Etsy shop. Think: bright reds, saturated blues, as well as hot pink and burnt oranges against sharp, dramatic lines. Whether it's a fluid, watercolor design or a couple of eyes and lips on a pair of earrings, each piece has something to say. "Even if I have a simple ensemble on, the earrings should make a statement," says Prowell.
Material Girl: Resin isn't the only material you'll find in Prowell's collection. Smooth polymer clay or lightweight leather also makes an appearance, along with a mix of metal accents such as brass and wire, which are used for detail. But ultimately, her material of choice is resin because of its ability to create a texture that mimics stained glass. "Mixing [resin and alcohol ink] together, they create fluid art," shes says. "They mix beautifully, especially the metallics."
Perfect Molds: Trial and error helped Prowell come up with a few techniques along the way such as being delicate when cutting the dried resin pieces into hearts, triangles and half-circle shapes for her pieces. She also uses resin as a topcoat to create a durabe product. "It'll cure nice and smooth, then you can file it down and it will keep that shiny coating on it," she says. "It just looks beautiful."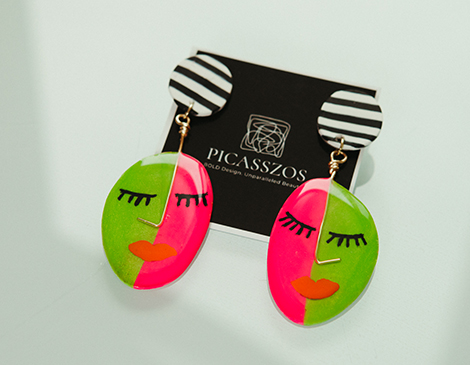 Item You'll Love: Made with resin and polymer clay, Prowell's Abstract Face Earrings ($28) aren't your typical earrings — instead sporting cherry pink, neon green and brass detailing.