You never quite expect a global pandemic to hit right when you quit your day job. But that didn't slow down Shanna Porter, who left a corporate gig in March to launch her clothing line The Only Daughter Society.

Not too far removed from the nine-to-five life, Porter understands the challenges of dressing for the office (or virtual office) every day — especially if you're short. Porter launched The Only Daughter Society to help petite, ambitious women find trendy-but-wearable pieces.

"I wanted to start this business because as a short girl it's a big of a struggle of what's going to be at the right price point and fit us," says Porter, who graduated Ohio State University with a degree in fashion in business. "Just like with plus-sized clothing, these clothes aren't fitting people the right way."

Officially launched in April, The Only Daughter Society carries everything a modern woman needs from patterned blouses, chic two-sets and even swimwear. Porter's goal is to help shoppers create a stylish and dependable wardrobe, and her selections prove her dedication to high-quality and durable fabrics. While the brand is mostly sold online, Porter is hosting a second pop-up shop at Van Aken's Manifest on July 31, where she hopes to meet more customers face to face.

Below, we talked to Porter about designing for petite women, building a wardrobe and some of her favorite pieces.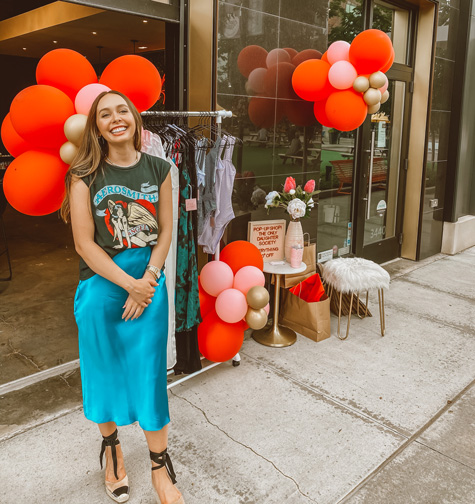 Fun Sized: Obsessively shopping and watching fashion trends taught Porter that there are a lot of gaps in the sizes being offered by many popular clothing brands. The fashionista felt she could use her experience as a shorter woman to curate pieces that fit well, are on trend and don't assume you're taller than 5 feet, 5 inches. In fact, she'll only work with factories that provide the exact specifications she's looking for. "When I went into the business, I wanted to really narrow my niche into that petite girl," says Porter. "So making sure it looks really structured, but it's really more about fitting you properly."

Wardrobe Building: Being size-conscious isn't Porter's only goal. She also wants to help women build their closets in a thoughtful way. By making sure everything fits right and lasts long, her customers can develop a more organized personal style and a more environmentally conscious closet. Whether it's a plain white T-shirt or a more intricate dress, Porter looks for versatile pieces that customers can wear so many different ways it always feels like a new piece. She'll even show them how. "It could be as simple as showing you five ways to wear one dress or how to make it feel new again so you feel like you don't need to go buy another one," Porter says. "I feel like we're kind of getting back to that old-school thinking of building a closet that feels like you."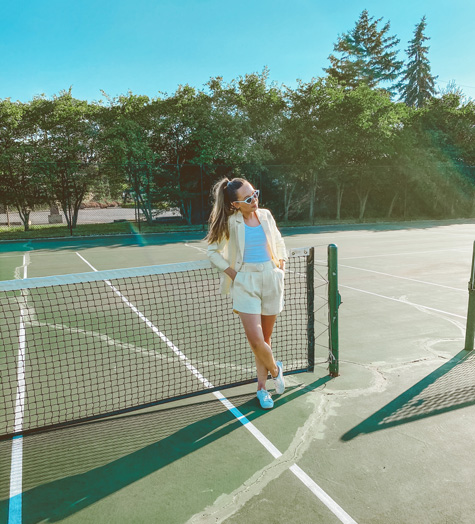 Trend Testing: You may think you know a thing or two about fashion trends from Pinterest, but Porter says there's a science to knowing what's in and what isn't. She applies this when picking pieces for her boutique. For example, a classic bodysuit will last for years, but a statement piece like a chartreuse skirt or a blazer can make an outfit feel "new" every time. But Porter also has an eye for picking styles that will make a splash but also become a closet staple. "I don't ever want to just chase every trend because not every trend is right for everyone," says Porter. "But I do want to give people a chance to not just have their whole closet be black or white because they just aren't confident enough and wonder, Is this gonna be around? I try to create a good balance."
Reasons To Dress Up: Although our event schedules and work lives have been thrown into a tizzy, Porter says those working and playing from home will feel more like themselves if they put away the sweats for at least a day or two every week. "To me, it falls under just one more tier of becoming more aware of our self-care and how we can keep our excitement about what we're doing and trying to make the best of the situation that we're given," Porter says. "Maybe you're going to have an at-home date night. That's a good chance to wear that new dress."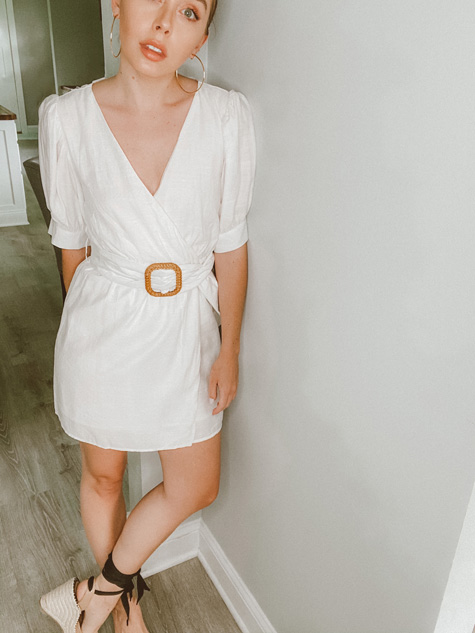 Item We Love: As far as what's trendy now, Porter says people are gravitating toward the color white for a late-summer look. Pieces such as this Belted Wrap Dress ($60) in her shop offer the perfect mix of whimsical and comfortable.

More Info: onlydaughtersociety.com