Hunting for vintage may take more time but is often worthwhile in the end. "I love the construction of vintage pieces because they often have unique details you only find in expensive designers today," says Rochelle Beres, who has been collecting vintage pieces since 1993.

Her curated collection, Gypsy Moth Vintage, has everything from 1980s jumpsuits to prairie-style dresses from the 1970s, and no piece is the same. She recently started selling her collection at West of Venus on Lorain Avenue and has some tips for finding quality, authentic items. "At first glance, you might spot a vintage-looking pattern, but you have to examine the piece because patterns have been reproduced over and over again," she says. "For example, a lot of '60s and '70s patterns were copied, so when you touch the fabric, you can usually feel if it's authentic."

A good rule of thumb? You can often expect a garment to be authentic if it says it's 100% of a material like nylon or wool. And if you're searching for a specific item, do your research before shopping. "It's about educating yourself," Beres says. "There are so many resources online that can help you or connect you with other vintage buyers."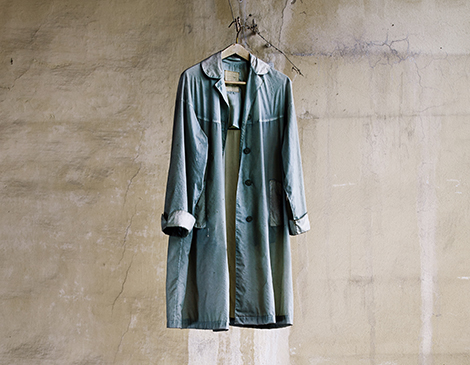 Second Hand Style
How to style three common secondhand pieces.

Nicole LoPresti's style manifesto is simple: Value basics, play with statements and don't be afraid to style something in a way you usually wouldn't. Through her styling service, Elan Style, she focuses on smart and personable outfits for her clients by utilizing thrift store finds. She gives us three common secondhand pieces and how to style them.

Vintage Denim
Thrift stores are a treasure trove for finding comfy oversized jeans. Think about the modern touches you can add. "I think most vintage jeans are going to be a little bit baggier," LoPresti says. "So I always suggest something that is the opposite like a tight fitted shirt, a crop top, something to feminize it."

Trench Coats
With the right touch and a dose of courage, a trench coat can be a perfect transitional piece from summer to fall. "It's more about the actual silhouette of the trench coat as opposed to how you style it," LoPresti says. "I think getting one that is either super-oversized or to the floor is a statement in itself."

Retro Blouses
From high-neck collars to multicolored patterns, these can be the key to a great out-it. LoPresti recommends not shying away from the drama of this blouse, but lean into it. "A simple way to elevate a woman's look is to wear blouses instead of T-shirts and treat it as a T-shirt," she says. "Dress it down, wear it with some sneakers."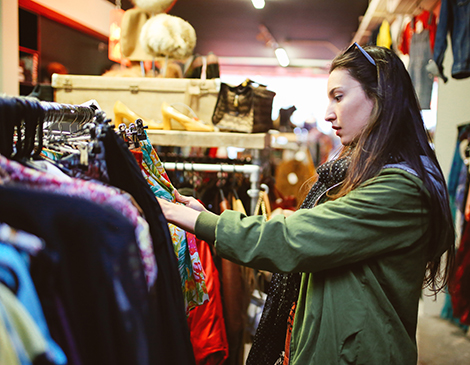 Conscious Shopping
How secondhand finds can make you a more conscious shopper.

Keeping money in your pocket isn't the only reason to turn to donated items for your wardrobe. In fact, the environmental impacts can be quite great if more people turn to shopping secondhand.

According to the Environmental Protection Agency, Americans throw away around 13 million tons of textiles each year.

"Because apparel is so much cheaper and has lower quality, it created a throwaway culture in which consumers would buy a garment and wear it once and throw it away," says Lauren Copeland, assistant professor at Kent State University's fashion school.
"This encourages retailers to make more clothes to encourage consumers to buy more and throw away more."

Upcycling, reselling and buying second-hand is at least a good start in changing the way shopping impacts the environment. "By consuming what already exists and not using your dollars to vote for more apparel to be made, consumers have the ability to change the system and use what we have for as long as possible and also employ in-novation in how we approach our clothes," Copeland says.

Where To Shop
Three local secondhand and vintage shops we love.

Flower Child
If you want to be transported back in time, this three-floor vintage store will get you excited about the styles of the past. As you walk through the store's different furniture displays, browse through the individual rooms on the bottom floor, which each contain distinctive eras of cloth-ing from the 1930s up to the 1980s. 11508 Clifton Blvd., 216-939-9933, flowerchildvintage.com

Future No Future
This curated shop carries styles through the 1990s and is perfect for those just getting into vintage. Each handpicked piece has a contemporary flair to it such as denim jumpsuits, graphic T-shirts or light prairie dresses that can be easily worn today, while still adding something fresh to your wardrobe. 16008 Detroit Ave., Lakewood, 216-228-0530, futurenofuturevintage.com

Sweet Lorain
This shop calls itself the "vintage department store," and it lives up to that with its 10,000 square feet of shelves, racks and displays filled with vintage styles dating back to the 1950s through the 1980s. Whether it's statement jackets, floral dresses or funky Hawaiian-style shirts, anyone is sure to find something that speaks to them at this local emporium. 7105 Lorain Road, Cleveland, 216-281-1959, sweetlorain.com