It's time to take advantage of the summer season, Cleveland. And what better way to do that than heading to the shores of Lake Erie?
Here are some ways to get out and on (or near) the water:
Heroes and Legends Concert, Starring Lee Greenwood
Geneva on the Lake's Yankies Bar and Grill will host country music icon Lee Greenwood for a one-night summertime concert as he plays some of his iconic songs such as "God Bless the USA" and "America The Beautiful." Tickets start at $35, July 16, 1 p.m., 5482 Lake Road E, Geneva, Ticketweb link
Annual Classics Festival
The Annual Classics Festival is a must-see for classic automobile and boat lovers. The festival showcases an impressive collection of vintage vehicles and majestic boats, from gleaming classic cars to sleek yachts, all set against the stunning backdrop of Lake Erie. Free, Aug. 11-13, 9 a.m.-4 p.m., 330 N. Main St. Huron, shoresandislands.com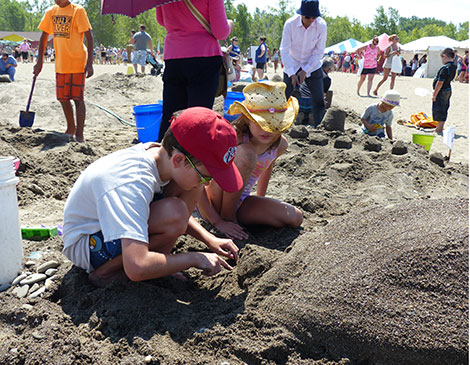 (Courtesy City of Mentor)
Mentor Headlands Beachfest
Beach sand sculptures and freshly fried food will add some sizzle to the Headlands Beach State Park during this family-friendly festival. Expect detailed entries in sand sculpting competitions, a variety of food trucks and several crafty vendors at this summer event. Free, July 15, 11 a.m.-7 p.m., 9601 Headlands Road, Mentor, cityofmentor.com
Blazing Paddles Paddlefest
Share the River, an organization which pairs watercraft with inclusion, brings back the Blazing Paddles Paddlefest for its fifth year. Paddlers can enjoy scenic views of Cleveland's lakefront skyline and the Cuyahoga River while they leisurely paddle along — meanwhile, those looking for a competition can enter one of the several different distance races. Tickets $45+, July 21-July 22, 8 a.m., Rivergate Park, Merwin Ave., Cleveland, sharetheriver.com/blazing-paddles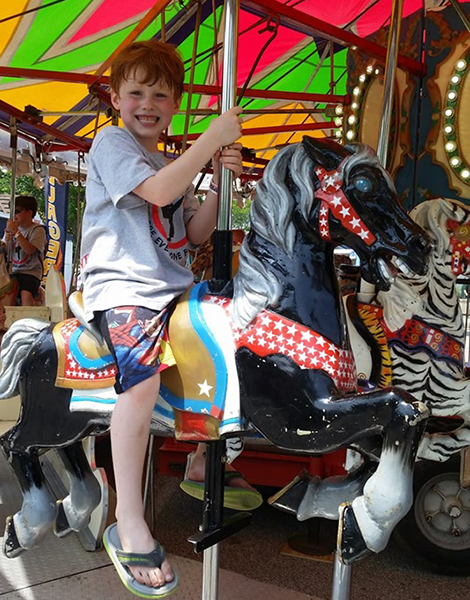 (Courtesy Fairport Harbor Village)
Fairport Harbor Mardi Gras
A small town parade leads to a festive beach party on the shore of Lake Erie. Midway games and fair rides will return this year to illuminate the Fairport Harbor Lakefront Park, with a brilliant firework display closing off the 4-day celebration. Tickets and wristbands will be available for purchase; Entry is free, June 29-July 2, noon-11 p.m., 301 Huntington Beach Dr., Fairport Harbor, fairportharbormardigras.com
Book a Staycation
You don't need to go far to find a nice lakeside retreat this summer.
The Ariel Broadway Hotel in Lorain, a historic landmark built in 1925, offers views of Lake Erie, the Lorain lighthouse and the Black River along with an Italian Seafood restaurant and a rooftop venue. 301 Broadway Ave., Lorain, 440-246-6669, arielbroadwayhotel.com
The Commodore Resort is perfect for a parents' getaway on Put-In-Bay. The over-21 establishment hotel and condo is home to a swim-up pool bar, in the heart of the entertainment district. 272 Delaware Ave., Put-In-Bay, 419-285-3101, commodoreresort.com
Built in 1870, The Island House Hotel is a Port Clinton landmark offering everything from single rooms to whole apartments. Just a walk away from the Port Clinton Lighthouse and live music and a short drive from Catawba Island State Park, this can serve as a fun weekend away. 102 N. Madison St., Port Clinton, 419-734-0100, theislandhousehotel.com
Sawmill Creek Resort by Cedar Point Resorts is surrounded by 200 acres of woodlands, perfect for hiking, golfing and bird watching along the shores of Lake Erie. It boasts indoor and outdoor pools and its affiliation with Cedar Point allows early entry to the park, perfect for any thrill seeker's stay. 400 Sawmill Creek Dr., Huron, 419-433-3800, sawmillcreekresort.com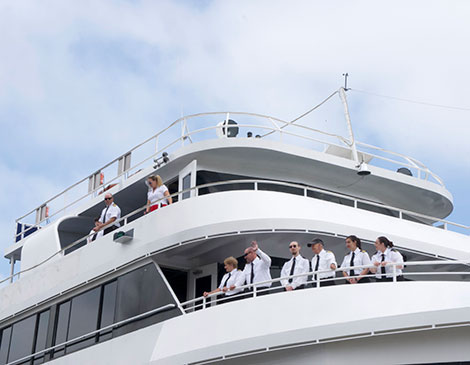 (Photo by Annie Nickoloff)
Take a Ride on the Lady Caroline or Good Time III
Soak up the Cleveland skyline as you cruise through the scenic waters of Lake Erie aboard one of the ships the city has to offer. The new-to-Cleveland Lady Caroline offers guests several cruising options that include brunch and dinner events, while the Goodtime III, Cleveland's longtime sightseeing ship, offers intimate views of the Cuyahoga River and downtown Cleveland. Tickets $30+, Flats West Bank, 1153 Main Ave., Cleveland, ladycaroline.com; 825 East Ninth Street Pier, North Coast Harbor, Cleveland, goodtimeiii.com
FireFish Festival in Downtown Lorain
There's only one way to recognize community art: by setting fire to a crafted fish under the September full moon. The daylong FireFish Festival is home to unique art installations, food, live music and performances — including the larger-than-life Bread N Puppet theater. The day concludes with the Pied Piper-like parade at dusk, this year featuring handcrafted lanterns, guiding the group to the "burn circle." Free, Sept. 16, 2-11 p.m., Downtown Lorain, firefishfestival.com
Island Fest on Kelleys Island
Need a summer escape? Look no further than Kelleys Island's largest event of the year, Island Fest. The family-friendly outdoor fest features craft vendors, food, beer tents and more all on a remote island in the middle of Lake Erie. Lose yourself in street dancing Friday and Saturday night and on Saturday, revel in a classic summer parade that afternoon and fireworks at dusk. Free, July 14-16, 11 a.m-11 p.m., 112 Division St., Kelleys Island, kelleysislandchamber.com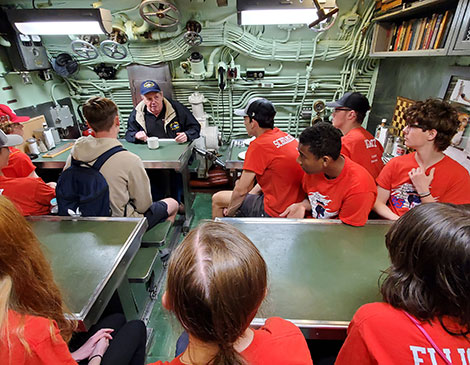 (Courtesy USS Cod Submarine Memorial)
USS COD
Transport yourself to 1944 with a tour of the National Historic Landmark, the USS Cod Submarine Memorial. Dock in Cleveland's North Coast Harbor along Lake Erie, see where the crew slept and lived, where engines and torpedoes are held and more with daily tours of this 312-foot World War II era GATO class fleet submarine.
The USS Cod will commemorate its rescue of Netherlands Submarine O-19 in 1945 on July 8, and will honor the crew of USS Grunion, the WWII lost submarine assigned to the state of Ohio for memorialization, with a toll of names and a flower cast for each crewmate lost on July 29 at 2 p.m. Events are free, tours are $7 for children and $12 for adults, open daily weather permitting until Sept. 30, 10 a.m.-5 p.m., North Marginal Road, Cleveland, usscod.org
Lakeside Dining
A cool breeze, stunning sunsets reflecting on the water and full belly is nothing short of heavenly on a hot summer night. Satiate your summer need for waterside dining with these seven restaurants:
Pickle Bill's Lobster House, located minutes south of Lake Erie along the Grand River, comes to life with floor-to-ceiling artwork and sculptures, an outdoor bar on the river under a circus tent, rooftop swing seating and all-you-can-eat Alaskan Snow Crab legs ($62.99). 101 River St., Grand River, picklebills.com
Home to some of Cleveland's best seafood, brunch and views of downtown, Pier W is set within a cliff overlooking Lake Erie. Watch the waves roll by while enjoying the sauteed Lake Erie walleye ($33). 12700 Lake Ave., Lakewood, pierw.com
Modern Mexican and tequila bar Nuevo is located next to the Rock & Roll Hall of Fame, serving up lakeside seating and exciting margaritas like the Blueberry Basil ($15). 1000 East 9th Street, Cleveland, nuevomodmex.com
Adjacent to Huntington Beach, a slice from Chatty's Pizzeria is sure to satisfy that post-swim hunger. Offering Italian fare, seven specialty pizzas and a generous list of wine, beer and cocktails, it may be difficult to choose. Try the Cheesy Garlic Bread with honey butter, fresh garlic, mozzarella cheese and pizza dipping sauce ($10). 28611 Lake Road, Bay Village, chattyspizzeria.com
Treat yourself to upscale French dining and a relaxed riverside patio at Chez Francois Restaurant along the Vermillion River. If dining outdoors isn't for you, choose between their main dining room, touche and Parisian room for a personalized dining experience. For dinner, try the raviolis de homard a la sauce au beurre de truffe ($50). 555 Main St., Vermillion, chezfrancois.com
Live music, a welcoming patio, breakfast buffet and a great selection of burgers and sandwiches, Chagrin Tavern is the perfect place for a fun summer night. Try the Cajun Grilled Chicken ($13). 196 E. Island Dr., Eastlake, chagrintavernontheriver.com
Erie Steak and Seafood Company has a hefty menu of sandwiches, pizza and pasta, but the namesake seafood and steak are the star of the show. Try the Surf and Turf featuring a 4-ounce filet mignon served with 6-ounce Lobster Tail and drawn butter ($33) while taking in the lakefront dining views. 301 Lakeside Ave., Lorain, eriesteakandseafoodco.com

Bash on the Bay 2023
Hosted at Put-in-Bay airport, this event showcases powerhouse performers like Pitbull and Luke Bryan. With Lake Erie as a stunning backdrop, guests can dance all night long, indulge in food truck fare, and enjoy refreshing drinks in a vibrant atmosphere. Tickets start at $89, August 23-24, 3:00 p.m., 1494 Langram Road, Put-In-Bay, bashonthebay.com
Camp on the Water
Kelleys Island offers a unique camping experience on the tranquil waters of Lake Erie — the island's state park has options for tent camping under the trees or luxurious glamping. Meanwhile, East Harbor State Park, located on a lakefront peninsula, offers fishing, hiking and boating activities. Firefly Beach is an excellent option for beach lovers, with a private beach and nearby local restaurants. On the East Side, Geneva State Park campsites feature various amenities and pet-friendly options. 920 Division St., Kelleys Island; 1169 N. Buck Road, Lakeside Marblehead; 4499 Padanarum Road, Geneva; ohiodnr.gov, fireflybeach.com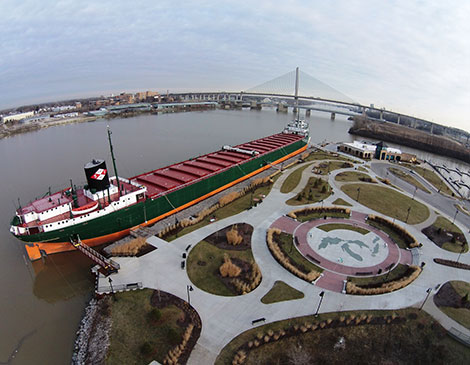 (Courtesy National Museum of the Great Lakes)
Learn More About the Great Lakes
Lake Erie is steeped in rich history and vibrant culture, and you can explore it all through a few Northern Ohio museums.
The Lake Erie Islands Historical Society Museum, situated on South Bass Island, offers a thorough exploration of the island's history, including the pivotal Battle of Lake Erie, which occurred in 1813 just 10 miles away from South Bass Island at Put-in-Bay. 443 Catawba Ave., Put-In-Bay, leihs.org
Meanwhile, the National Museum of the Great Lakes in Toledo provides a comprehensive examination of the lake's maritime history. 1701 Front St., Toledo, nmgl.org
No visit to Lake Erie would be complete without a visit to the Marblehead Lighthouse, which has stood guard over the lake for over 200 years and offers breathtaking views of the water and surrounding landscape. Did you know it also hosts a small museum? Stop by to check out the history of the structure and Lake Erie. 110 Lighthouse Dr., Marblehead, marbleheadlighthouseohio.org
Island Wineries
Indulge in a wine-tasting journey at some of the best wineries on the Lake Erie Islands. Put-in-Bay Winery, located on South Bass Island, showcases the grape's journey from vine to bottle with an informative exhibit. 392 Bayview Dr., Put-In-Bay, putinbaywinery.com
Meanwhile, Kelleys Island Wine Co. produces all its wines on-site using hand-selected grapes from regional vineyards. 418 Woodford Road, Kelleys Island, kelleysislandwineco.com
Heineman's Winery, one of Ohio's oldest wineries, is renowned for its Pink Catawba fruit wine, and its Crystal Cave, which houses one of the world's largest geodes. 978 Catawba Ave., Put-In-Bay, heinemanswinery.com
Lakeside Breweries
The Lake Erie region boasts plenty of unique and innovative craft breweries to explore, from Cleveland's cityscape to the islands.
Collision Bend Brewing in Cleveland offers expertly crafted beer and food in a spacious brewery with riverfront views and outdoor seating. 1250 Old River Road, Cleveland, collisionbendbrewery.com
Terrestrial Brewing Company, offers a casual atmosphere and two large patios with views of Lake Erie. 7524 Father Frascati, Cleveland, terrestrialbrewing.com
Twin Oast Brewing, located in Port Clinton near the ferries to the islands, offers a blend of traditional German-style beers with a modern American twist. 3630 NE Catawba Road, Port Clinton, twinoast.com
Put-in-Bay Brewery & Distillery, the first brewery on South Bass Island, features a rotating menu of craft beers on tap. 441 Catawba Ave., Put-In-Bay, putinbaybrewery.com
Bascule Brewery and Public House in Lorain offers housemade beers that reflect the region's local culture and history — and it's only a short drive away from the waterfront. 1397 Colorado Ave., Lorain, basculebrewery.com
Beach & Barrel in Fairport Harbor, a surf shack focused on beer, is set to open in the harbor soon, providing a perfect spot to unwind and enjoy a couple of cold ones. 208 Third Street, Fairport Harbor, facebook.com/beachandbarrel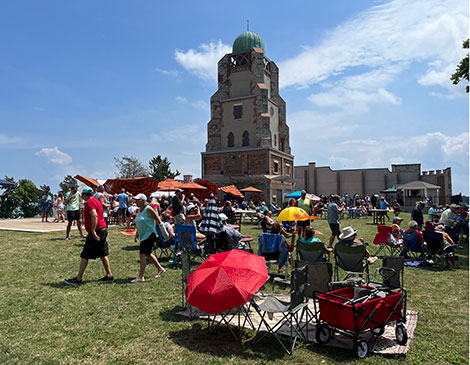 (Courtesy Lake Erie Islands Conservancy)
Middle Bass Island Music Festival
The Middle Bass Island Music Festival is a local gem that draws visitors to the island via a ferry ride and water taxi from Port Clinton. Attendees can take in the serene waters surrounding the island and simultaneously enjoy music in a lush landscape, while local Ohio bands play diverse genres such as folk, blues, and indie rock. Enjoy performances from The North Coast Goats, The Good The Bad and The Blues, The Ark Band, and Cats on Holiday. Free, July 15, 12:00 p.m.-7:00 p.m., 1719 Fox Road, Middle Bass Island, lakeerieislandsconservancy.org/music-festival
Vermilion Beach Market
If you want a unique shopping experience, head to Vermilion Beach Market. This outdoor marketplace features over 90 vendors selling an eclectic mix of vintage and handmade decor, jewelry, clothing and art. Located on the beach, you can soak up the sun and enjoy Lake Erie views while browsing the market. When you need a break from shopping, you can grab a bite at the beachside wine bar. Free, Aug. 4-5, 3-8 p.m., Sherod Park, 13406 W. Lake Road, Vermilion, cityofvermilionohio.gov
Reggae in the Harbor
The Fairport Harbor Arts and Cultural Alliance presents Reggae in the Harbor, a music festival now in its third year at the scenic beach park. The Lighthouse Amphitheater will come to life as concertgoers sway to feel-good music, enjoying fresh food and a beachy atmosphere. Free, July 8, 3-11 p.m., 301 Huntington Beach Dr., Fairport Harbor, facebook.com/FHACAlliance
Get ahead of the weekend by signing up for our free weekly "In the CLE" newsletter — your guide to fun throughout The Land. Arriving in your inbox every Wednesday, this weekend to-do list fills you in on everything from concerts to museum exhibits — and more. Click here to subscribe.