Screens don't grow on trees (thank goodness), and an overwhelming advantage to outdoor camps and nature-based summer programs is getting kids away from devices. But there's so much more than learning to put down the phone that kids gain from time outdoors.
"It fosters curiosity and cooperative learning, problem solving — and there are mental health benefits and improved cognition in what we learn by spending time outside," says Mary Rouse, director of outdoor experiences for Cleveland Metroparks. "And outdoor camps promote a connection with the natural world."
Here are five reasons to encourage children to take to the outdoors this summer — and throughout the year.

1. Ignite curiosity.
Rather than outdoor education, Cleveland Metroparks naturalists call it "interpretation," Rouse explains. "It's about helping people better understand the world around them, not just, 'That's an American robin,' or, 'That's a blue heron.' It's asking questions like, 'Why do you think that bird is here with the really long legs?' so they understand the whole environment."
And because nature is always changing, there's always something new to explore.
"If kids can get out in an active environment that relates to a topic, it opens up a whole different world in their learning abilities and imagination and sparks a sense of curiosity that they don't necessarily get in the classroom," says Lauren Schmidt, camp manager at Shaker Lakes.
"The outdoors hits all of their senses," she continues. "They are hearing different sounds they don't hear in school. They are seeing it, and they can experiment with different ways to move their bodies or manipulate the environment around them in a safe way. They can test their boundaries and find out what they can do, which builds confidence."
2. Try something new.
From learning how to cook over a fire to identifying creatures, mountain-biking and stand-up paddleboarding, outdoor camps give campers of all ages different ways to appreciate active time in the fresh air. "We have a number of sailing programs, fly fishing, junior scientist camp and wilderness skills camps, along with connecting art and nature for kids who are into the artistic, creative piece," Rouse says, advising parents to involve their children in selecting programs. "Let them pick some camps and also stretch them a little bit."

3. Take a breath of fresh air.
"Being outdoors has a therapeutic effect," says Olivia Mackey, camp director for Camp Christopher in Akron. She is also a licensed clinical mental health counselor. "There is so much in kids' worlds with social media and technology, that having them disconnect from that is powerful — and they are forming bonds. Camp can be like a bubble away from society — a little slice of heaven where they can focus on being with each other and being present. And they can feel welcome and a part of the camp community no matter what else is going on in life."
4. Build confidence and leadership skills.
Outdoor programs can include ropes courses, climbing walls and skill-building exercises like canoeing or archery that give kids healthy challenges. "It can help kids become better leaders," says Courtney Nicolai, executive director at Hiram House Camp. "You might have a child who is reserved during the school year, and you see them come out of their shell over the summer when they are asked to pair up with another camper to accomplish a task. An overnight camp can give children a sense of responsibility. They build self-confidence and take away life skills."
5. Grow environmental awareness.
"Experiencing the natural world inspires people to make changes — small changes in their everyday lives to live in a more sustainable way, to appreciate the environment for what it is, and to really come to a place of respect and love for the outdoors," Rouse says.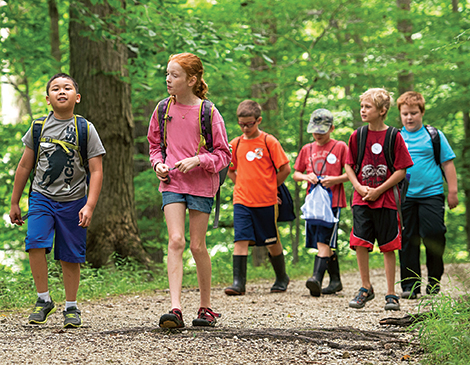 1,000 Hours Outside
An initiative that attempts to match nature time with screen time, the 1,000 Hours Outside global movement is for any child or adult. The challenge provides printable trackers and ideas, and you can join a community of others taking on the challenge at 1000hoursoutside.com