Water can provide a multitude of fun outlets. It can allow you to plumb the depths of tranquility or throttle up the excitement to leave frustrations in your wake. The West Branch Reservoir gives you both with wide-open waters with no speed restrictions for adventure-lovers and calmer covers in multiple inlets and coves for a gentle float, making it perfect for a quick lake getaway no matter your mood. Although it was created in 1965 to help with flood control, West Branch State Park's main body of water looks like it's been around for centuries with its winding shape around Goose Island and Hickory's Island.
County: Portage
Acres: 2,650
Average depth: 25 feet
Deepest point: 35 feet
The Water: Home to Jay Lake and Silver Creek Bay, the western end of the reservoir boasts serene waters. "It's really a paddlecraft paradise when you get into some of those bays," says John Trevelline, park manager at the Ohio Department of Natural Resources' division of parks and watercraft. "You can get into the sections that are a little bit shallow, that a large powered vessel just wouldn't be able to do." In other pockets of the lake, adventurers can find deeper channels seasonally ideal for catching fish such as large and smallmouth bass, walleye, crappie and muskie, which have been caught at more than 3 feet long here.
The Land: More than 14 miles of hiking trails weave around the lake allowing for exploration into the shaded woods of the state park. Club Moss Trail is a serene fairy-like .8-mile trek cloaked in bright green patches of moss as it wraps around the northern coast of the lake for a perfect view of the water. For a slightly more challenging hike, Deer Run Trail provides a mile-long foray into lush forests as well as an uphill climb on bumpier terrain.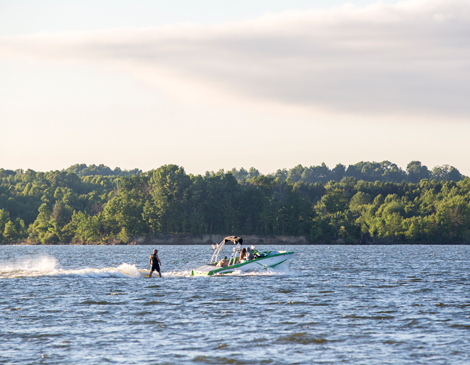 Where to Stay: West Branch offers 200 camping sites that are convenient, modern and immersed in nature without giving up your creature comforts. "They range from having a very woody feel to having a canopy above your head," Trevelline says. You can set up camp right on the peninsula surrounding Jay Lake bay and hit the water from a nearby launch site. With full-service sites suitable for large recreation vehicles as well as nonelectrical spots for those who want to remain secluded, the campground suits your roughing-it comfort level. "It's not uncommon to see kids riding around on their bikes or scooters," says Trevelline. "It's not uncommon to see families sitting around the campfire."
Where to Eat: For those wanting to hunker down near their camp, the marina offers quick beach-side bites such as burgers, fries and slushies on the south side of the lake. But for those looking to venture out on the way back home, Ravenna has a variety of restaurants, such as the family-owned Siciliano's Pizzaria for hometown favorite chicken and jojos ($8 for for four pieces).
Expert Take: Since the reservoir is so diverse — both in activity and flow patterns — Trevelline suggests taking time to explore harbors along the shore. "Those little bays and inlets are great for people that want to explore and do stuff where it's a little sheltered from the weather or conditions created by humans that are boating on the lake," says Trevelline.