Ray Flannery, 23, has spent summertime at Camp Christopher in Akron since he can remember. "Camp challenges you to grow in ways you didn't know you could," he says. It's an integral part of the warm-weather months he spends between school years. "It's an experience unlike any other, it's jam-packed with memories and you get to work alongside people who teach you a lot."
Flannery's passion for camp started before he was old enough for day camp, and his family went together for a week. He eventually spent seven summers as an overnighter — horseback riding, swimming, completing challenge courses, hiking, canoeing and more. And for the last four years, he has worked as a member of the staff.
"There is a role for everyone at camp and so many jobs to fill," he points out, relating that some counselors specialize in areas like running the challenge course, teaching swimming lessons or guiding campers on horseback rides.
Mariana Gomez, 21, never camped as a child, but she's going into her third summer working at Hiram House Camp. "I was sitting in my dorm late at night thinking about where to work in the summer, and I had just worked at restaurants like Chipotle," she says.
Instead, she figured spending time outside and "not being stuck in a building" would be refreshing, "especially after the COVID year," adds Gomez, who is a junior at Franciscan University. "I felt a need to get out there."
Her experience working at camp is seeding an interest in teaching down the road.
Courtney Nicolai, Hiram House Camp's executive director, points out that when "camp counselor" is on a resume, "it says the individual has the ability to multi-task, has extreme patience, is very creative and can think outside of the box."
Certainly, working as a counselor at an overnight or day camp can lay the groundwork for careers — and not necessarily teaching, but environmental studies, behavioral health, nursing and more.
"This is a wonderful opportunity because they are working with children from different backgrounds, and what better life experience than to spend 10 weeks getting to know them and figuring out yourself as well?" Nicolai says.
In fact, Hiram House Camp was Nicolai's first job at age 16. "It's fun for us here to watch the evolution of our staff throughout the summer," she says. And when it comes to some of the benefits students gain in this role, "They grow more confident, and they demonstrate an ability to be a really strong role model."
Setting an Example
Camp counselors are like that really cool older brother or sister. "Counselors might not even know it at the time, but the campers really look up to them and want to be like them when they are older, especially if they do not have that in their home life," says Olivia Mackey, camp director at Camp Christopher. "They look forward to that feeling we foster here."
As a counselor, you have an opportunity to make a kid's day — lots of kids, as a matter of fact. And you have fun while doing it.
"They think it's really fun that their counselor is playing in the mud or singing camp songs," Gomez says, relating how her job at Hiram House Camp pushed her to really dive into the role and participate with heart. "That was the biggest part of being a role model for me — and that takes getting over yourself and embracing your inner kid."
For Flannery, he learned how to be a role model as a counselor and supervisor. "Working on staff connected me with so many peers who share the love for camp and want to make sure they impart that love for camp in the next generation," he says.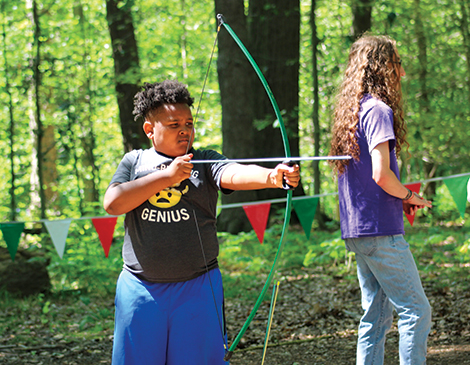 Persisting & Growing Self-Awareness
Especially at an overnight camp, counselors are "on" around the clock. If a camper wakes up after a bad dream, you're the go-to calming source. If a camper trips on a tree root and skins a knee, you're the director of Band-Aids and a compassionate friend.
"Especially by the middle of the week, kids are tired, and you have to keep your energy up," Gomez says. "That was one of the things I didn't really realize was going to be hard for me. The kids look up to you so much. They can tell if you are tired and if you don't want to do something, they won't be interested either. But if you can keep up your energy, they'll see. 'My counselor is excited about this, I'll try it, too.'"
Gomez learned when she needed to take a break or recenter herself. "I recognized the signals, 'O.K., I'm getting worn out, I need to reserve my energy and ask for help,'" she relates.
As more of an introvert, she had to push herself to put it all out there — belt out the camp songs, storm the rock wall, get silly with the kids. "Being a counselor definitely took some learning in the beginning," she says. "At first, I thought, 'These kids are so outgoing, I'm not sure if I am giving them enough,' but I tried not to let my tendencies to be more quiet and reserved get in the way."
Plus, there was plenty of training, Gomez adds. The week before children start arriving is pre-camp. "We learned skills like behavior management and how to learn the group dynamics, learning to mediate," she says.
At camp, you meet people where they are, Flannery says. "It takes collaboration and mental fortitude," he adds, noting that facilitating team-building exercises like the ropes course and challenge games allowed him to show campers that they can accomplish difficult and daunting tasks, too.
Exploring Careers
While in college at John Carroll University, Flannery interned at Catholic Charities, which oversees Camp Christopher. He worked in migration refugee services, an opportunity he learned about as a camp counselor. "We were able to send refugees to camp this past summer, which was super cool for me to see those two worlds collide," he relates.
"The leadership skills and ability to work with different people is a universal skill and you learn that from working at camp because of the diversity of life experiences you will encounter," he says. "You find pathways through camp."
In fact, Mackey has a counseling and behavioral health background that is important and relevant in her role as camp director. Flannery comments, "You see how those skills contribute to a career path that might not seem likely."
Flannery is pursuing a master's in public health at the University of Maryland, and the leadership skills he continues to acquire as a camp counselor are already paying off. Plus, the ability to work with others and the relationships that grow out of a camp counselor experience are priceless. "People are so similar and also so different," he says, "but we share a love for camp."