A basement built for entertaining and kicking back with the family is also a reflection of the Styrons' character, with a design chock full of custom details. The couple purchased their Strongsville home in 2016 and began hatching plans for improvements to suit their lifestyle.
"It backs up to the Metroparks, and we love the yard, neighborhood with lots of kids and the layout," says Joe Styron, adding that "potential" was evident in a finished yet basic lower level that was a carpeted blank slate.
After spending time in the home — getting to know what worked, what didn't and what projects to prioritize — the Styrons enlisted Hurst Design Build Remodel a few years later. The planning pushed through the pandemic. With a detailed design process, supply chain issues and backlog, the dust didn't start flying until last May.
But that was good news for the Styrons. "What was really nice about Hurst is they didn't want to start the project until they knew they had everything, so they knew they would have the materials the week they needed to install it," says Brandie Styron, relating that they interviewed a few design-build contractors.
"They would work here without us being at home," she adds. "You really need to trust the people you are contracting. We got a great sense of the people who would be coming to our home on a daily basis."
The couple came into the project with a vision: a bar to display a bourbon collection and entertain; a theater space with stadium seating; a workout area; and room for large table games like shuffleboard, skeeball, pop-a-shot and air hockey.
They also wanted a unique Addam's Family-esque element — a secret doorway built into a bookshelf that you open with latch disguised as a hand.
Fun and function are the theme. The Styrons selected luxury vinyl flooring in a warm wood hue that matches the hardwood in the upstairs living areas. "We wanted something durable," Joe says.
Their main living room and the kitchen floor are wide-open spaces, and the existing basement that was minimally finished carried on the same flavor. But the Styrons wanted some partitioning to dedicate areas for the bar, play, movies and exercise without overdoing the walls.
As a solution, the designer cut a corner out of a storage room to tie different areas of the basement together. The custom theater room is separated yet open, with half-wall and counter seating opening up the space. The bar is open to additional table seating and games.
This way, family and friends of all ages can play and keep an eye on younger ones.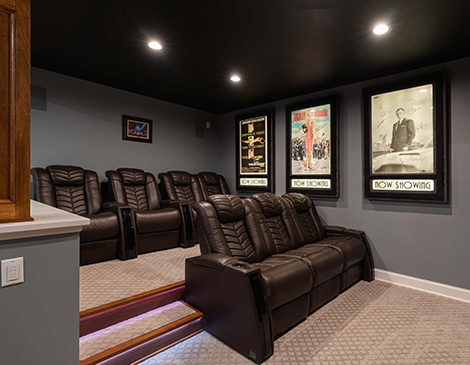 In the theater, the Styrons wanted to highlight a movie poster collection, which was accomplished by displaying them in lit boxes. In the bar, glass-front lighted cherry cabinets can house special bottles of bourbon — a passion for Joe, who procured a Blanton's bourbon barrel from one of his favorite distilleries, Buffalo Trace in Frankfort, Kentucky.
"They don't normally sell the barrels, but Joe convinced them," Brandie quips.
He adds, "I sent them a picture of my bourbon collection and they agreed, so we made a weekend trip of it and picked it up at the distillery."
Hurst Design Build Remodel reworked the barrel into a bar sink. "One of our designers modified it while allowing space for plumbing because you need access to that," says Pat Hurst, owner, adding that high-level personalization is a byproduct of the idea-gathering clients do on social media and websites like Houzz.
The barrelhead top is a light fixture base above a card table with barrel-backed chairs. The Styrons chose cherry cabinets for their warmth, and essential basement wall columns were wrapped with decorative wood that matches.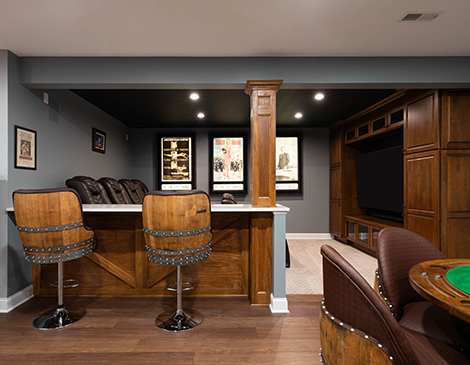 Materials selections came together naturally.
"It can get overwhelming looking at different options for finishes and paint," Brandie says, "and by working with the designer ahead of time, we easily narrowed down the selections. Once we decided on the design, we met in the showroom and picked out flooring, countertops and cabinets."
This was their first major home renovation, and collaborating with a contractor that could manage the design and installation in-house simplified the process, Joe says. "It made the project seamless."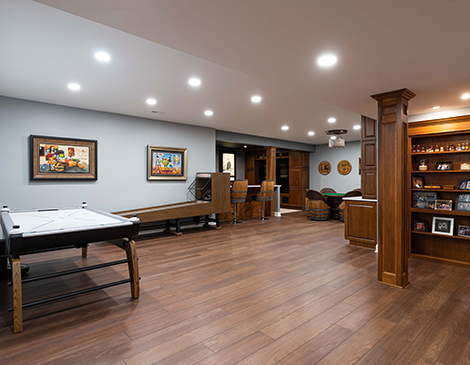 Of course, only some aspects of even carefully orchestrated design/build plans go off without a hitch. They answered the question of what to do with an awkwardly placed mechanical area with a secret door. Plus, this won the Styrons more storage.
"If you really want to have that area hidden, you can find unique ways to do that," Hurst says. The quirky hand sculpture on shelving that opens into the mechanicals and storage space is hinged to a cable that trips a mechanism, unlocking the door.
Inside, custom-built shelving maximizes every inch of space. "It's a Scooby-Doo door," Joe quips, relating that he and Brandie included this in their initial design requests. Again, it's fun — and functional.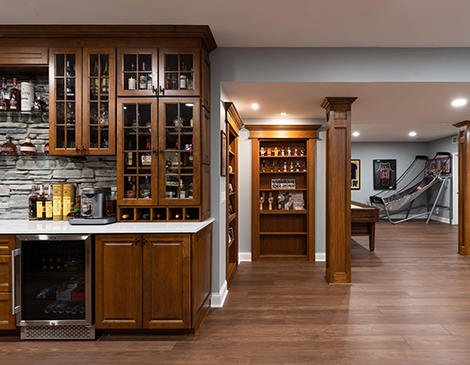 Going into a home renovation for the first time like the Styrons?
"Be prepared for dust and delays," they say, adding that there is always the unexpected. There are also variables like permitting, which range based on the community, and can involve multiple city inspections.
"It was fun to see it all come together," Brandie adds.
The project wrapped up in three months, and the transformation gives the Styrons a lifestyle of enjoying their hobbies, going all "out" and staying in.
"We love having people come over to hang out, or just enjoying it with the four of us," Joe says. Their girls, ages 9 and 6, are making many memories with the game room, family movie night. "It just really feels like home down there."
Get inspired for your next home project by digging in to the 2023 Cleveland Home Issue.