Amid the Russia-Ukraine war, many international groups, local businesses and individuals are searching for personal ways to show support for Ukraine during its fight for peace. Like so many others, Cleveland artist Derek Hess is speaking out against this conflict in the way only he knows how: through his art.
"As an artist, what I can bring to the table is something that can help you not feel as helpless as a lot of us do," says Hess.
This month, Hess, a painter and printmaker well known for his work on concert posters and pieces focused on mental health, released "Kyiv – Castle Keep." The striking illustration shows a sitting figure holding up the Ukrainian flag. In this scenario, Hess is depicting Kyiv as the "castle keep" for Ukraine. "Castle keep," a term that dates back to medieval times, means the strongest fortification in the castle — the point of last resort during a siege.
"This piece is about the resilience of the people of Ukraine in the face of tremendously lopsided odds," says Hess.
Available for purchase as a print, an NFT and apparel such as T-shirts and hoodies, all proceeds will be divided between four organizations aiding Ukraine: the International Fund for Animal Welfare, United Nations Children's Fund, World Central Kitchen and the Government of Ukrainian.

Although he usually stays away from creating politically charged pieces, this war was a situation he just couldn't ignore.

"Normally, I don't like to have political pieces because it totally dates the artwork at that moment in time. It doesn't give it legs to carry on the image," says Hess, who has vowed to create more art in support of Ukraine. "There's the necessity as far as I'm concerned to make a political piece and put it out there at this time."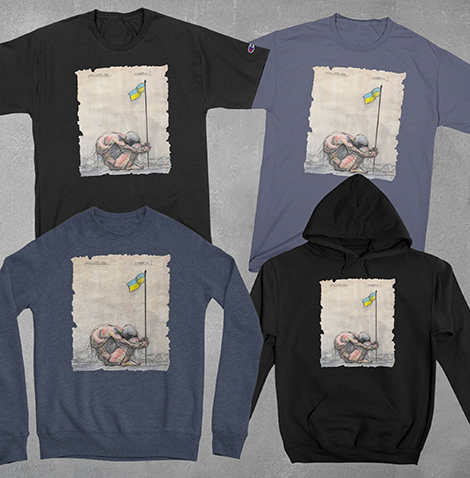 This work marks Hess's first foray into NFTs (nonfungible tokens) — but certainly not his last. The artist's representative Martin Geramita calls NFTs the way of the future. He believes the technology could create a place where everyone from budding creatives to blue-chip artists in high price galleries in New York City can sell their art.

"You have other artists out there that are really creating amazing artwork, and the vehicle to get that artwork in people's hands is NFTs," Geramita says. "I look at it really no different than I look at the fine art world."
More info: derekhess.com