Gone are the dusty dioramas and stuffy exhibitions; Cleveland's biggest museums are looking to the future with community in mind, armed with new technology and formats to infiltrate some of the city's most educational spaces in the years to come.
The world-famous, iconic artworks on Cleveland Museum of Art's walls won't go away — but the museum's emphasis on technology will only strengthen in years to come.
"I think that Cleveland is staying true to itself. We're a serious museum with a serious collection," says Heidi Strean, the chief exhibition, design and publications officer of CMA. "One of the things I love is we haven't just gone off and done some fantasy, buzzy sort of thing; [the tech] is not just decorative, and I think that's really important."
Most strikingly, expect to see exhibitions of digital-born artwork, through the museum's ArtLens art tool and app. "Artists are even thinking differently," says Jane Alexander, the chief digital information officer of CMA. "That will probably be the gateway into this whole new experience."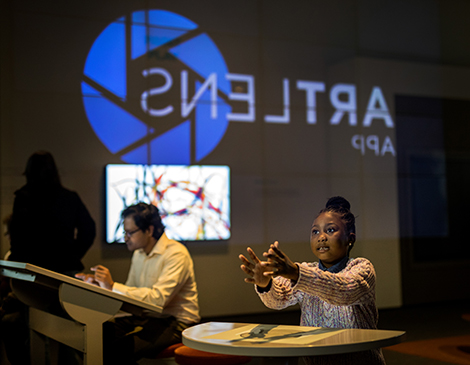 (Courtesy Scott Shaw Photography)
Instead of walking through a gallery, visitors might walk through an augmented-reality landscape, as they did last year in CMA's groundbreaking Revealing Krishna: Journey to Cambodia's Sacred Mountain. Using HoloLens, CMA is able to immerse visitors into an environment to learn more context around featured artworks.
Other local institutions are growing — literally. The Cleveland Museum of Natural History, for example, is in the midst of a massive redesign and expansion, and that extra space will be used in a forward-thinking way, says CMNH Chief Science Officer Gavin Svenson.
The museum's extra 50,000 square feet will incorporate new and developing technology, like augmented and virtual reality. Future developments will include projections on displays to show environmental seasons, along with virtual simulators for guests to explore new places.
With that being said, the museum's impressive collection will always be the focus, soon to be organized around "how" and "why" questions as opposed to the traditional "what." Technology will aid access. "We live in a technological world," Svenson says. "It doesn't mean it needs to replace everything. It just means it can be used to enhance authentic experiences in different ways."
The Rock & Roll Hall of Fame is also expanding. The new 50,000-square-foot addition will be designed for experience-
driven connection through exhibits — and also more room for educational events, concerts and programming.
Expect past artifacts and new technology to be paired in future exhibits, but only when it's meaningful. (Think of the museum's The Garage performance exhibit space as an example.) The museum also continues to expand its digital reach, particularly in its educational programs.
"Absolutely technology is part of the equation. To do it well, we need to be authentic in everything that we do," Rock Hall President Greg Harris says. "It has to really reflect the rock 'n' roll DNA, and the very trusted voice in that conversation. We love when you mix the analog and digital."
From food to art to development, learn more about the Future of Cleveland.
Editor's note: This story has been updated to reflect Gavin Svenson's current title at CMNH.
For more updates about Cleveland, sign up for our Cleveland Magazine Daily newsletter, delivered to your inbox six times a week.