When visitors step into the Cleveland Museum of Natural History's newest space, they'll take a trip through time, starting with the sun's formation. Metal markers on the floor bring folks through the 15,000 square-foot Visitor Hall, marking various moments in time: mass extinctions, dinosaurs, the beginning of forests and, finally, at the tail end of the winding pathway, just before an ending placard saying "today" — homo sapien existence.
Along the way, you'll see some of the most iconic objects and artifacts in CMNH's collection, including the famous life-saving sled dog Balto, the 3.2-million-year-old human ancestor Lucy, the newly restored massive dinosaur skeleton Happy, and Dunk, the large armored fish which roamed Ohio waters more than 350 million years ago. Other displays showcase the rebound of bald eagles in Ohio, gemstones and butterflies.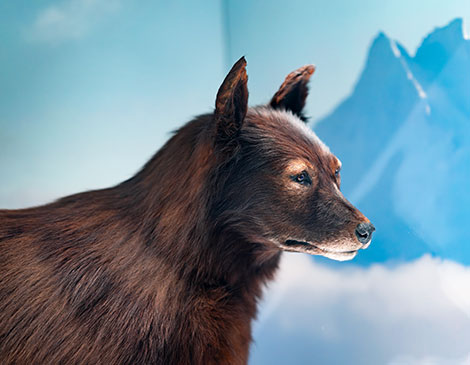 The Visitor Hall is free and open to the public, providing a true highlight reel of the museum's most locally beloved attractions to the surrounding community. Entry to the main museum costs $7-$10, and residents of Cleveland and East Cleveland can get in for free on Sundays.
"All of the objects here in the Visitor Hall are the most iconic objects that we have," says Sonia Winner, the president and CEO of CMNH. "We have over five million objects, but we wanted to showcase the ones that are really important to Clevelanders."
The Visitor Hall, which can be rented out for events, is the latest stage in a $150 million remodel of the museum. It opens on Sunday, Oct. 15, while remaining updates and expansions are expected to be completed by December 2024, Winner says.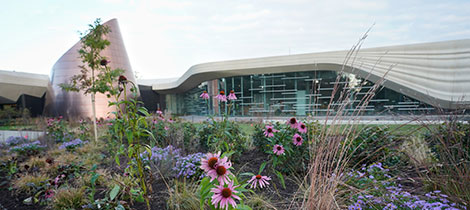 The entire space is being overhauled and reconceptualized to be less timeline-themed and more interactive, particularly for young visitors. CMNH has been open in Cleveland for more than 100 years — and overall, it's aiming to find new ways to continue telling its big story: the story of life, Winner says.
"It's a long story. It's a complicated story. It's a story of beauty. It's a story of fragility," Winner says. "It's a story that we need to share with each other because we want to make sure we have an earth that our children and our grandchildren can inherit."
And, to Winner, there's no better place to tell that story than in Cleveland.
"This building could not be anywhere else on the planet Earth, than Cleveland, and it's because it's an ode to the geological history of Cleveland," Winner says. "You can see it through the glaciers, through the emphasis on water, and all the important things that this region we should all be proud of because it's such a unique asset for all of us."
For more updates about Cleveland, sign up for our Cleveland Magazine Daily newsletter, delivered to your inbox six times a week.