Day 2 of InCuya Fest saw everything supersized. First, there were the crowds, which seemed to almost double Saturday's still-sizeable turnout. Sunday's clearer skies (and sometimes oppressive humidity) might have boosted attendance, but the more likely cause was Day 2's lineup, an objectively stacked schedule that, in comparison to Saturday's uneven roster, delivered consistent star-power across stages. The megawatt schedule included a mix of established icons (Booker T. Jones), dominant radio forces (SZA) and fan-favorites (Cake, the Avett Brothers). Pair that with an exclusive Platform Beer Co. option and a chic vendor marketplace, and it seems InCuya more than proved Cleveland's music-fest capabilities.
Bottoms Up
While there were plenty of drinking options from partners Corona Extra and Bulleit Bourbon, Platform Beer Co. offered the most special sip with the Tourbus Pilsner, a German-style beer brewed specifically for the festival. Unlike other pilsners, this lighter beer was heady and full-bodied — by no means the watery swill that makes up so many renditions of the pale lager. Dry-hopped with Mandarina and Hallertau Blanc hops, the Tourbus packed notes of bright citrus that paired perfectly with a set at the City Stage. Though prices were hefty ($9 a can, $11 for short pour, $14 for a tall one), the beverage was still our favorite at the festival. Brewnuts, fear not: if you missed out on InCuya, Platform is currently serving Tourbus at its Lorain Avenue brewery.
Handmade Happiness
Between sets, we strolled the InCuya Marketplace, a collection of local craftsmen and vendors set up in stands on the side of the Lake Stage. While Tropidelic rolled through a set of funk-rock fusion, we tried on wood-paneled sunglasses from Plank Eyeware and floral headbands from Lush and Lovely Floristry, proving that Cleveland can do boho-chic just as well as Coachella. Other highlights included fragrant, natural body scrubs from Revival Body Care and Refresh Collective's bright Cleveland T-shirts.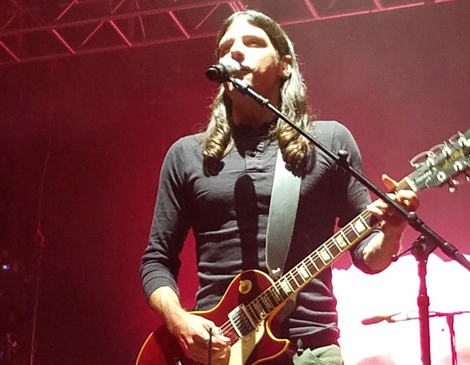 Sound Cloud
Of course, the main attraction was the music, and InCuya's second day undeniably delivered. Booker T. Jones exuded easy cool from behind his wood-paneled organ, joined on classics such as "Soul Limbo" and "Green Onions" by his son, Ted Jones, a guitar god who shredded his way through his father's hits. Booker T. Jones, a 1992 Rock & Roll Hall of Fame inductee with his band the M.G.'s, shared nuggets from his career, included how he recorded the iconic "Green Onions" while he was still in high school. In fact, R&B had a strong, eclectic showing throughout many of Sunday's sets, from rising artist Daniel Caesar, a 23-year-old sensual crooner who paired his gospel-inflected set with hazy videos of him throwing up the peace sign, to Tank and the Bangas, an impossibly energetic collective that fuses R&B with funk, spoken word, and sometimes, apparently, grunge. The magnetic group included a cover of "Smells Like Teen Spirit" in their over-too-soon set on the Lake Stage. Later, it seemed like the entire festival was singing along to hip-hop darling SZA's odes to complicated relationships and ugly insecurities. The glowing, lime green-haired chanteuse gave a shout-out to Kevinee Gimore, the Cleveland activist who started the #FosterCare media campaign to bring awareness to foster care opportunities. Cleveland shone brightly in the coordinated dance moves of Tropidelic, a Sublime-indebted reggae-rock group that seemingly didn't take a breath for the entirety of their half-rapped, half-sung set. Veteran quirk gods Cake debuted new song "Sinking Ship" during their early evening set, a politically toned wry rocker that preceded performances of hits such as "Never There," "The Distance" and "Short Skirt/Long Jacket." The night was capped by a rock star-level performance from the Avett Brothers, who played over an hour and came back for an encore. The siblings strong, frayed-edge harmonies cut through the night as they careened through folk-inflected hits such as "Kick Drum Heart" with all the force of a punk band. They slowed down for poignant ballads "I And Love And You" and "Murder In The City," bracingly honest ruminations that left more than a few concertgoers (including this writer) in tears. As the crowds filed out of the Malls, it seemed the beginning of another Rock 'n' Roll City tradition, one that once again proved our musical bonafides.