All things considered, Dave "Ziggy" Dietke is having a pretty great year. C-Level, his band with Cody Crose on bass and Pat Boland on drums, celebrated the successful release of Burn Your Own Gasoline in January, and followed that up with its first appearance at Brite Winter in February.
But 10 years into honing its sonic fusion of funk, blues, punk and reggae, it's no surprise the seasoned music scene vets have weathered the pandemic better than anyone. "When Cody came to me and said, 'We've got to do something for our 10th anniversary,' I was like, 'We've been doing it for that long?'" says Dietke. "This last year, it's really felt like things have started to turn around, and we're just really excited we're still going and that we've found the right group of homies to do it with."
This weekend, the band celebrates its milestone with a special two-night event, including a Friday night show at the Grog Shop and a Saturday night show at Beachland Ballroom. Proceeds from the socially distanced concerts, which will include temperature checks and other precautions, will go directly to support the venues, which have both been affected by pandemic-related shutdowns. The band will be joined by The Quasi Kings, Wanayama, Lea Marra and the Dream Catchers, Mimi Arden, Old Souls, Furious George Hartwig, James Muschler, Jay Sparrow and Crazy Marvin, all of which have played a significant role in the band's development over the years.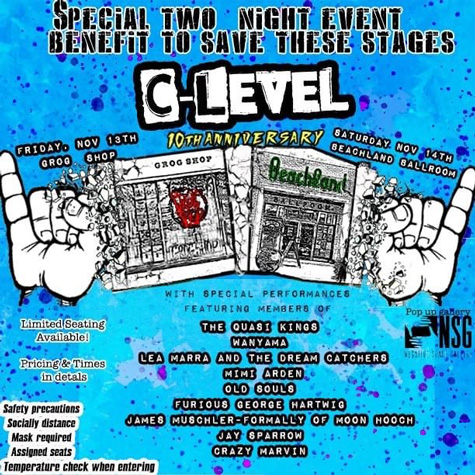 Each show will feature four guest artists who will sit in with C-Level to play one of the band's songs and one of the guest artists' songs. Negative Space Art Gallery will also be doing pop-up art galleries at each show. A livestream will also be available on the Facebook event page. "Everything is going to the venue, except we're going to throw some gas money to the homies who are coming out to play," says Dietke. "Each person on the bill has done something for us or with us or has meant something to us along the way, so we want to share them with everyone who is now into us and do this whole celebration of the people we've known throughout the years."
We talked to Dietke about what he's learned over C-Level's decade as a band, fostering a community in the music scene and more. Ticket Info: beachlandballroom.com; grogshop.com
Q: How did C-Level start as a band?
A: I've been playing with Cody since he was 12 and I was 15, and we met at an open mic night. I was playing up there, and Cody's mom was working the bar, so she brought Cody up. I knew a drummer who wanted to start a project, but didn't have any songs. I had all these songs, so we started playing my songs. Cody wasn't even a bass player. He was using my bass. We went through, like, five drummers until we got to Pat, who's been the guy for about four years now. But it just kind of clicked [between Cody and me].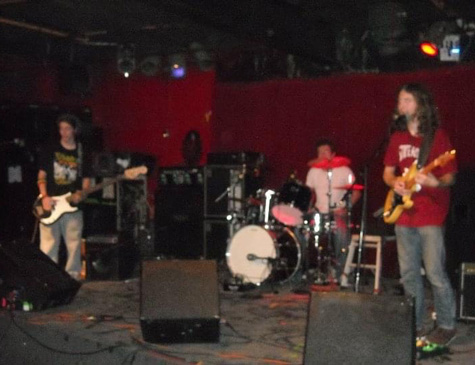 Q: How has C-Level's sound evolved over the years?
A: It's definitely changed. It started out as funk-punk, reggae-rock, and it still is. But now I'm able to incorporate a lot of things that I wasn't able to when we were always switching drummers. We were always catching a new drummer up to what we had written previously and not what we were writing. Now, we're doing a lot more slide guitar on the 12-string acoustic in open tunings through Marshall amps. So style-wise, it hasn't changed much, but guitar tone-wise, it's become a lot more polished and experimental.
Q: As a music teacher for autistic children, a podcast host covering the local music scene and someone who runs the music program at Negative Space Art Gallery, you've given a lot back to the music scene. Why is it so important to you to give back to the scene?
A: Playing open mic nights and going on tour with the band State Radio really sold music for me. It completely changed what I wanted to do with my life. Our friend George Hartwick, who's going to be playing with us this weekend at the Grog Shop, was hosting that open mic night where we met. He's kind of like our sensei. He taught me how to play, and he's responsible for bringing us together. Most musicians who extend those opportunities to others do that because it's happened to them. So making sure that those opportunities exist for the next generation is a huge thing to me.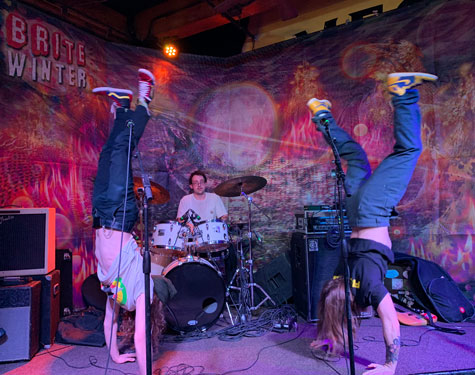 Q: For someone who's never been, what is it like to experience a live C-Level show?
A: I hope it's energy. When I'm playing with Cody and Pat, there's just this madness energy that comes out in front of people that doesn't happen in the studio. That's what we try to go for because that's what draws us to shows. If a band is really kicking in, you just pick up on that vibe and you're just like pumped up for no reason because you're thinking about rock 'n' roll. So hopefully that's the experience. And you'll also get some guitar switchin' and guitar chops that guitar players can appreciate and some handstands, maybe acrobatics that you can appreciate or make fun of. We're just all about that positive rock 'n' roll energy.