Ever hear a spaced-out, laser-beam riff and wonder, How's the guitarist going to recreate that sound live? Increasingly, the answer is EarthQuaker Devices, an Akron-based effects pedal company that counts everyone from Paul Simon to The Strokes as patrons. These gadgets warp signals from electric guitars, vocals, keyboards and more to color tracks with distortion, echo and other textures.
Founded by veteran Akron musician Jamie Stillman, the boutique business is now an industry stalwart and global brand. In May, Ohio's Small Business Administration named EarthQuaker Exporter of the Year for its presence in more than 50 countries.
"Akron will always be the headquarters," says CEO Julie Robbins, who's also Stillman's wife. "But I could see more globalization — that will only add more value and jobs [in Akron]."
EarthQuaker began with Stillman's attempt to fix a broken overdrive pedal in his Akron basement in 2004. Casual tinkering became an obsession with pedal board circuitry, and over the next seven years, he built nearly 2,000 pedals by hand. In 2007, the instant classic Hoof fuzz became EarthQuaker's first full-production pedal. Online buyers fell in love with its clear, unprocessed sound. By 2012, EarthQuaker expanded to nine employees working out of Stillman's basement and Robbins was added as CEO.
Today, EarthQuaker's nearly 50 employees hand-build its line of 42 pedals in a 15,000-square-foot facility on downtown Akron's Bowery Street. "There's, like, eight people doing what I used to do," says Robbins. "There's, like, 40 doing what [Stillman] used to do."
Product innovation and business acumen elevated EarthQuaker. A quality standard in the industry, its pedals are to guitarists what Nike sneakers are to hypebeasts. YouTubers and podcasters review, bash and gush over every release. After Cleveland shows, acts such as Sonic Youth's Thurston Moore and Idles made pilgrimages to the Akron production facility. In June, EarthQuaker released its first artist collaboration, the Life Pedal, which mimics the sustained fuzz of experimental metal band Sunn O)))'s LP Life Metal. The $250 pedal sold out in less than five hours.
"They're super experts on marketing," says Sunn O)))'s Stephen O'Malley. "They can create this huge hype bubble quickly with a really smart and artistic marketing launch."
Marketing helped EarthQuaker shake up the industry, eclipsing gear geeks to become a lifestyle brand. Staff artist Matt Horak's comic logos that adorn the pedals are practically iconic. In 2016, the company launched Show Us Your Junk, a web show. With hundreds of thousands of views, it dives into the equipment of studio wizards, from grunge-legend Steve Albini to Devo's Mark Mothersbaugh.
"It gives us a way to express our creative vision and present the world as we'd like to see it," says Robbins.
It's also EarthQuaker's way of straddling industry stardom and selling out. Stillman, who still plays in Akron punk act Relaxer, plans to launch a record company that offers bands fair contracts. Robbins works to champion unsung artists, often hosting performance sessions on EarthQuaker's social media pages. "I feel responsible for showing people what we think is cool," says Stillman.
The best example is EarthQuaker Day Aug. 2 and 3. The fourth annual free music festival and open house welcomes friends, family, neighbors and bands to the Bowery Street facility for tours, live pedal demos, guitar and gear raffles, and jams from local bands. Stillman's former touring band, Party of Helicopters, is set to perform alongside Niights.
"It's cool to see the community we've built here of, like, pedal nerds, general music fans and folks from the community," says Robbins. "It's all about feeding that community and giving attention to artists that deserve it."

My Favorite Pedal: Three artists share how they use their favorite EarthQuaker pedals.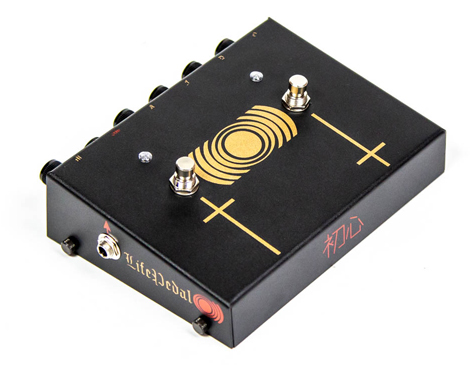 Life Pedal
"The pedal makes sustain [held notes] easier and gives all that beautiful wave-folding distortion. If you have a nice 50-100-watt valve amp, it sounds beefy, dimensional and awesome — like a super-saturated, synthesizer sound." — Stephen O'Malley, Sunn O)))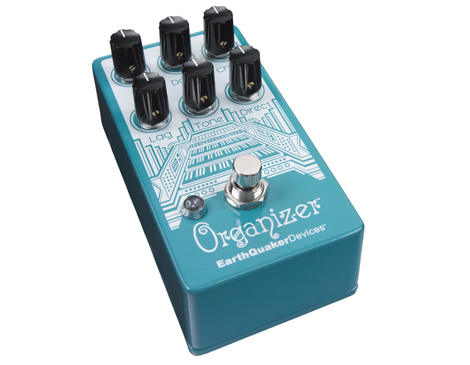 Organizer:
"As just one person with one instrument, it's important to create a textural, cinematic sound. With the Organizer, I can pitch the guitar down an octave and create these lush, rich sounds and ambient textures." — Sarah Lipstate, Noveller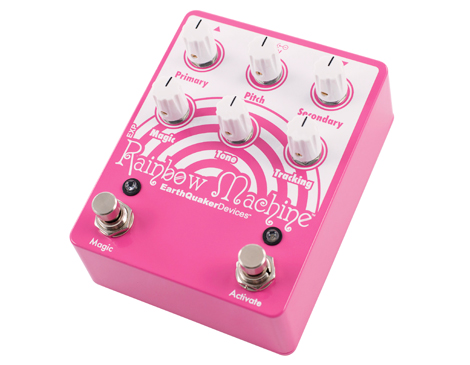 Rainbow Machine:
"We don't have a keyboardist, so I often use their pedals to replicate that sound. When I tap the Rainbow Machine, it's just like a sound explosion." — Ryan Fletterick, Oregon Space Trail of Doom