Behind every great musician there is often a great manager –– the person in charge of all the things behind the scenes: coordinating events, making payments and, sometimes, cleaning up after a rock star's wildest antics. Cleveland native David Spero has seen it all, having served as the manager for famous acts such as Michael Stanley, Cat Stevens and — most famously —Joe Walsh.
And while Spero has been in the music industry for the better part of the past 50 years, he says he owes his career to Walsh, who convinced him to manage Michael Stanley when Spero was just 19 in the early '70s. A decade later, Spero became Walsh's manager. Spero still remains a prevalent industry figure –– working with the likes of Bad Company and The Allman Brothers Band.

In anticipation of the Eagles' Hotel California Tour –– coming to Rocket Mortgage FieldHouse on March 17 –– Spero shares his history in music management, his time as both Joe Walsh's manager and friend, and his opinion on the importance of the Eagles to rock 'n' roll.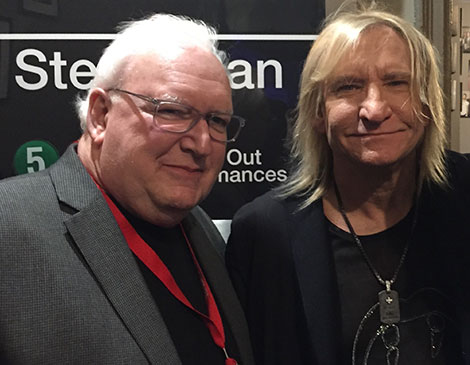 On his history with Joe Walsh.
When I was at 100.7 WMMS, one of my good friends for years had been Joe Walsh. You know, because he was playing music around town with the James Gang, and before that with a band called The Measles. And he used to hang out at the radio station with me. And one day, he just said, "Hey, listen, you're not going to do this like when you're 25 are you?" And I'm like, "I don't know. I guess not. I mean, this music isn't going to be around more than a couple years, you know?' And he said, "Well, I need you to be in a position to manage me." And I said, "okay, I don't know anything about the business." He says "Well, why don't you come out to LA with me, and, you know, move into the house." And his manager was a guy named Irving Azoff, who's probably the most powerful person in the record business right now — in the entertainment business, actually. He taught me the ropes. That was in 1976, I think. And it wasn't until 1990 that I got a call from Joe and he said, "Hey, man, what are you doing?" I said, "Well, working." And he said, "Well, it's time, I need a manager." And I flew out to LA the next day and my career took a giant upswing. And because of Joe, I ended up working with people like Cat Stevens, the Allman Brothers, Bad Company, Mark Farner from Grand Funk and on and on.

On his most memorable Joe Walsh story.
Joe was well known for his antics in hotel rooms. We were doing a Ringo Starr tour and we had a day off, and then we got rained out of our show. So, two days in a row of sitting in a hotel for rock stars is never a pretty thing. And Joe had gone over to the mall and bought an electric glue gun. And he took everything that's on this table, he glued it to the table. And then he took the table and he glued it to the ceiling; glued the lamps to the ceiling. And then he glued everything in his room that he could glue to the ceiling. Obviously couches and stuff he couldn't do, but the rest of the room was upside down. And he told me to go get the band together because he wanted to have a band meeting, but not to have Ringo involved because he knew Ringo wouldn't take to this very kindly. And the whole band got together and waited outside the door. Joe opened the door for us all to come in and see what he'd been working on for two days. And I think the bill was about $41,000. But if you listen to his song "Life's Been Good," it says I have accountants pay for it all.

On the Eagles' impact on a generation.
They had the capacity to understand, relate to, and then turn it into music what that generation was all about. And, you know, probably peaking with Hotel California. But going back even further, I mean, there wasn't such a thing as country rock as we knew it back then. But they took the rock 'n' roll, and they took the country, and they took a little bit of R&B and that was what the Eagles became. And they just had a knack for writing songs. It just clicked instantly with people and we're totally identifiable. And it's almost their pop sensibilities –– which I'm sure isn't what they would want to talk about –– but their pop sensibilities were so strong that they just really knew how to connect to people. And then they were all just amazing musicians. It just came together. You know, Joe didn't join until Hotel California, and Hotel California was like, the pinnacle. When that album came out it really changed people's lives; it was one of those things. You just couldn't go anywhere without hearing it.

On the Hotel California Tour.
I was like, Boy, that is so overdue. I'm sure they've never done a show without doing the song "Hotel California," but I think to show how important that album was in its entirety –– and even though I was fortunate to be in the studio when some of that stuff was being done because Joe had invited me down there –– as a whole, it stands up. Every note stands up in that record. And I think it's important for them to go out and show people Hey, you know what, this is what we got. This is it right here. This is the pinnacle. And I think, as a fan experience, getting to go and see the album in its entirety –– and they're bringing an orchestra and a chorus –– I mean, they can make every note that was physically put on the album come to life. And that's really exciting for me. And I thought it would be really exciting for any Eagles fan.