At the forefront of Paramore's set at Rocket Mortgage FieldHouse on Sunday night is a sense of reverence. Not only from the crowd, but from the likes of the band and vocalist Hayley Williams.

Crashing into Cleveland for a tour supporting the group's February release, This Is Why, few would be offended by a setlist stacked with new tunes. They are, of course, littered throughout the set with jams like "Figure 8" and the eponymous title track.

More notable, however, are the equal parts nostalgia and respect for the band's roots.

"I just want to say, on behalf of [the band], thank you for growing up with us," Williams says halfway through the night.
Surrounded by fans in awe of the band's reputation and repertoire, Williams comes off equally struck by the crowd. Playful banter between tracks makes it seems as though the vocalist can't believe her own success, as if it all happened yesterday.
Lyrics new and old are sung back at Williams with gusto, and the crowd shares in a half-nostalgic excitement as if we've all gone back to freshman year of high school; our parents just dropped us off and we still can't fathom this is real.

The vibe may be unsurprising, however, to longtime emo listeners in Ohio. With acts like Hawthorne Heights and Twenty One Pilots hailing from the Midwestern state, Cleveland may as well be a second home for the Tennessee-bred Paramore.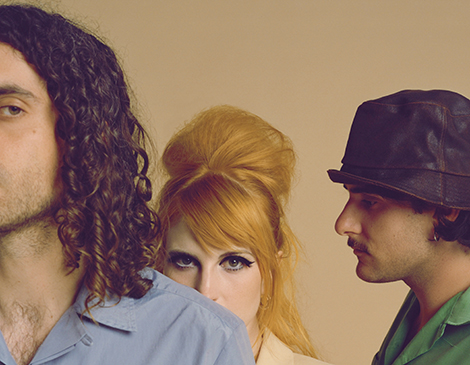 Then there's the dominant age group of the event. When Paramore first began, we were teenagers just learning what it meant to be alive. With many fans discovering the genre and that red couch-adorned first album, many of us have become adults alongside Williams. We grew with her words as we matured with the world.
As the band cycles through a strong setlist mixing fresh material and classics, the crowd is electrified to hear the opening of "Decode," the bands successful single in support of the Twilight movie in 2008.

My fiancée and I look at each other in shock before the excitement crashes like a wave. Fans ranging from 15-45 years old scream. Several people share a look as if to say "I thought I missed my chance for this years ago."
The clamor refuses to die down as Paramore then rips through several new additions, largely fueled by Williams' unrelenting belief in the band itself. As she leaps, shakes and dances through "Running Out Of Time" and "Still Into You", the fiery icon could be mistaken as a fan herself — moving with reckless abandon as if listening to a favorite album alone in a teenage bedroom.

The energy is infectious, Williams becoming the ringleader amid a carnival of black shirts and a rainbow of bright hair.
She tells us it's drummer Zac Farro's birthday and the crowd attempts to sing to him. She brings a fan onstage to finish the last, critical part of "Misery Business" and the crowd chants the fan's name — "Stacy, Stacy, Stacy."
As the performance comes to a raucous end with "This Is Why" and a militia of elder emo kids and fresh Gen Z fans makes its way out, it's hard not to appreciate the vibrancy of a music scene still thriving after 20+ years. On this night, the City of Rock 'N' Roll may as well be the Emo Capitol of the country.
Get ahead of the weekend by signing up for our free weekly "In the CLE" newsletter — your guide to fun throughout The Land. Arriving in your inbox every Wednesday, this weekend to-do list fills you in on everything from concerts to museum exhibits — and more. Click here to subscribe.