Cleveland boasts some of the coolest music history in the industry.
David Bowie performed his first U.S. tour date in the city, the long-defunct World Series of Rock reigned in industry titans like The Rolling Stones and AC/DC while they were in their prime, and infamous venues like the Richfield Coliseum, the Agora and Blossom Music Center have brought nearly every hitmaker from Tupac to Tom Petty through Northeast Ohio.
While it's far from comprehensive, here are some of the most iconic — and free-to-view — concerts of Cleveland's past.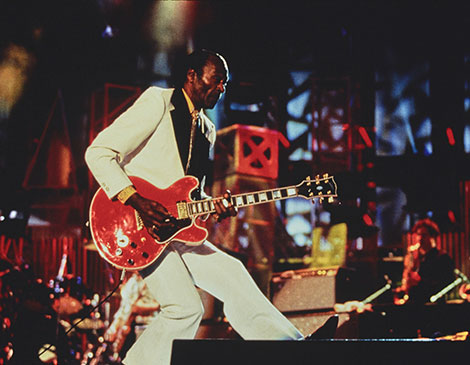 (Photo above, and lead article photo, courtesy Kevin Mazur, Rock & Roll Hall of Fame Library & Archives)
Concert for the Rock Hall: Sept. 2, 1995
The Rock & Roll Hall of Fame's opening concert made rock and roll history, featuring performances and collaborations with the most iconic musicians of all time. The lineup included Chuck Berry, Aretha Franklin, Bruce Springsteen, Bob Dylan, Pretenders, Little Richard, Lou Reed, Johnny Cash, Martha Reeves and the Vandellas, and scores of other stars. The biggest night in Cleveland music is captured in a three-hour special on the Rock Hall's YouTube channel — soak up every minute of it. youtube.com
AC/DC at World Series of Rock, Cleveland Stadium: July 28, 1979
Talk about a dream show: This event boasted a lineup including Ted Nugent, Aerosmith and Thin Lizzy as a part of the formerly annual World Series of Rock — a mythical music festival held at Cleveland Stadium through the mid-to-late '70s. Watch AC/DC rip through six songs — such as "Live Wire" and "Sin City" — with late vocalist Bon Scott. youtube.com
The Beatles at Cleveland Stadium: Aug. 14, 1966
Beatlemania was in full effect when the Fab Four toured through Cleveland's Municipal Stadium in 1966, just two years after they first performed at the city's Public Hall in 1964. Snippets of video from the band's 1966 show are available to view on YouTube. Be prepared to hear a near-constant high-pitched collective scream from thousands of fans, paired with the band's performance of songs like "Yesterday," "Rock N'Roll Music," "She's A Woman" and "Riot." youtube.com
The Black Keys at Beachland Tavern: May 7, 2008
Though footage from the Akron blues-rock duo's very first show at the Beachland Tavern in 2002 can't be found online, you can view The Black Keys' 2008 "secret Myspace show" at the same venue on YouTube. In this intimate show, watch the band perform early bangers like "Your Touch," "Strange Times" and "You're The One," right in the place where it got its start. youtube.com
Bon Jovi at Agora: March 17, 1984
Closely following the release of Runaway, Bon Jovi had not yet reached the stadium-headlining strength it would garner shortly after. This show offers a small glimpse into an early, not-yet matured version of the band, making for a real deep cut right out of Cleveland. youtube.com
Bon Jovi at Quicken Loans Arena: March 9, 2013
The show spanned nearly three hours, comprising more than 20 songs and seven encores — a gargantuan feat of musical stamina, especially for a group of performers pushing 50 years old. Showing the younger generation, with their 90-minute-or-less sets, how it's done, this Bon Jovi set is a crushing display of hardworking rock 'n' roll. youtube.com
Boston at the Agora Theater & Ballroom: Sept. 27, 1976
From its show titled "Feeling it in Cleveland," Boston blasted through a 10-song set, featuring smash hits like, you guessed it, "More Than a Feeling." If you can't snag the highly coveted vinyl anywhere, enjoy the recorded performance on Spotify. open.spotify.com
Bruno Mars at Grog Shop: Nov. 28, 2010
A month after releasing his breakout hit "Just the Way You Are," pop singer Bruno Mars played a packed show at the Grog Shop, even though he could have just as easily brought his talents to a much larger venue. Front-row videos of the singer performing on the tiny independent venue stage can be streamed in a YouTube playlist, capturing this surreal moment in the Coventry venue's history. youtube.com
Bruce Springsteen at the Agora Theater & Ballroom: Aug. 9, 1978
The Boss, alongside the E Street Band, riffed his way into Cleveland in support of his fourth studio album, Darkness on the Edge of Town. Considered one of the artist's most in-demand gigs by Rolling Stone magazine, the album dropped as part of Springsteen's archival concert project in 2014. youtube.com
The Clash at the Agora Ballroom & Theater: Feb. 13, 1979
Yet another iconic concert from the Agora, The Clash stormed Cleveland in February 1979 for its first U.S. Tour. Within the same year, the band released its smash-hit album, London Calling. youtube.com

Dave Matthews Band at Blossom Music Center: June 1, 2013
If you missed DMB on its recent trek through Blossom, turn this on, crack open a cold one and sunbathe in your front yard for a similar effect. On this night in 2013, the group blazed through three hours of myriad hits and lesser-known jams alike. open.spotify.com
David Bowie at Cleveland Public Auditorium: Sept. 22, 1972
This iconic performance marked Bowie's first tour date in the United States, solidifying a long, close relationship with The Land. The rocker toured in support of his newest album at the time, The Rise and Fall of Ziggy Stardust and the Spiders From Mars, opening his set with the album's first track "Hang on to Yourself." youtube.com
David Bowie and Iggy Pop at the Agora Ballroom & Theater: March 21, 1977
Adding to the laundry list of iconic Agora performances and cool things David Bowie did in The Land is his '77 concert alongside punk legend Iggy Pop. For this once-in-a-lifetime show, Iggy and Ziggy tore through classics like "Raw Power" and "I Wanna Be Your Dog," amid an era when the duo became a songwriter force of nature. open.spotify.com
Dead & Company at Blossom Music Center: 2017-18, 2021
Relax and pretend you're kicking back with your favorite picnic blanket on Blossom's lawn, enjoying the good vibes radiating from Dead & Company, as the band plays you through three killer performances recorded at their 2017, 2018 and 2021 Cleveland outings. Of note: The band's 2018 show marked its 100th performance as Dead & Company. All three albums are available to stream. open.spotify.com
Derek Trucks Band at the Odeon: Jan. 19, 2006
The six-string virtuoso, known for his solo work and for his place in the Allman Brothers Band and the Tedeschi Trucks Bands, rocks through nearly 20 songs in this Odeon throwback concert. We found this gem deep-diving through Archive.org, where you can hear it now. archive.org
Dirty Heads at House of Blues: Oct. 30, 2016
The California reggae rockers, known for hits like "Vacation" and "Stand Tall," grooved out at the House of Blues for well over an hour. Put this on and sing along to "Lay Me Down" like you were actually there that night. youtube.com
Drive-By Truckers at Beachland Ballroom: April 11, 2010
All 25 songs that Drive-By Truckers performed at its Beachland Ballroom show are captured by local YouTuber @kingofthecastle7, in individual song videos on his page. Originally, DBT was supposed to open for Tom Petty & The Heartbreakers at Blossom, but after that show was postponed, the group hit up the Beachland Ballroom for a replacement set that included favorites like "Zip City," "My Sweet Annette" and "Marry Me." youtube.com
Elvis Presley at Richfield Coliseum: Oct. 23, 1976
Less than a year before he died, Elvis Presley performed his last show in Northeast Ohio, headlining the Richfield Coliseum. The King played with his full big band, performing his mix of blues and rock and roll, for a crowd of more than 20,000 people. The high-energy performance was released on CD in 2008, and can also be listened to on YouTube. youtube.com
Fleetwood Mac at Richfield Coliseum: May 20, 1980
Hidden among the gems included in Fleetwood Mac's 1980 Live album are two tracks from the band's Richfield Coliseum outing more than 40 years ago. Pull up the record and look for "Not That Funny" and "Get Your Own Way" for a ride back in time to '80s Cleveland. open.spotify.com
Genesis at Music Hall: April 14, 1976
The first time Genesis returned to Cleveland post-Peter Gabriel's departure, the band rocked the Music Hall on its A Trick of the Tail tour. Hear Phil Collins leading vocals for the first time in a nearly two-hour recording of the show. youtube.com

Grateful Dead at Cleveland's Music Hall: March 3, 1981
Deadheads have been jamming in Cleveland for decades, evidenced by a slew of Grateful Dead shows in and around The Land through the years. This performance comes a little less than a year after the release of their 11th album Go to Heaven. youtube.com
Grateful Dead / Bob Dylan / Tom Petty at Akron Rubber Bowl: July 2, 1986
The last Akron Rubber Bowl concert went off with a bang, reigning in three of the greatest rock acts of any generation. Footage of the event shows massive lines of cars and hundreds of locals filing in, with some taking special shuttles just to get there. By the start of the show, 40,000 had stuffed their way into one of the greatest rock shows in Northeast Ohio history. youtube.com
Jimi Hendrix at Cleveland's Music Hall: March 26, 1968
Legend has it that Hendrix truly immersed himself in Cleveland during his 1968 trek around the country, buying a car from a local dealership, doing press and engaging in spontaneous jam sessions — all during a time when the rocker was busy darting from coast to coast within 24 hours for shows like this one. youtube.com
John Mayer at Blossom Music Center: Aug. 3, 2004
This live album splits up Mayer's performances in Cincinnati and Cleveland in August 2004. Hearing the songwriter play tracks like "Clarity" and "Daughters" barely a year after their release transports you right back to the mid-aughts. Low-rise jeans not included. open.spotify.com
John Mayer at Tower City Amphitheater: July 24, 2002
An even earlier gem from Mayer's history in Cleveland. "Your Body is a Wonderland" was barely a year old and not yet embarrassing to sing at top volume on karaoke night. archive.org
John Mellencamp at Agora: July 25, 1984
Along with iconic originals ("Jack & Diane," "Pink Houses"), John Cougar featured covers of Bob Dylan, John Prine, The Beach Boys and The Rolling Stones in this acoustic performance — a part of WMMS' Coffee Break concert series. youtube.com
The Kinks at Case Western Reserve University: March 11, 1972
This concert, put on by both Belkin Productions and CWRU, supported the band's The Kink Kronikles compilation album release. Here, The Kinks breeze through songs like "Lola," "Sunny Afternoon" and "You Really Got Me." youtube.com
Kiss at Sheraton City Center: July 23, 1995
The band loses the iconic makeup and takes a seat for this performance, rocking through nearly two hours of an acoustic set. The show marks one of a series of Kiss "Konventions" put on by the band from 1995-'96. youtube.com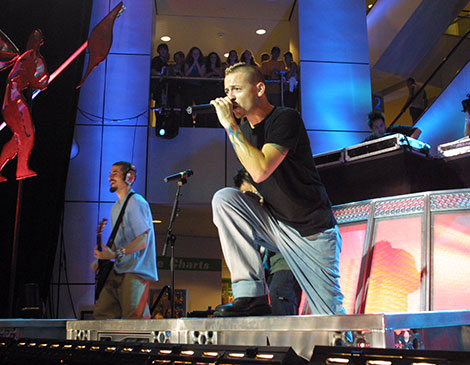 (Photo courtesy Neil Hamilton / Rock & Roll Hall of Fame Library & Archives)
Linkin Park at the Rock Hall: Aug. 1, 2001
One of the Rock Hall's most iconic shows in its "Live at the Rock & Roll Hall of Fame" series, Linkin Park's 2001 stop at the museum is one for the books. Watch the rap-rock band blast through songs like "Crawling" "In The End" and "One Step Closer" to a crowd that's absolutely pumped to be there. youtube.com
Machine Gun Kelly at FirstEnergy Stadium: Aug. 13, 2022
With recent antics, including smashing a bottle over his head at a crowded nightclub for his latest album release, it was no surprise when Cleveland's own MGK flew into FirstEnergy Stadium via zip line. The show rounded up Avril Lavigne, Willow and Trippie Redd, making for another generation-defining show right here in The Land. youtube.com
Meat Loaf at Cleveland Music Hall: April 19, 1978
One year after Bat Out of Hell's release on Cleveland International Records, Meat Loaf played in the city that helped him break out. The rocker's 1978 show at Cleveland Music Hall even features a quick intro by former WMMS host Jeff Kinzbach. youtube.com
Metallica at the Odeon: Feb. 19, 1997
By early 1997, Metallica had already cemented its place as a metal superstar, with three Grammy awards under its belt. Yet, the band still signed on to headline the Odeon for WMMS's Coffee Break Concert series, blasting through songs like "King Nothing," "Whiplash" and "Motorbreath." youtube.com
Nine Inch Nails at Blossom Music Center: Sept. 24, 2022
Trent Reznor and co. returned to their roots this past summer, bringing Nine Inch Nails to Blossom Music Center for a career-spanning set. The show marked the band's first performance in Northeast Ohio since it got inducted into the Rock & Roll Hall of Fame in 2020. youtube.com
Nirvana at Empire Concert Club: Oct. 10, 1991
Just once, Nirvana played in Cleveland. That Empire Concert Club performance — featuring a short cover of Queen's "Another One Bites the Dust" along with some of the band's most iconic hits ("Smells Like Teen Spirit," "Come As You Are" and "About A Girl") — is captured in this bootleg. youtube.com
Oasis at Grog Shop: Oct. 18, 1994
The audio you can find online might not be great, but it's still worth tuning into this legendary Grog Shop show, featuring Britpop icon Oasis. Hearing the band's punky mix, it's not hard to imagine the Gallagher brothers, early in the band's career, playing the Cleveland venue's first location in Coventry. youtube.com
Otis Redding on WEWS Channel 5: Dec. 9, 1967
Just one day before he died in a fatal plane crash, Otis Redding played his final concert ever in Cleveland, at Leo's Casino. The same day, the soul singer also appeared on Channel 5's popular "Upbeat" music television programming, where some of his final performances were given. Videos of Redding and his band performing " Respect," "Try A Little Tenderness" and " Knock On Wood" are available to view on YouTube.

(Photo courtesy Kailey Zehe / Grog Shop)
Panic! At the Disco at the Grog Shop: March 19, 2018
Brendon Urie and his band have played Rocket Mortgage FieldHouse, the Wolstein Center and other major venues in town — so, why in 2018, did they play the Grog Shop? The answer: Why not? The surprise show built hype around the band's 2018 album Pray for the Wicked. That hype is tangible in YouTube videos of the event, which feature a tightly packed crowd of squealing attendees, singing along to every word of every song. youtube.com
Patti Smith Group at Agora: April 18, 1978
A few years after releasing her groundbreaking solo record "Horses," Patti Smith toured through Cleveland as Patti Smith Group for an appearance at the Agora. Audio of the show features commentary from Smith about live concerts in Cleveland and around the world, along with recorded songs from the show. youtube.com
Pearl Jam at Cleveland Music Hall: Oct. 26, 1991
Mere weeks after dropping their seminal classic Ten and just months after playing a much smaller show at Peabody's Downunder, Pearl Jam stomped its way into the Cleveland Music Hall filled with angst and the gospel of grunge. The Red Hot Chili Peppers headlined the show, rounding out a West Coast sound that would help define their era of alt-rock. youtube.com
Pearl Jam at Gund Arena: April 25, 2003
With a setlist comprising two hours of greatest hits like "Jeremy" and "Even Flow," the performance refuses to disappoint. Throw a flannel around your waist and headbang to grunge royalty from the comfort of your own home. open.spotify.com
Peter Gabriel at Music Hall: March 15, 1977
The same year he released his debut solo album and two years after he departed Genesis, Peter Gabriel headlined at the Music Hall. Hear his biggest hit, "Solsbury Hill," performed for the first time ever in Cleveland. youtube.com
Pixies at Rock & Roll Hall of Fame: June 8, 2005
From one of the most creative alternative bands out of the '80s and '90s comes 15 live tracks performed at the Rock Hall. The band rotates through a killer setlist, including timeless angsty jams like "Where is My Mind" and "Gouge Away." open.spotify.com
Robert Lockwood, Jr. at Thwing Pavilion: Nov. 18, 1988
Cleveland blues legend Robert Lockwood, Jr. performed in town regularly, and there are plenty of area recordings to revisit. This one, a part of Case Western Reserve University radio station WRUW FM 91.1's long-running "Live from Cleveland" series, showcases a crystal-clear live performance from Lockwood, emphasizing his place as one of the greatest Delta bluesmen to ever live. youtube.com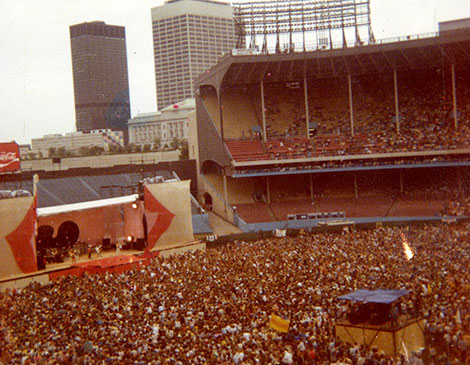 (Photo courtesy Michael Boyer / Rock & Roll Hall of Fame Library & Archives)
The Rolling Stones at Cleveland Stadium: June 14, 1975
Adding to the list of music industry titans that graced Cleveland for the World Series of Rock, The Rolling Stones played a unique set in The Land, delving into covers of "Ain't Too Proud to Beg" and several Billy Preston tunes alongside their own hits. youtube.com
Rush at Agora Ballroom & Theater: Aug. 26, 1974
This show conjures feelings of deep nostalgia — Neil Peart had just joined the band as the group embarked on their first American release tour. That next year Rush dropped Fly By Night, bolstered then by Peart's lyricism. He would continue to write lyrics for the band throughout its career. youtube.com
Rush at Quicken Loans Arena: April 15, 2011
Released on DVD, Rush's performance for Time Machine: Live in Cleveland spans the Canadian trio's career, sampling myriad tracks from the group's discography. When deciding on a location for its first real film in the United States, Rush immediately thought of Cleveland, the city known for supporting the band before much of the U.S. had caught on to the magic. youtube.com
Slipknot at Rocket Mortgage FieldHouse: April 4, 2022
Whether you missed the recent face-splitting performances at Knotfest or you desperately want to relive them, check out Slipknot's full set for free on YouTube. The chaotic metal titans bashed their way through mostly older hits, digging heavily into 2001's Iowa and their 1999 self-titled album. youtube.com
Tegan and Sara at Blossom Music Center: Aug. 29, 2000
A tantalizing find for the 2000's indie nerd, listen to the duo play songs from This Business of Art, released that same year. While it's a bit before the twins achieved mainstream success, the performance gives an insightful glimpse into their early sound, and captures an iconic opening slot for Neil Young. archive.org
Todd Rundgren's Utopia at Agora: Aug. 23, 1978
Playing a mix of Utopia and Rundgren classics, Todd Rundgren's Utopia used its 1978 Agora show, along with two others, to piece together the 1978 live album Back to the Bars. Fans can connect that album to its live visual energy with this video of the Agora show, featuring a vested, bare-chested Rundgren absolutely rocking out with his band. youtube.com

Tom Petty and the Heartbreakers at Richfield Coliseum: March 19, 1983
It may not be much, but tucked neatly in this 16-track live compilation hides Tom Petty's '83 performance of "Shout." Well worth a listen for true Cleveland fans of the rock icon. open.spotify.com
Tom Petty & the Heartbreakers at Quicken Loans Arena: June 10, 2017
While the video leaves something to be desired, this performance marked one of Petty's last before his passing later that year. Nonetheless, that 40th Anniversary tour made for one amazing last hoorah before the sun set on one of the genre's greatest. youtube.com
Tom Waits at WMMS: Dec. 3, 1975
WMMS famously caught musicians and bands while they were rising up, and the Cleveland radio station did that with Tom Waits in 1975. Hear the musician breeze through early bluesy tunes with his signature gruff vocals, interspersed with bits of conversation. youtube.com
Tupac at Gund Arena: Jan. 4, 1996
The footage and audio quality may not be the best, but this video offers a rare glimpse back at one of Tupac's few Cleveland appearances. The rapper was preparing for the release of All Eyez On Me, released barely a month later. youtube.com
U2 at the Agora: Dec. 8, 1981
Irish rock icons U2 came to Cleveland for the first time in 1981 for a show at the Agora, supporting its first two albums Boy and October. In the middle of the show, Bono addressed the crowd: "We thought you were all gonna stay home with all this snow, you know?" In case you did stay home, or you weren't around to see it, check out the audio from the show on YouTube. youtube.com
The Velvet Underground at La Cave: Oct. 4, 1968
New York rock band The Velvet Underground frequented La Cave, a small indie venue on Euclid Ave., in the late '60s. A bootleg from an October 1968 show — a part of the band's White Light/White Heat tour — is captured along with several of the band's other stops over the years. youtube.com
The Who at Richfield Coliseum: Dec. 9, 1975
It might not be the best video or audio, but you can see how high-energy The Who was in its 1975 Cleveland show. In her review of the show, The Plain Dealer rock reviewer Jane Scott even called it "the most exhilarating and dramatic concert seen in this area," and went on to say it was "the last rock show of the season and it was the best." youtube.com
Yes at Richfield Coliseum: Sept. 19, 1978
The massive 100-plus date Tormato tour brought Yes to the Richfield Coliseum for a rockin' show, featuring prog-rock greatness with one of the band's more iconic early lineups, featuring both singer Jon Anderson and keyboardist Rick Wakeman. youtube.com
Get ahead of the weekend by signing up for our free weekly "In the CLE" newsletter — your guide to fun throughout The Land. Arriving in your inbox every Wednesday, this weekend to-do list fills you in on everything from concerts to museum exhibits — and more. Click here to subscribe.