When Machine Gun Kelly moved, the crowd moved.
Early Sunday afternoon, a dedicated crew of fans in pink T-shirts lined up at one corner of Mall B, which transformed into the grounds of the inaugural MGK Day block party. The occasion, declared by Mayor Justin Bibb earlier this month, honored the one-year anniversary of the star's explosive stadium show in downtown Cleveland. (You know, the one where he zip-lined onto the stage.)
Clearly MGK Day was also designed to showcase an artist who got his start in Cleveland — and who now has a ton of star power to occasionally bring back into Cleveland, when he visits from his new home in Los Angeles.
MGK Day was a party at heart, with a big charity element. When attendees showed up, they brought loads of school supplies to donate to Cleveland Metropolitan School District, quickly filling boxes near the entry with notebooks, backpacks, shoes, socks and other materials.
Then, many of those attendees immediately rushed to a fenced-in corner for the star to arrive: It was the perfect vantage point to keep an eye on a large tour bus just around the corner. When MGK — aka Colson Baker — stepped into a nondescript van and drove down the street (for some reason surrounded by a fleet of motorcycles), that crowd sprinted to the opposite corner of the mall, peering over the handrails on Mall B's hillside just to get a glimpse of the star below.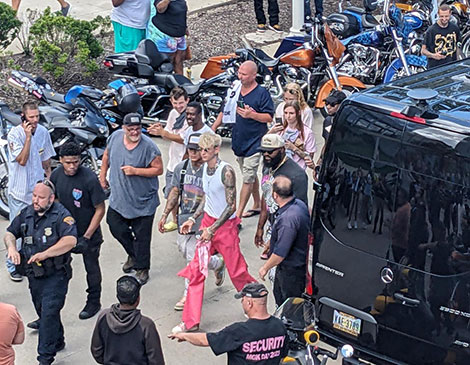 Then, Baker stepped into the festival grounds. The same crowd hurried over to enveloped him as he and a couple of security guards traversed the festival site, stepping through a heart-shaped archway, where he grabbed a Sharpie marker and penned "Happy MGK Day -MGK" before also adding: "You guys make me so happy :)"
The joy went both ways. DJ Bobby Booshay got the crowd to chant "Peace, Love, MGK" as the artist wove through the thick audience, with his fans sticking to his every movement, until he reached the stage to announce that he'd perform a few hours later.
In those few hours, folks hung out and listened to DJ performances. Kids played with inflatable games, while those 21 and older stepped into two beer gardens. A vendor village hosted local businesses and brands like Ilthy, Urban Planting Cleveland and 27 Club, MGK's cafe and bar.
Around 5:45 p.m., MGK returned to the stage for a short set of music that spanned his discography — everything from early hit "Wild Boy" to his latest single "Pressure" graced the small stage, warmly received by a thumping crowd. During "Bloody Valentine," he climbed up a stage setup and sang from his high vantage point — while a lighter moment arrived during an acoustic performance of "Tickets To My Downfall" and "Jawbreaker." For about 10 minutes, he took a break and Shaw High School's drum line performed in his place.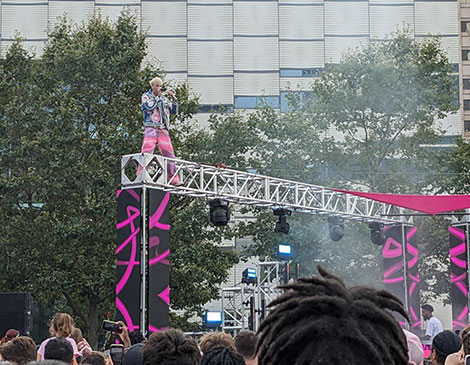 "I can't believe I get the honor of getting to say, 'happy holidays,' because the government made it official: MGK Day is an official holiday here in Cleveland," Baker announced to the crowd. Later, he thanked Mayor Justin Bibb for the recognition.
And, yeah, there were a lot of kids there. And, yeah, there were a lot of cuss words and adult themes in the music. But while MGK's tunes can elicit excitement or eye-rolls depending on the local resident you ask, it's been true since his early days rapping in the city's independent venues that he knows how to draw Cleveland in — and he's created an impressive fanbase that shows up every time he's back in town. That includes kids.
"I want to thank all the little kids, because I don't know how you're doing it. It's so hot out here, and you're the coolest part of the whole thing," Baker said. "I hope that when you grow up, that I'm still around doing this and that you're still around doing that."
Three kids — just a part of a new generations of MGK fans, here lifted onto their parent's shoulders for a better view — threw their arms into the air in response.
New fans and longtime fans: MGK's magnetism has only grown in the city as his stardom has skyrocketed. That should continue next year. Before heading to an afterparty on West 6th Street, Baker hinted at future versions of the block party at the end of his set: "You'll see me next Aug. 13, for MGK Day," he said.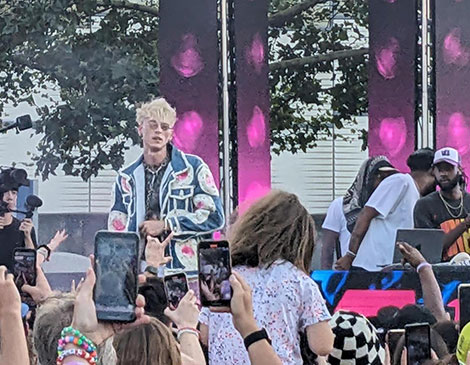 Get ahead of the weekend by signing up for our free weekly newsletter: Cleveland Magazine Daily. Arriving in your inbox every Wednesday, this guide to all things CLE offers news briefs, things to do, restaurant news and more.