In 1975, Joe Walsh brought the sound of Northeast Ohio to the Eagles. With the departure of founding member Bernie Leadon, the band was looking for a guitarist and found Walsh. Less than two years later, the Eagles put out Hotel California, which has come to be known as one of the greatest rock 'n' roll albums of all time. On March 17, Walsh brings the sounds of that album to Rocket Mortgage FieldHouse as part of the Eagles' Hotel California tour. In addition to playing the 1977 record front to back, the group, which now features Walsh, Don Henley, Timothy Schmit, Deacon Frey and Vince Gill, will be accompanied by an orchestra and choir. We spoke to three staples of the Cleveland-area music scene to discuss the Eagles' impact.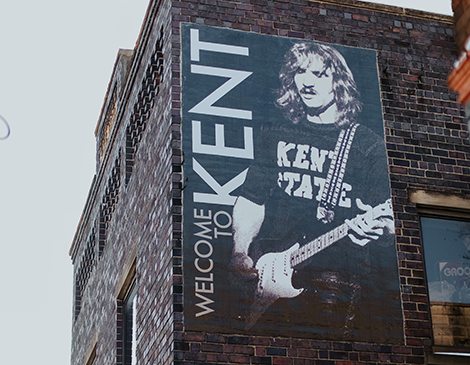 Mike Beder, owner, Water Street Tavern
In 1965, Walsh began to come into his own as a musician at Kent State University and joined The Measles, a garage band made up of him and three other students. Those roots are noticeable to anyone who passes Beder's Water Street Tavern in downtown Kent, which boasts a mural of Walsh performing in a Kent State shirt. "He was really humbled and honored with it," Beder says. "He's shown us that you don't need to be from New York City or Los Angeles to get to the next level."
Cindy Barber, owner, Beachland Ballroom & Tavern
Barber's connection to the Eagles is a personal one. In 1974, while living in Southern California with her boyfriend, Barber attended parties and concerts with Linda Ronstadt and J.D. Souther, two musicians instrumental in the early success of the band.
"They were really a part of that whole Southern California country-twang sound," Barber says. "They were just doing real singer-songwriter-type stuff that evolved into arena rock."
Part of the Eagles' arena rock success can be tied back to Walsh, whose rock background in groups like The Measles and James Gang, which was formed in Cleveland, helped push the band to try out new sounds on Hotel California. In 2001, Barber celebrated that legacy by inviting Walsh and James Gang to play a reunion show at her venue. "It was awesome to be able to host that," Barber says. "I got to see him play with them back when he was younger."
Jason Hanley, vice president of education and visitor engagement, Rock & Roll Hall of Fame
The Eagles received one of music's highest honors in 1998 when they were inducted into the Rock & Roll Hall of Fame in the performer category.
"The Eagles have all the right ingredients you want from classic rock 'n' roll," Hanley says. "I grew up listening to the Eagles along with my father, and he would always tell me, 'Listen to what these voices are doing.' Everything they did was gorgeous."
Like Barber, Hanley and the Rock Hall have a more intimate connection with Walsh. In addition to playing a James Gang reunion show at the Rock Hall, Walsh made an appearance at the 2015 induction ceremony to support Ringo Starr's induction into the hall for musical excellence. In the ceremony's finale, Walsh joined Starr — his brother-in-law — on stage.
"Joe is incredibly important to Northeast Ohio," Hanley says.