There's no shortage of tacos in Greater Cleveland. Cleveland Magazine has regularly covered some of the newest spots to open for business.
For the night owls, there is Cilantro Taqueria and its fiery elotes — and brunch lovers can rejoice, with Paloma Van Aken's bubbly mimosas and breakfast tacos.
No matter what time of day you're looking to get your grub on, one of these fresh and flourishing restaurants is sure to suit your needs.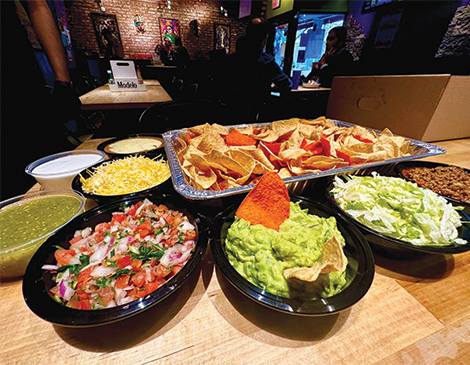 (Photo courtesy Cilantro Taqueria)
Cilantro Taqueria
Late-night taco lovers will delight in Cilantro's expansive menu, which features fiery hot-Cheeto elotes, build-your-own tacos and frosty margaritas. The restaurant's first location in Cleveland Heights is open until 2 a.m. to satisfy those Cinco-De-Mayo midnight munchies — and hungry patrons can also find Cilantro in Shaker Heights, Lakewood, North Olmsted and (most recently) Chesterland. Also: Cilantro is so good, it made our 2023 list of Best Restaurants in Cleveland. Various Locations, cilantrotaqueria.com
Read more about Cilantro Taqueria
(Photo by Dillon Stewart)
La Plaza at Re:Bar
If you're looking for authentic tacos, nachos and burritos, more look no further than La Plaza Taqueria and Tequila Bar at Re:Bar. This taco-cart-turned-restaurant — the latest spot from the Lakewood grocery store's flagship — will fulfill anyone's Cinco De Mayo wish with a wide range of fresh and festive dishes and an array of cocktails and margaritas. 2132 East 9th Street, Cleveland, 216-465-4268, laplazaatrebar.com
Read more about La Plaza at Re:Bar
MODbites by Nuevo
Located inside the Tower City shopping center in downtown Cleveland, MODbites brings the heat to The Eatery food court with its festive menu. You can find things such as Korean beef short-rib tacos, stuffed burritos, and MODbites' Mexican mac n' cheese. The concept is a street-food-focused offshoot from Nuevo in Voinovich Park. Tower City, 230 W. Huron Road, Cleveland, 216-417-1623, modbitescle.com
Paloma Van Aken
Celebrate Cinco De Mayo brunch-style at Paloma, an artisan taco shop in the Van Aken District of Shaker Heights. Their brunch menu has everything from vegan breakfast tacos to oxtail and pork neck bone birria, and even a sweet griddled pumpkin bread. Meanwhile, the dinner menu offers a large selection of authentic Mexican food and a full-service tequila bar. 20041 Walker Road, Shaker Heights, 216-465-1336, palomavanaken.com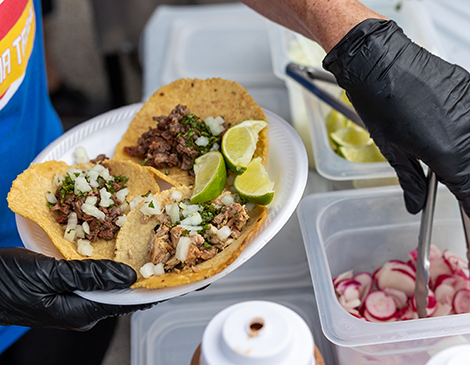 (Photo courtesy Scott Shaw Photography)
Puente's Tijuana Tacos
Spice things up with California-inspired tacos at Puente's Tijuana Tacos, a traveling mobile food concept run by investigative journalist and two-time Pulitzer Prize finalist Mark Puente. Everything about this brand brings authentic taco flavors to life, from the freshly made corn tortillas to the family chorizo recipe. puentestijuanatacos.com
Read more about Puente's Tijuana Tacos
Bite into the Cleveland dining scene by signing up for our free weekly CLE Food & Drink newsletter — your guide to food and drink throughout The Land. Arriving in your inbox every week, this coverage fills you in on everything from mocktails to shareable plates — and more. Click here to subscribe.