There haven't been many years like 2022. After a decade kicked off by closings, our dining scene is finally moving in the right direction again — and just in time to update our list of Best Restaurants for 2023. With the addition of Amba to our list of must-eats, chef Douglas Katz solidifies himself as the reigning king of Cleveland's culinary scene, while Cent's Pizza + Goods' addition confirms Cleveland as a pizza town.
Once again, here is the big list of Cleveland's 34 best restaurants.
Acqua Di Luca ($$$ / Downtown)
I thought I'd fallen in love with meals in Styrofoam and foil, with swiping up burger sauce off my car seat. But Acqua di Luca, a sleek downtown coliseum of seafood in a 147-year-old brick space, shocked me out of that pandemic-induced Stockholm syndrome. Damnit, I deserve a little elegance! I don't go to the spa or drive a sports car. For me, pampering is chef Luca Sema's opulent lemon-stuffed sole ($38), an afternoon on the bustling West Sixth Street corner patio, a pricey bottle of wine and a waiter who won't let me pour it. "All we care about is that the people who come here to spend money have a great experience," says co-owner Lola Sema. 216-329-0700, 500 W. St. Clair Ave., Cleveland, acquadiluca.com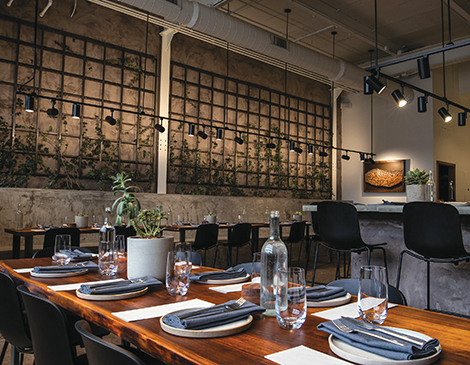 Alea ( $$$ / West)
At Alea, chef-owner Athan Zarnas asks a very important question: "Why not try six items as opposed to three?" He makes a good point, especially when faced with the menu of grilled Mediterranean fare he launched in Hingetown in 2019. The restaurant's small team of six, four of whom are part-time, brings high-end cuisine experience with it. Chefs tend to the restaurant's wood fire grill, a focal point of the open kitchen and chef's counter, all of which adds a homey vibe when paired with the high ceilings and steel girders of the 33-seat restaurant, a former drill-bit factory, at 2912 Church Ave. Zarnas, who is Greek and was born and raised in Cleveland, borrows ideas from all around that historic sea. Inspired by global cuisine, the chef is excited by fresh ingredients and fresh concepts. "When are the grilled oysters coming back?" has been a common refrain among patrons, Zarnas says. When he released the spring menu, however, the oysters were raw. The idea of change has been baked into the restaurant since the beginning. He says he likes when guests can recognize some dish components. "But ideally, there are elements of that dish from all over the Mediterranean region, possibly even Asia, sort of blurring the lines between, 'What is Asian?' 'What is Italian?' 'What is North African?'" he says. "I mean, there's a fine line between a dumpling and a ravioli." 216-912-8890, 2912 Church Ave., Cleveland, aleacle.com
Amba ($$$$ / West)
Hingetown's Amba feels like stumbling into an upscale mob den — except with really good Indian food. Lighting is minimal and soft pools of glowing orange punctuate every table. On the walls, sconces shift like a waxing eclipse against an all-black background. Driving music washes over patrons and servers, creating an ambient, instrumental drum beat of small plates and vibrant cocktails. "We think that having fun in a space is such an important element of dining out," says owner and restaurateur Douglas Katz. "We want to transport you out of your life in Cleveland into something really special and unique." We start with a drink. My palette welcomes the sweet, citrusy and floral notes of a gin-based mix simply labeled "a-2" ($14). Across from me, my fiancé sips a chai-infused creamy concoction of bourbon, mango puree and yogurt, the "a-5" ($14). As far as food, two or three plates per person is usually safe. Order for the table; everyone is going to want a bit of everything. The pace starts slow with clay bread ($5), a buttery flatbread served piping hot and easily torn. With it, we scoop up mouthfuls of spinach dip ($10) boasting a much deeper, floral flavor than Grandma ever made for a Super Bowl party. Later, dishes akin to a main course mystify us as we share bites — ground lamb kofta ($18) with a rich flavor and bright pang of pickled shallot, crispy puris ($13) that taste like an elevated potato salad encased in a thin, wafer-like shell and Turkish fried eggs ($9) served with dill, yogurt and chili butter to create a wave of umami that coaxes your fork back for more. By the time we, and four of our friends, are finished, we feel nearly too cozy to leave. Full-bellied under that glowing orange light, speaking loudly to cut through the music, the table feels comfortable and private in an at-capacity Ohio City dining room. 216-417-6718, 1430 W. 28th St., Cleveland, ambacle.com
Astoria Cafe and Market ($$$ / West)
Astoria didn't set out to be one of Cleveland's best restaurants, says chef Cory Kobrinski. When it opened in 2016 near Gordon Square, the 5,000-square-foot space was more about the sprawling warehouse of specialty foods housed inside than it was the small cafe. But customers want what they want, and over time, they demanded more from Kobrinski's Greek-influenced, market-driven eatery, which has grown from 70 to 240 seats. Day and night, Astoria burns with energy. But it's Astoria's brunch that's widely regarded as one of Cleveland's best. The Croque Madame ($16) is like the market's greatest hits with imported rosemary-infused Italian ham, Swiss gruyere, house-made bechamel, Dijon mustard and a sunny-side-up egg. "We're really just utilizing what our market has to offer," Kobrinski says. 216-266-0834, 5417 Detroit Ave., Cleveland, astoriacafemarket.com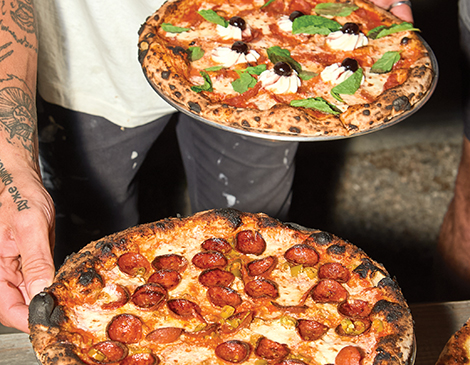 Cent's Pizza + Goods ( $$ / West)
At first sight, it's almost easy to get distracted by the "+ Goods" side of Cent's Pizza — be it by the exotic variety of colorful Gueyu Mar fish tins and imported natural wines to your left, or the collection of boho New York streetwear and literature to your right. But "almost" is the operative word here, because the aroma of rich cheeses and cured meats emanating from chef-owner Vincent Morelli's kitchen smacks sense into you quickly. You're here for pizza. Or maybe you aren't, instead driven to consider Cent's compelling small plates. Despite the restaurant's label of "snack," you'll fill up on stracciatella ($10), a savory, stringy mozzarella bathing in heavy cream and extra virgin olive oil, which pairs perfectly with the Wonder Bread ($8), puffy and shreddable after a pass through the wood-fire oven. If you're getting down to business, the Cherry Pie ($20) doesn't disappoint with its mix of sweet — ricotta cheese and Luxardo cherries — and salty hot soppressata. Whichever menu route you choose, expect a communal experience where dining doesn't step on a good time. "All the things I grew up eating in an Italian family, like olives, cured meats and stuff, was always present at every family occasion," Morelli says. "When people would show up, that stuff was all out to pick at until the pasta was ready. I've tried to keep it loose and not have anything that was gonna keep anyone preoccupied while they're hanging out." 216-862-6427, 5010 Lorain Ave., Cleveland, centspizza.com
Cilantro Taqueria ($ / Multiple locations)
Every city needs a late-night taco joint. Bonus points if it's next to one of the best music venues in town. Thank you, Cilantro Taqueria, for fueling post-Grog Shop concerts with your cheap, beloved menu of tacos, beers and bomb-ass elotes. It's no wonder that the shop has found quick fans in Northeast Ohio, expanding with four additional locations in Lakewood, Shaker Heights, North Olmsted and Chesterland. Nights of debauchery usually call for greasy carbs, and sure, you can get that kind of thing at Cilantro. But dig deeper into the menu and you'll find some flavorful, authentic eats lurking there. Always, always start with the elote: If you're feeling feisty, opt for the Hot Cheetos coating ($4.50). Beyond beers, the fruity peach frozen margarita ($8.99) impresses – as does the freshly muddled minty mojito ($8.99). Or, opt for a creamy, lightly sweetened horchata ($3) instead. We recommend the build-your-own tacos ($3.99+). Customize to your liking with chicken tinga, shrimp, al pastor and carnitas and toppings like mango pico de gallo, salsa verde, queso, cheese and, of course, the restaurant's namesake — cilantro. Quesabirria tacos ($13.99 for 3) are also available, with dunks into a slightly spicy consomme giving a nice finishing touch. Cilantro's dessert options don't disappoint either. Chocoflan ($6) gives a rich cocoa flavor base to the Hispanic dessert, and the tres leches cake ($7) is a creamy, scrumptious final bite. Inside Cilantro's first location, you'll see hints of its former life as a Chipotle. The restaurant reused much of the furniture and built-in decor, likely keeping costs low when it moved into the Coventry space. But those costs translate to the customer experiences, too. A big meal at Cilantro Taqueria won't break the bank. It'll taste good. And, best yet, it'll always be there for you until 2 a.m. on Friday and Saturday nights. Five locations, cilantrotaqueria.com
Cleveland Bagel Co. ($ / Multiple locations)
Cleveland could never have New York-quality bagels, right? We're missing the key ingredient: New York City water. "That's a load of horse shit," says owner Dan Herbst. "I don't know how they got away with pretending like the bagels are magic, but they're not." So it's no surprise that Herbst, who started the Detroit Shoreway bagel joint along with Geoff Hardman as part of the LeBron James-produced CNBC show Cleveland Hustles, has his own style, boiling hand-rolled bagels in a malt solution for a sweeter flavor profile. Herbst opts for an everything bagel with chorizo chipotle cream cheese ($4), but no matter what you order, you'll find a level of care seen in very few places. "Most people don't do it this way because you need a lot of people and you need a lot of time," says Herbst. "But I believe we make bagels the right way." 216-600-5652, Ohio City and Midtown, clebagelco.com
Cloak and Dagger ($$ / West)
With all the acclaim Tremont's vegan cocktail bar has received for its literary-inspired menu and fresh syrups and house-made ingredi ents, it's easy to overlook Cloak and Dagger's food — especially if you're a carnivore. But chef Todd Kronika, who has been cooking vegan food for 20 years, deserves his own epic. While the menu changes frequently, recent standouts included the vegan cheeseboard ($10), entirely made in-house, and the birria tacos ($13) with morita chili-brasied enoki mushroom. Mean while, the barbecue skewers ($14) are a smoky blend of seitan and vegeta bles. On the current menu, the vegan deviled eggs ($7) will make you do a double take, while the mac 'n' cheese ($13), currently featuring white miso, lemon cheddar, broccolini, shallots and shiitake bacon, will make you ask for a double helping. "Everything is handmade here. There's a lot of love and care in it," says owner Casey Hughes. "Todd is constantly pushing the limits of vegan food." 216-795-5657, 2399 W. 11th St. Cleveland, cloakanddaggercle.com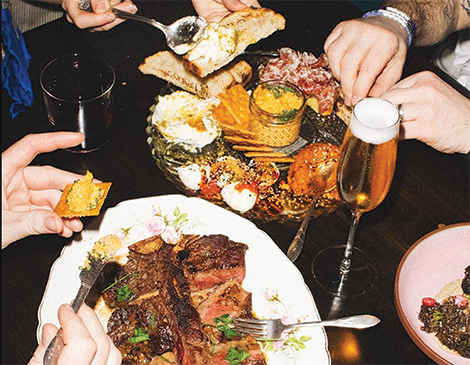 Cordelia ($$$$ / Downtown)
If ever there were big shoes to fill in Cleveland's dining scene, they came in the form of the building on East Fourth Street that was once home to Lola Bistro, chef Michael Symon's flagship restaurant. In the past year, though, Cordelia has filled those proverbial shoes so well that Lola's reign feels like lifetimes ago. While Cordelia describes its approach as "Midwest nice," we just call it as some of the best food we've ever eaten. And the Cleveland Magazine readers agree, voting the restaurant from chef-partner Vinnie Cimino and partner Andrew Watts this year's Best New Restaurant. "We want to be in the forefront of Cleveland's culinary scene, to help it continue to grow and flourish and to be better than when we left it," says Cimino. As former chef de cuisine of Greenhouse Tavern, which fell victim to chef Jonathon Sawyer's debts, Cimino knows better than anyone how quickly Cleveland's culinary scene can change — but also how loyal its diners are when they find a spot they love. Learn more about the youngest restaurant on our Best Restaurants list. 216-230-2355, 2058 E. Fourth St., Cleveland, cordeliacle.com
Edwins Restaurant ($$$ / North)
Yes, we know Brandon Chrostowski is a good guy. His restaurant group gives former prisoners and recovering addicts a second chance. The dude even flew to Poland to cook meals for Ukrainian refugees. But none of that alone makes you a finalist for the James Beard Awards' Outstanding Restaurateur. "It's about hospitality, man," says the chef, who gained his appreciation for service in the kitchens of Paris, New York and Chicago. And there may be no better display of service than his Shaker Square French brasserie. More than 20 artisan cheeses, ranging from a fudgy, spicy dark blue to a mild cheddar with thick veins of black truffle, are served tableside on a rolling cart. Wine lists and plats principaux are navigated expertly. Suggestions land perfectly. My bread plate never sat empty, thankfully, as I ate about a loaf sopping up the braised rabbit's ($36) luxurious mustard cream sauce and the shallot beurre blanc with the grilled seafood sausage ($15). Service is something you don't notice unless it's really good or really bad. As the maitre d helped my wife slip her coat on and urgently hailed the valet, we definitely noticed. 216-921-3333, 13101 Shaker Square, Cleveland, edwinsrestaurant.org
Fat Cats ($$ / South)
For 20 years, chef Ricardo Sandoval hasn't just been pushing trends forward — he's been setting them. The Tremont spot defined patio eating with one of the city's best skyline views, and the colorful bohemian bar and eatery has been a hub for local artists, whose work is on display and for sale in the restaurant. Its unpretentious fusion menu, which offered fresh, farm-to-table and sustainable bites before it was cool, finds inspiration in Sandoval's Filipino roots, especially in dishes such as the Arroz Caldo ($16 with pork belly), a Calabrian chili-laden porridge. A wider Asian influence is found across the menu, including in the kimchi potatoes ($9.50), served with Brussels sprouts kimchi, a fried egg and Sriracha aioli. Sandoval even handles modern fads with ease, tackling the Popeyes-induced fried chicken craze of 2020 with a soy-tinged adobo fried chicken ($17). After all, when you're the tastemaker, nothing you do goes out of style. 216-579-0200, 2061 W. 10th St., Cleveland, fatcatstremont.com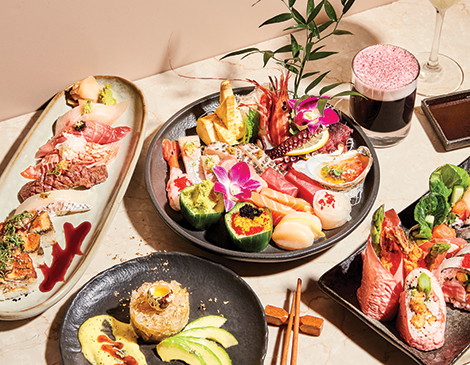 Ginko ($$ / South)
Where have all the happy hours gone? Largely thanks to rising food costs, the practice is waning in popularity. So stumbling upon $5 sushi rolls and $4 Thirsty Dog Heaven and Helles Lager, brewed specifically for chef Dante Boccuzzi, from 4-6 p.m. at the hip basement sushi bar in Tremont felt like a steal. No matter what you pay, the 11-year-old restaurant's specialties like unagi and foie gras oishi sushi ($23.40), a pressed roll with barbecue eel and seared duck liver, or the Ginko roll ($16.90) with tuna, salmon, hamachi, avocado and veggies, are worth full cost — especially when you find out that Boccuzzi ships in fish twice weekly from markets in Japan for both Ginko and for his downtown spot, Goma. But if you can catch this lone-survivor happy hour, it offers an incredibly low-cost barrier for Cleveland's best sushi. 216-274-1202, 2247 Professor Ave. B, Cleveland, danteboccuzzi.com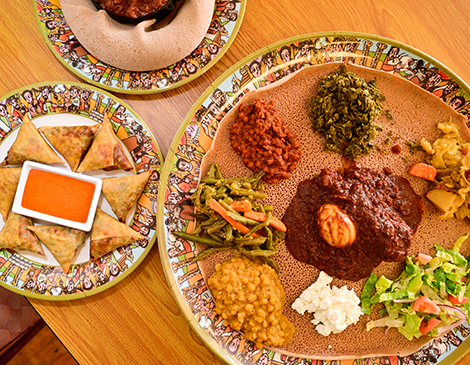 Habesha Ethiopian and Eritrean ($$ / West)
Despite owner Jamas Munsa's soft-spoken demeanor, there might be no eatery more rebellious than his West Park African spot. After all, the refugee from Eritrea launched a menu based on shareable plates meant to be eaten by hand in the middle of a pandemic. Dishes such as the Doro Wat ($20) come out as a massive platter covered with sour, fermented bread and topped with stewed greens, lentils, fresh salads and spicy, slow-roasted chicken. Equally defiant, the bread, or injera, is a spongy mixture of teff flour and barley that ferments for days and then hits only a griddle before it's served. "People enjoy sharing the food," Munsa says. "Everybody who comes leaves Habesha happy." 216-400-6539, 16860 Lorain Ave., Cleveland, habeshacle.com
Il Rione ($$ / West)
Il Rione is the Frankenstein of restaurants. It's built of all the best parts: a killer classic rock playlist, drinks that kick and, best of all, top-notch pizza. Unlike Frankenstein's monster, however, this experiment feels organic and unintentional. Buffalo Springfield bounces off the original plaster-and-brick walls and exposed beams of the 1917 building in Detroit Shoreway. This old-school elegance is juxtaposed by the snazzy subway-tiled open kitchen. Though the place is always bustling, a couple can typically snag a seat at the bar without too much trouble or on the 16-seat patio. Don't fear the clam ($24-$32) with pecorino and garlic or the speck ($18-$23) with thinly sliced ham, pistachio, lemon ricotta and hot honey. Owners Brian Moss and Brian Holleran never utter the word artisan, though the approach to the wood-fired New York-style 'za, which focuses on a concise list of traditional ingredients such as Calabrian chiles, prosciutto and arugula, certainly exceeds the ethos of restaurants that claim to be much more than that. 216-282-1451, 1303 W. 65th St., Cleveland, ilrionepizzeria.com
Jaja ($$$ / West)
There's no more sumptuous seat in the city than these pink velvet chairs at golden hour. Sunlight softly illuminates artful dishes and imaginative cocktails. With vines twining above and tropical details all around, the atmosphere is peaceful and serene, even enchanted, in contrast to the grit of the city below. And the Argentinian-inspired food, of course, is top-notch. That shared passion for precision led Nora O'Malley, chief operations officer of parent company Harbor Bay Hospitality, to join forces with owner Dan Whalen and executive chef Brian Whalen (yes, they're brothers). The restaurant occupies the roof level of Ohio City's Intro building, and they also manage first-floor ventures Pioneer, a camping-themed sports bar, and Edda, a chic cafe and coffee roaster. Though the building itself may seem steely and uber-corporate, the staff's sentiments are far from it. "Everyone sees this big, shiny facade," O'Malley says. "We want them to know that there are real people behind it." Maybe that's why Jaja itself feels so eclectic, melding European and South American flavors in an upscale-meets-chill Midwestern sensibility. Though technically a steakhouse (and don't skips the steaks — they're incredible), Jaja has become beloved for its imaginative seafood dishes. Brian prides himself on using familiar ingredients to expand Midwestern palates in dishes like the jumbo seared scallops with pillowy cauliflower gnocchi and chimichurri ($30) or potato-scaled halibut with caramelized leeks ($28). As the weather warms, expect seasonal flavors and local produce. But many dishes will remain as they are, including favorites like burrata with candied lemons ($18) and smoked eggplant spread ($15), a can't-miss small plate that spreads like silk across charred bread. If you haven't yet been able to snag a reservation, you'll soon have more options. This spring, Jaja opens its 45-seat patio. "We don't like to think of this place as exclusive," Brian says, "but it's definitely become a hot spot, and we're just really excited for what's coming next." 216-998-5353, 2050 Gehring Ave., Cleveland, jajacleveland.com
Juneberry Table ($$ / West)
In Cleveland, weekend mornings are for brunch – long lines of customers waiting for tables at packed restaurants, for servings of pancakes and avocado toasts and bloody marys and mimosas. A relative newcomer to the scene arrived in April 2022 in the form of Juneberry Table. It only took a year for the Karen Small-owned spot to quickly skyrocket to becoming one of the most talked-about breakfast-brunch spots in town. So, yes: Be prepared for that long line. On a Saturday in March, we killed a solid 55 minutes for two spots at the bar. Later, those times lengthened; new customers signed up for hour or two-hour waits. But to be abundantly clear, the wait is well worth it. Here, chef-owner Small draws on her earliest inspirations from her first professional experiences cooking and learning to preserve, butcher and homestead in Southern Ohio, in the foothills of Appalachia. "They grew their own food, preserved their own food, used what was locally sourced or grown," Small says. "It influenced my cooking early on. I think the simplicity of what we do there, using products that are almost strictly Ohio-based, is where the menu developed from." Find out more about chef Small's next chapter. 216-331-0338, 3900 Lorain Ave., Cleveland, juneberrytable.com
L'Albatros Brasserie & Bar ($$$$ / East)
Greatness is best displayed in moments of adversity. Zack Bruell's obsessive pursuit of perfection passed the stress test during a recent visit with my pregnant wife. She craved the assiette de fromage ($12-$18) but could not eat unpasteurized cheese. The waiter consulted the chef and returned with an entire tray of safe, yet funky and delicious, cheeses. Then, a kitchen mishap stalled my cassoulet ($32) — a French classic of white beans, duck confit, pork belly and sausages — by just a few minutes. We didn't even notice, but the mistake was remedied by a complimentary house-made raspberry sorbet. These moments, however small, speak to Bruell's fanatical devotion to detail — which is likely why the Cleveland Clinic used his expertise to set pandemic guidelines for restaurants nationwide. And in a sea of "we're understaffed" signs and have-it-our-way mentalities, Bruell has doubled down on old-school service that tailors his restaurant's offerings to your desires — not the other way around. 216-791-7880, 11401 Bellflower Road, Cleveland, albatrosbrasserie.com
La Plaza Supermarket and Taqueria ($ / West)
The world gets more complicated every day. In times like these, La Plaza Supermarket and Taqueria's Adrian Ortega, educated in seminaries in Mexico as a child, turns to Jesus. When I'm feeling wayward and down, maybe because I couldn't decide where to eat lunch, I find guidance in a paper tray of tacos at his west Cleveland taqueria. Sitting alone, eagerly waiting, the sizzle of the exposed grill soothes my soul. In 10 minutes, chorizo, carne asada and al pastor — cooked in the Michoacán style — are in hand. A little pickled onions, spicy salsa (Ortega's specialty) and avocado crema from the serve-yourself topping bar, and I'm gone. Happy again, whole again, thanks to a meal steeped in love and tradition. Truly a religious experience. "Why I like tacos?" says Ortega. "They're simple." 216-476-8000-13609 Lakewood Heights Blvd., Cleveland, plazataqueria.com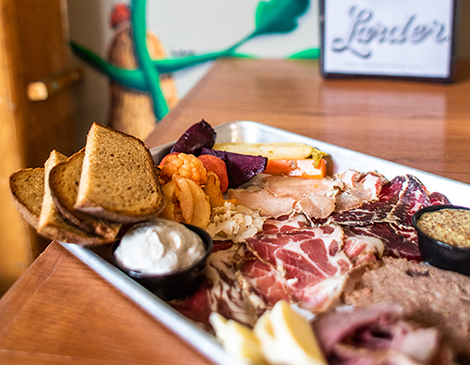 Larder Delicatessen and Bakery ($$ / West)
The deli part of the Hingetown's 1854-built brick firehouse gets most of the credit. And rightfully so, Jeremy Umansky's newfound approach to Jewish cooking, which centers around a mold called koji that speeds up the curing process, earned a James Beard nomination on the back of its pastrami, fried chicken and matzo ball soup. But after my first visit in 2018, I couldn't stop talking about the bread pudding ($4). Divinely sweet with creamy custard elegantly adorning fluffy rye bread, it changed my perception of the old-school dessert. Baker and co-owner Allie La Valle-Umansky, a graduate of the Culinary Insti tute of America's Baking and Pastry Arts program, is used to hearing similar revelations over desserts such as the soft black-and-white cookies ($3), babka ($9), cheesecake ($7) and even the pastrami's sour rye ($13), which gets a umami flavor from koji rice Amazake. "The idea," says Larder's quiet superstar, "is to bring back these traditional desserts and dishes and put a modern lens on them." 216-912-8203, 1455 W. 29th St., Cleveland, larderdb.com
The Last Page ($$$ / East)
The Last Page is hard to wrap your head around. A chef trio — culinary director Jordan Rolleston, head of culinary Brad Race and executive chef Logan Abbe — delivers a concise modern American menu that teems with Asian influence, such as in the Broken Egg Fried Rice ($18), a towering half-dome of rice and kimchi served with an egg yolk on top, or the whole branzino ($40), a mild white fish served atop a sweet Thai chili jam. Yet, the truffle orecchiette ($24) and the Australian lamb chops ($38) with eggplant puree, labneh and house-made grilled pita are highlights that would fit on any Italian or Mediterranean menu. They all come out together in a choose-your-own-adventure table share. "I love the idea of progression of flavor," says Race. "Every bite should be as exciting as the first bite." Beverage director Angelica Sbai's cocktails served with smoke or bubbles might seem gimmicky until the infused flavors shoot up your nose and totally alter the drink's flavor profile. Most surprisingly, it's in a shopping center. In the suburbs. And it's cool — like really cool. "I feel like being in Pinecrest and in the suburbs gave us freedom in a way," says marketing director Tessa Rolleston. "We didn't feel like we had to meet some expectation that wasn't us anyway." 216-465-1008, 100 Park Ave. #128, Orange, thelastpagerestaurant.com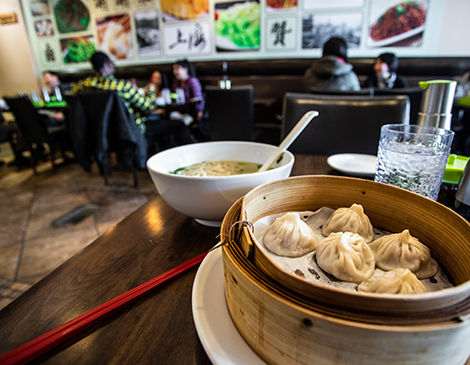 LJ Shanghai ($$ / East)
Dining at LJ Shanghai is a joyful experience — especially if you're bringing someone along for the first time. Watching someone you love bite into the xiao long bao ($5), or soup dumplings, for the first time is like playing them your favorite song. But the more you get to know this 10-table eatery, which opened in 2017, the deeper the connection becomes. Owner LJ greets you at the door of the casual AsiaTown joint with a joke, a smile and your takeout order. The restaurant is an education on Shanghainese specialities such as crispy pig ears with chili sauce ($7) and exquisite, savory pan-fried noodles ($12). The experiences range from the refreshing garlic cucumber salad in a delicate vinaigrette dressing to the plump sesame-soy Shanghai meatball to the spicy chongqing noodle soup with slow-roasted beef brisket or pork belly ($15). There's especially joy in scooping chile into that soup until scorching — a craving I seem to have around lunchtime on Cleveland's hottest days when I'm wearing my lightest gray suit. A perverse, lip-numbing, sweaty joy that keeps me coming back for more. 216-400-6936, 3142 Superior Ave., Cleveland, ljshanghaicle.com
Mabel's BBQ ($$ / Various locations)
Just like with his now-defunct flagship Lola Bistro, Michael Symon created "Cleveland-style" barbecue to fill a hole he saw in our city's dining scene. "For us, opening Mabel's was more about Can someone please make good f***ing barbecue?" says the celebrity chef. "Can someone source the right products, treat them with respect and then cook them with real natural wood and not in an oven?" Since Mabel's opened in 2016, Northeast Ohio has seen a BBQ boom, but Symon's East Fourth Street spot is still the prime choice. A la carte platters feature pulled pork ($15), hot collard greens ($6.50) and all the classics. Kielbasa ($13), instead of hot link sausage, and a barbecue sauce with a base of Cleveland-made Bertman Ballpark Mustard offer a Cleveland spin. Best of all, beef brisket ($17), perhaps BBQ's most divisive cut, is offered lean or fatty, the latter being our preference due to the buttery pocket of liquid gold between the tender, stringy meat and the dark, crusty bark. Symon's Lola and B Spot may be gone, but with a new location in Eton Chagrin Boulevard, Mabel's BBQ remains a delicious interaction with Cleveland's culinary son. 216-417-8823, 216-450-1010, 2050 E. Fourth St., Cleveland; 28699 Chagrin Blvd., Woodmere, mabelsbbq.com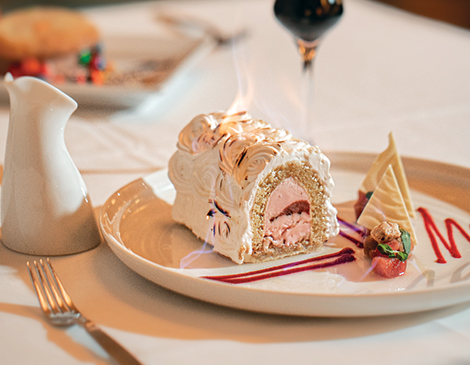 Marble Room Steaks & Raw Bar ($$$$ / Downtown)
Some restaurants want you to look down while you eat. Marble Room wants you to look up. The former bank on Euclid Avenue was built in 1893 by the sons of President James A. Garfield. The epic pillars, which swallow you into the days of Sixth City glory, aren't done justice in photos. But a bummer meal can pull you out of even the most transformative space. Luckily, chef Brandon Veres rises to the occasion with classics such as oysters Rockefeller ($19) and the juicy 16-ounce Delmonico ($65). It's not the hippest meal I had this year, but it's perhaps the most memorable. So even if the truffle lobster mac 'n' cheese ($135) is a bit above your paygrade, this bucket-list spot is worth the splurge. 216-523-7000, 623 Euclid Ave., Cleveland, marbleroomcle.com

Mason's Creamery ($ / West)
An editor once told me to give readers moments of delight. Maybe then, we should hire Mason's Creamery owners Jesse Mason and Helen Qin, who have been doing just that since 2013 when the couple moved from Los Angeles to Cleveland and opened their small-batch outdoor ice cream parlor in Ohio City. Nearly 10 years later, the corner of Bridge Avenue and West 44th Street defines Cleveland summers. There's always a new whimsical flavor to cool you down thanks to a one-gallon-at-a-time approach, which produces eclectic, often-Asian-leaning flavors such as the sweet-and-nutty taro made from purple sweet potatoes or the swirled vegan black vanilla and pumpkin. Last summer, a cone of Ohio sweet corn offered one of my favorite bites of the year. And when the mosquitos turn to snowflakes and the shore freezes over, Mason's focus shifts to Korean corndogs and bowls of traditional ramen with more moment-of-delight touches such as Flamin' Hot Cheetos, pastrami and raclette. 216-762-1095, 4401 Bridge Ave., Cleveland, masonscreamery.com
Momocho ($$ / West)
When chef Eric Williams' Ohio City Mexican restaurant opened in 2006, it was radical. Many balked at a $15, $20 or $25 price tag on tacos — even ones piled sky high with fistfuls of hard work, such as the slow-braised citrus adobo pork ($17), or fine-dining technique, like the trout ($24) with pecan-crusted pickled jalapenos and pepita. Guacamole was still a foreign green gunk to many — even before Williams spiked it with smoked trout and pork belly ($9.50) or black pepper pecorino, roasted garlic and agave nectar ($9.50). Trios of margaritas ($15) introduced moms not only to blood orange or pomegranate margaritas ($10) but clasico lime ($9) with fresh-squeezed lime juice instead of a syrupy mix. With a mod Mex philosophy, Williams never set out to create a traditional, authentic experience, but his reverence for Mexican culture pushed forward Cleveland's understanding of the cuisine. Fifteen years later, Momocho doesn't seem quite as revolutionary as it once was, but it remains as vital to our dining scene as ever. 216-694-2122, 1835 Fulton Road, Cleveland, momocho.com
The Pompadour Bar & Tapas ($$$ / East)
Chef Rusty James Phillips enjoys a dichotomy. His 44-seat Fairport Harbor restaurant is cooking some of the region's most innovative food, miles away from far hipper dining scenes. "The majority of our support comes more from further west," he says. He works massive flavor into small plates, which he calls tapas but have admittedly become not very Spanish. Savory dishes such as the pepper-crusted lamb rib chop ($16), braised short rib ($16) and seared margaret duck ($15) are served with sweet notes such as honey maple drizzle, rum-infused banana mash and wine-macerated strawberries. But Phillips says the Pompadour is best defined by a dish like the Humble Vegetable ($13), an exploration of temporal differences that tops a six-hour, low-roasted tomato with grilled mushroom, garlic green beans, pickled chayote, avocado vinaigrette and toasted sesame. "I love playing around with dishes," says Phillips, "that have both hot and cold temperatures in your mouth at the same time." 440-639-0263, 320 High St., Fairport Harbor, thepompadourbar.com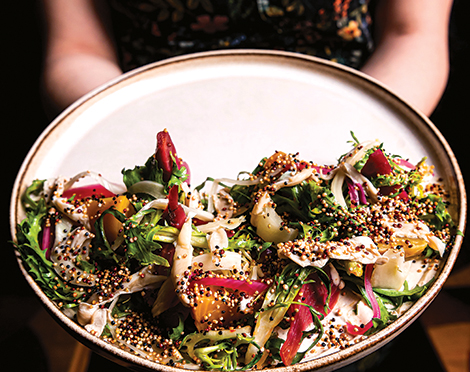 Rood Food and Pie ($$$$ / West)
Come for the '70s vibes, stay for the pie. Neon lights, fun florals and eclectic comfort food — Lakewood's Rood Food and Pie creates a funky environment that exudes joy from start to finish. More than just the friendly decor, which even boasts a trailer camper bar, that joy is derived from executive chef Rachelle Murphy's excitement for experimentation. The 24-year-old trained at the Culinary Institute of Michigan and was mentored by Amanda Miller of Netflix's School of Chocolate. Since joining Rood in 2021, Murphy has since transformed the menu with unique ingredients incorporated into an approachable dish. Pigeon? Throw it in a wellington! Wild boar? Best served over ragu pasta. Each offering contains some comfort food element. The sweet and salty Pumpkin Gnocchi ($23) is made fresh daily with maple syrup-infused ricotta, and combined walnut dukkha, sage, brown butter, white balsamic and candied bacon. The gnocchi are seared right out of the water, leaving a crunchy exterior and pillowy, melt-in-your-mouth interior. Even the plating is intentional with dishes varying in styles, sizes, textures and colors — from silver-blue glazed ceramic to lightweight floral-etched dishes. "People hate me in the kitchen because we have different plates for each different dish," Murphy giggles. Yet, she insists that "everybody eats with their eyes first," so visuals are important. Murphy shares that people often become friends with folks at the tables sitting next to them — which was true during our recent visit, as well. We quizzed the guests next to us about their favorite pie flavor, who — mouths full — nearly shouted "amaretto custard!" Another crowd-pleasing option is the baklava pie ($7.50), served with rosemary whipped cream. You'll leave with a belly full of all the makings of feel-good evening. 216-712-4506, 17001 Madison Ave., Lakewood, rfpie.com
Sabor Miami Cafe and Gallery ($$ / South)
I don't know what it is, but I found it at this Cuban eatery. Maybe it's chef and artist Mariela Paz's paint ing and jewelry-covered walls in the Old Brooklyn space with a pink-and-aqua front. Maybe it's the comforting tropichop ($10.50), a citrusy and savory Cuban classic with yellow rice and black beans; the warming empanadas ($3.50) or the stellar Cubano sandwich ($9.75), a grilled ham-and-cheese that brought me back to my South Beach honeymoon (Sabor's was better). It even could be the pleasing realization that this exploration of Miami, where Paz lived for 13 years, is only a quick drive away. 440-714-0202, 4848 Broadview Road, Cleveland, facebook.com/sabormiamicafe
Salt ($$$ / West)
All eyes might be on Poppy — which opened in March and, thus, isn't eligible for our 2023 Silver Spoon awards — but we're still loyal to chef Jill Vedaa's innovative small plates and cocktail restaurant in Lakewood. Though we're always happy to see menu favorites such as the white bean puree ($13), which is similar to hummus but chunkier with more garlic and citrus notes and topped with mashed olives, how can you not get excited about selections like coal-grilled sardines with chimichurri and cauliflower ($15) off the 32nd installment of her modern American menus. So we'll keep looking forward to what's next from Vedaa — even if Mr. Beard doesn't think it's good enough for a gold medal. 216-221-4866, 17625 Detroit Ave., Lakewood, saltcleveland.com
Serenite Restaurant & Culinary Institute ($$$$ / South)
Todd Whitman, voted Best New Chef by our readers, didn't always make the best choices. Growing up at West 44th Street and Clark Avenue in the '80s — he fell into trouble with alcohol and drugs and spent six years in juvenile and adult correctional institutions. Over the years, he made what he deems as addiction-fueled "selfish" decisions that led his life down a dangerous path. But that all changed when Whitman began the journey to recovery in August 2015. Today as executive chef of Sérénité Restaurant & Culinary Institute, Whitman's choices look much different. He's weighing how many du jour items to add to the restaurant's robust French-inspired menu and selecting which recipes to teach to his students — all of whom are in recovery, just like him. Sérénité Restaurant & Culinary Institute launched in 2018 in downtown Medina as a nonprofit dining experience and education organization, to provide training programs to formerly incarcerated individuals in conjunction with the Recovery Center of Medina. Trainees enter an eight-month program, where they learn concepts like culinary math, knife skills, pastry-making and the five mother sauces of French cuisine. But it's not just a good cause — the food is really great, too. Learn more about the French spot. 330-952-2611, 538 W. Liberty St., Medina, sereniterestaurant.com
Superior Pho ($ / East)
Chris Nguyen has learned a lot from his father, Manh, who founded Superior Pho in 2002. A Vietnamese immigrant, Manh deeply appreciates the exacting techniques of French cooking, which he exposed to Nguyen through travel. The cuisines' overlaps are best experienced in the banh mi ($6.50), an explosion of spicy jalapenos, lush roast pork, super soft baguette, and house-made pate and mayo. Manh once set a benchmark for excellence by throwing away an entire 16-quart pot of beef bone broth — the result of a 24-hour simmering process — because one ingredient was off. At the time, that could feed two days' worth of customers. Finally, he taught Nguyen to treat each bowl ($12.50) like fine wine. The father encouraged his son to examine the pho's nose, body and finish and then smell each spice to examine slight flavor variations. Today, he credits that exploration of subtlety for Superior's superiority. "A lot of restaurants overwhelm you with cinnamon, cardamom and other spices," Nguyen says. "For us, the trick has been to be very subtle. That's where the sense of comfort comes in." 216-781-7462, 3030 Superior Ave., Cleveland, superiorpho.com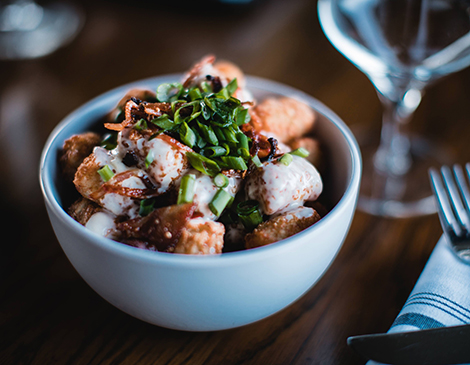 Thyme Table ($$$$ / West)
The mural on the front of chef and owner Mike Smith's Westlake restaurant reads "Good things take Thyme." Opening just before the pandemic will give you that kind of patience. In 2020, we named Thyme Table our Best New Restaurant. These days, lobster-topped tots ($14) offer a fun high-low appetizer, while the BBQ braised short ribs ($34) with creamy cheddar grits warmed me up on a January day. The seared lobster shrimp cakes ($27) arrived atop attractive jet-black noodles made from infused vegetable ash and a thick, tomato-based sauce. Still, the craft cocktail menu from barkeep Eric Scott steals the show with drinks like the Earl Boss ($13), which uses oleo, a margarine made in house by soaking spiced orange peels in sugar and extracting their oils. With time, Thyme Table has come into its own. 440-617-6964, 583 Dover Center Road, Bay Village, thymextable.com
Vero ($$$ / East)
Even before the abstract paintings that dominate the 40-seat dining room or the sleek maple bar, you see it: the 6,000-pound Italian-imported, wood-burning oven with Vero tiled in navy above its mouth. Flames lick three pies at a time, as pizzaiolo Marc-Aurele Buholzer feeds the beast one by one at a pace of 100 a day. The dance looks like something from one of those food documentaries with slick, epic cinematography. If it were, the episode would focus on the dough, which spends just 90 seconds in the oven. The result is a stout crust that's kissed by char, yet sweet and chewy — by far Cleveland's best. The contemporary Napoletana menu is simple but stuns, especially the Margherita DOP ($20), which stars buffalo mozzarella imported weekly from Italy. Simplicity also reigns supreme in such appetizers as the 36-month-aged prosciutto with grated cured egg yolk and olive oil poured over buffalo mozzarella ($14). Yet, the Milk 'n' Honey ($20) with egg and hot honey shows the shop's willingness not to take itself too seriously. 216-229-8383, 12421 Cedar Road, Cleveland Heights, verocleveland.com
Zhug ($$ / East)
These days, I get a lot of requests for restaurant recommendations from friends and family. Lately, no matter what style of food or neighborhood they ask for, they're all getting the same answer: Go to Zhug. Douglas Katz's exploration of Middle Eastern cuisine just might be Cleveland's most important dining experience right now. Still, not enough people have cozied up in its pillowed banquette seating, snapchatted envious friends pictures of their sumac-speckled nigella seed and burnt onion hummus ($13) or polished off the Yemenite curry fried chicken ($17) with harissa honey. The small plates menu features an exciting blend of influences from Katz's travels and his 20-year run at Fire Food & Drink. I know parking is a hassle in Cleveland Heights. I don't care if you're picky. Don't let the no-reservation policy's potential wait scare you. Get to Zhug now. 216-862-2508, 12413 Cedar Road, Cleveland Heights, zhugcle.com
Meet the People Behind Some of Cleveland's Best New Restaurants
At the trendiest and most coveted tables in Northeast Ohio, the dishes and the vibe is an extension of the creatives in the kitchen. Get to know them as part of 2023's Best Restaurants issue.
Silver Spoon Award Winners
Cordelia is this year's Best New Restaurant, but we have Silver Spoon Award winners in more than 50 categories, including Best Chef, Best Dessert and Best Pizza to check out before you join our annual Silver Spoon Awards Party, which benefits the Arthritis Foundation, on May 24.
Editor's Note: A version of some of the 34 Best Restaurants write-ups first appeared in 2022's 25 Best Restaurants package.