If ever there were big shoes to fill in Cleveland's dining scene, they came in the form of the building on East Fourth Street that was once home to Lola Bistro, chef Michael Symon's flagship restaurant. In the past year, though, Cordelia has filled those proverbial shoes so well that Lola's reign feels like lifetimes ago.

While Cordelia describes its approach as "Midwest nice," we just call it some of the best food we've ever eaten. And the Cleveland Magazine readers agree, voting the restaurant from chef-partner Vinnie Cimino and partner Andrew Watts this year's Best New Restaurant.

"We want to be in the forefront of Cleveland's culinary scene, to help it continue to grow and flourish and to be better than when we left it," says Cimino.

As former chef de cuisine of Greenhouse Tavern, which fell victim to chef Jonathon Sawyer's debts, Cimino knows better than anyone how quickly Cleveland's culinary scene can change — but also how loyal its diners are when they find a spot they love.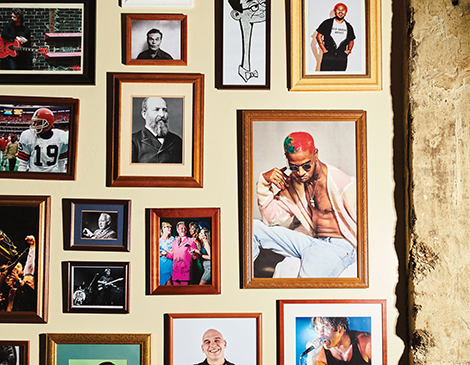 Aesthetically, it's vintagecore at its finest, outfitted like your grandparents' house meets your favorite consignment shop meets, well, a high-end restaurant designed by professionals. Think high-backed velvet chairs, mismatched plates, floral wallpaper and penny tile mosaic floors. Culinarily, it's Midwest meets Deep South meets family picnic, if everyone in your family could really, really cook.

"We've conceptualized this modern-
grandma, feed-your-family, gathering-around-a-big-table and passing-it-all-around kind of experience," says Watts.

"Pantry snacks" re-envision small plates ($9 apiece, three for $25 or five for $38) through comforting dishes like spreadable pimento cheese, served in a mini mason jar alongside deep-fried saltines. Global flavors — like furikake, the sweet and savory Japanese rice seasoning that tops the jammy eggs, or the herbaceous Middle Eastern za'atar that dusts the chicharrones — lend new verve to old favorites.

"We make the food that we like to cook for us and for our family and friends," Cimino says. "We're just sharing it with a bigger audience now."

Each dish is born not just of intellectual culinary notions but of life experiences and personal nostalgia. For example, the burger box ($21) retains the crispy pieces of griddled cheese usually reserved as "kitchen snacks." Cimino thought diners deserved to try them, too. The overdressed greens ($12) are a refined take on the cheese-heavy salads from Luigi's in Akron, Cimino's hometown. The slush float dessert ($9) is a soft serve, slushie hybrid inspired by sous chef Ryan Boone's post-skateboarding treat as a teen in Parma.

"A lot of it starts with some fun thing we remember," Boone says, "and then we try to redo it in a way that meets the culinary standards we've all learned."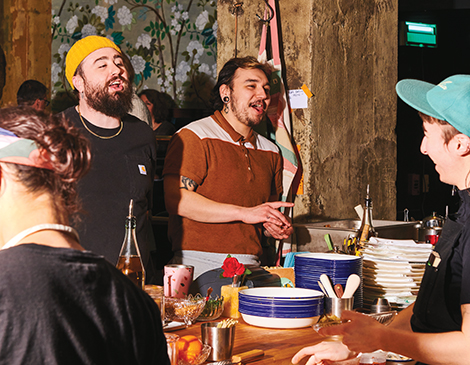 Want to know the story behind your dish? Just ask and the staff will happily share it with you, especially if you're seated at the chef's table facing Cordelia's open-concept kitchen. You'll also hear them calling out seemingly nonsensical phrases like "Sesame Street!" and other cooking-related rally cries. (This one signals that someone, somewhere, has ordered the fried chicken.)

"Everything has a nickname," Boone explains. "It keeps us quick and efficient, and it makes our nights fun."

At the pass, he and Cimino inspect dishes before they're delivered to diners, ensuring that everything looks exactly as it should. Rarely, though, does the duo send anything back, their presence just as much for camaraderie and team building as for quality control.

"Some nights I barely cook at all, maybe a spoon here or there to taste something," Cimino says. "I lead our team through positivity and humility to try to create a beautiful experience for both our guests and our staff."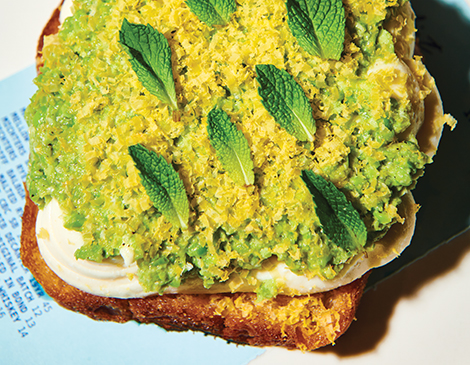 For Boone, who was the executive chef of Greenhouse Tavern when it closed so abruptly, Cordelia's feel-good, family-style environment is the kind of job dreams are made of.

"The culture is what makes it special," Boone says. "I don't know if it's lightning in a bottle or serendipity or what, but it makes working in a restaurant feel like having a blast at a party with friends."
cordeliacle.com
Explore more of Cleveland's 34 Best Restaurants, meet the chefs behind them and check out this year's reader-voted Silver Spoon award winners.